With the Ravens offices closed last week, I took a brief Late For Work intermission, but I'm back and will catch you up on* *the latest ... even if it takes me a couple of days to fit it all in. And thanks to Ryan Mink and Garrett Downing for filling in while I was chillin' with my hubby on vacation.
Let's get things started on an interesting note.
Police Hunting Down Joe Flacco Look-Alike
Crime is no laughing matter ... except when police poke fun at a suspect (who clearly is NOT elite) and his resemblance to Joe Flacco.
If you see a guy that looks like Flacco, then you should call Anne Arundel County Police Department immediately because he's wanted for stealing a credit card out of someone's car and using it at a convenience store.
The police are asking for help in identifying the man in the surveillance photos below. But it appears as though they've been burned in the past by jokesters littering their comments section with celebrity look-alikes. The AACPD got out in front of that possibility with the following awesome Facebook post that had me chuckling.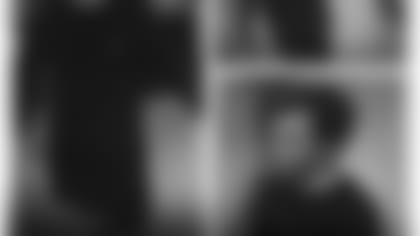 Phew, I'm glad Flacco could be ruled out. The Ravens are kind of relying on him this season.
To be honest, I'm not sure this man even looks like Flacco. The side profile offers some resemblance, but the other two shots aren't even close.
"Perhaps, the police are searching for James Flacco," joked ESPN's Jamison Hensley, referring to President Barack Obama's accidental slipup when talking about actor James Franco.
The good news is that Marylanders are being vigilant about finding this fake Flacco, sharing the post more than 530 times. Even if many of the shares are about the suspects' similitude to Flacco, plenty of people are getting a good look at the man and, hopefully, it will turn into a lead for the police.
As for the real Flacco, he didn't get into any hot water this weekend. Instead, he was promoting safety on the 4th of July and following Women's World Cup Soccer.
Gillmore Proposes To Girlfriend While She's Holding A Gun
As if the fear of rejection isn't enough to make a man sweat profusely while asking the love of his life to marry him.
But what if the girl is holding a firearm that looks like it came straight out of Terminator Genisys while you get down on one knee?
That's exactly what happened when Ravens second-year tight end Crockett Gillmore proposed to his girlfriend, Haley, at what looks like a shooting range on the 4th of July. I don't know a lot about guns, and I don't even know if that qualifies as one. It looks more like a bazooka. Sheesh!
You don't get more country than Gillmore, and this engagement suits him perfectly. Love it.
Dumervil: If I Get 23 Sacks, We'll Be In Super Bowl
Athletes frequently downplay their own stats, emphasizing instead team success.
But Ravens outside linebacker Elvis Dumervil sees a world in which both can happen his season. The 10-year veteran needs 10 sacks to hit the 100 milestone for his career, but he wants far more.
He has a note in his locker with the number "23" written on it. It's a reminder that he wants to break Michael Strahan's single-season sack record. And if Dumervil can bring that record to Baltimore, he thinks there's a good chance he can help bring a bigger trophy to the city, too.
"If I can hit that number, that'll mean we'll be in the Super Bowl for sure," Dumervil said during mandatory camp, as The Baltimore Sun pointed out. "You try to win games, you try to win championships. To me, there's nothing more important, because you can have the stats and accolades, but if you're sitting home, it really doesn't do any justice."
Dumervil finished third in the NFL with 17 sacks last season, which was also a new Ravens franchise single-season record.
Dreaming Of Winning Super Bowl … In Pittsburgh
It shouldn't matter where you win the Super Bowl, right? It should be sweet no matter the location.
But wouldn't it add just a little more joy if the Ravens lifted the Lombardi Trophy in front of a bunch of Steelers fans?
That's the scenario CSNBaltimore.com's Clifton Brown dreamed up when the Steelers organization posted a statement on the team's official website from President Art Rooney II, confirming that he submitted an application to the NFL for Pittsburgh to be under consideration to host Super Bowl LVII in 2023.
"Imagine the Ravens reaching the Super Bowl in a year that Pittsburgh was the host city," Brown wrote. "Talk about a nightmare for Steelers' fans, who would have to stomach posters of Ravens' players and the Ravens' logo decorating downtown Pittsburgh, with stores selling Ravens' Super Bowl memorabilia.
"Ravens quarterback Joe Flacco already loves playing at Heinz Field. But winning a Super Bowl in Pittsburgh would take his affection for the Steelers' home field to another level."
I like that that imagery. I like it a lot.
There's a chance that Pittsburgh could get the bid since New York/New Jersey and Minneapolis opened the door to cold-weather cities. But even if the Steel City gets it, there's no guarantee that Baltimore will advance to the championship game in that particular year.
In fact, instead of a dream scenario for Ravens fans, they could be caught in a nightmare.
"On the other hand, imagine Pittsburgh hosting a Super Bowl with the Steelers playing in it. Talk about a party week," Brown wrote. "The Steelers have won six Super Bowls, but Pittsburgh has never hosted one. It will be interesting to see if Rooney can get enough support to change that."
Former Ravens linebacker Rolando McClain was suspended four games for violating the NFL's substance-abuse policy. [NFL.com]
Ex-Ravens offensive lineman Damion Cook died at 36 after suffering a massive heart attack. [The Baltimore Sun]
// <![CDATA[ Sqor.embed("sqor-embeddable-f7937a85-0af3-42d9-8293-717174f9a649"); // ]]>