Ravens Take In JAY Z & Beyoncé
M&T Bank Stadium had a packed and roaring house Monday night with hip-hop super couple JAY Z and Beyoncé taking over.
But this time, instead of being the main attraction, Ravens players were the spectators.
Among those in attendance, per their social media handles, were Sheppard, cornerback Lardarius Webb, safety Anthony Levine and former Ravens cornerback Cary Williams. They were just four of the 50,000-plus for the near-sellout event.
"My night," Webb posted on Instagram with his pass for the fans' B/C parking lot, instead of the traditional players' lot. 
Not only did the power couple receive rave reviews from music critics, but the players clearly enjoyed the show. They posted approving commentary along with Instagram videos (below) of their far-off view of the stage.
"Kill Bey," added Levine of Beyoncé's performance.
The concert was a big boost to the city of Baltimore. City officials told WJZ that the 50,000 tickets sold equated to millions of dollars in economic impact.
Check out the show through the players' eyes (mobile users tap "View in browser" at the top of the page).
What Is Taking League So Long To Make Rice Decision?
We're only two weeks away from the start of training camp, but the league still has not announced (or made) its decision regarding running back Ray Rice.
Many expect Rice to be suspended after his off-field troubles this offseason, but the Ravens will need to know the length of the suspension in order to make football plans, says ESPN's Jamison Hensley.
"The NFL needs to make a decision soon because the league shouldn't punish the Ravens along with Rice, who is expected to receive a multi-game suspension for allegedly striking his fiancée unconscious in February. The Ravens' workload at running back will be based on the length of Rice's absence," Hensley wrote.
"If Rice is going to miss a major chunk of the season, the Ravens would give Bernard Pierce, Justin Forsett and Lorenzo Taliaferro more snaps this summer, especially later in the preseason. If Rice is only going to be suspended for a couple of games, the Ravens' rotation at running back may not change significantly." 
The legal side of Rice's situation was wrapped up 49 days ago when he was accepted into a pretrial intervention program on May 20. He and his wife reportedly met with NFL Commissioner Roger Goodell three weeks ago on June 16.
At this point, there is only speculation that the league could be waiting to make decisions on other potential suspensions like Colts Owner Jim Irsay. Regardless, Hensley says the time is now to make an announcement.
"It's surprising that the NFL has prolonged this matter," the ESPN reporter wrote. "Everyone involved – the league, the Ravens and Rice himself – should want to put this behind them as quickly as possible."
Ravens' Updated Projected Depth Chart
With offseason camps and practices behind us, plus a few key signings, statistical website Pro Football Focus updated its view of the Ravens' 2014 depth chart. The last version was released in mid-May.
The graphic below shows the depth chart, including a color code system that categorizes player into divisions of elite, high quality, good starter, average starter, below average starter, poor starter, not enough information and rookie.
Changes from the last depth chart included:
Courtney Upshaw was dropped from "average starter" to "below average starter" because he "doesn't offer much as a pass rusher."
Recently signed corners Aaron Ross and Dominique Franks were added, both as "below average starters" and they were listed behind Chykie Brown as the No. 3 starter.
Rookie safety Terrence Brooks moved behind Darian Stewart, who currently holds the edge as the starter.
Punter Sam Koch was upgraded from "average" to "good starter."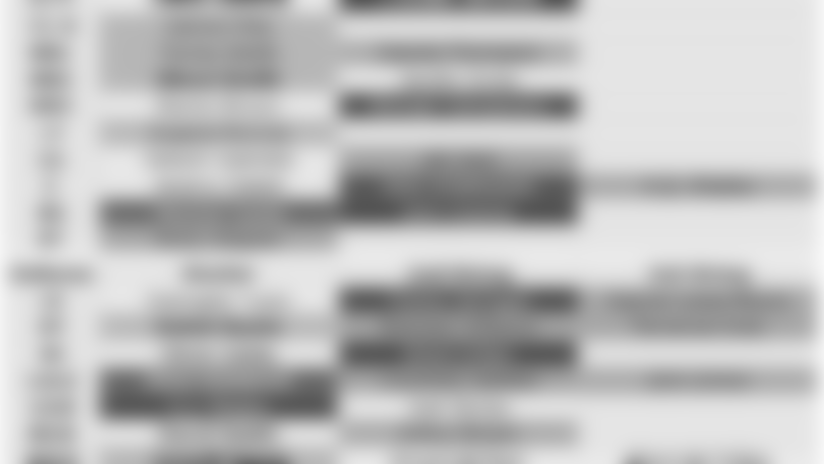 FoxSports.com conducted an extensive Ravens 2014 season preview. It asks three lingering questions regarding the Ravens, provides both a reason for optimism and panic, and predicts tight end Dennis Pitta to be the breakout player of the year.  Analyst Alex Marvez sees the Ravens finishing with a 10-6 record, noting, "The 2014 Ravens are far better heeled to make a Super Bowl run than last year's defending champions." [FoxSports.com]
Terrell Suggs has returned from his European vacation and he's getting back to the grind. … @untouchablejay55: LEG DAY!!! After a loooong weekend, BACK TO WORK! SiZ [Instagram]
@89SteveSmith: 2many people want the Fame. Without the journey Doesn't work. Success is the walk. Pack ur bags if u really want it. [Twitter]
Gerry Sandusky visited NFL AM to promote his book "Forgotten Sundays" and talk about the expectations for the Ravens this season. [NFL Network]