Flacco Responds To Bengals Being Popular Pick To Win Division
Joe Flacco was finishing his radio interview, when host Ryan Ruocco informed him that Herm Edwards, a former NFL coach, picked Cincinnati to win the AFC North.
It's the Ravens who are the defending Super Bowl champions. It's the Ravens who are back-to-back division champions.
Yet it's the Bengals who are the very popular pick to win the division, and Edwards is on the bandwagon.
Immediately after his co-host outed him, Edwards backtracked a little.
"That's OK. That's OK. That's OK," Edwards repeated. "Joe knows I'm a Joe Flacco fan. That's OK. He knows I got to pick somebody. It's easy to pick Baltimore, right?"
He added in a high-pitched voice: "Don't be mad at me."
If you think the Ravens don't pay attention to predictions, you'd be wrong.
Teams love to use this kind of stuff for bulletin board material as motivation. Flacco said Head Coach John Harbaugh has already showed the team some analysts' picks for the Bengals to beat the Ravens.
"What are you going to do?" Flacco asked.
"How many times have people actually picked the Ravens?" the quarterback asked, causing the radio hosts to laugh. 
I'm hard-pressed to find someone pick the Ravens among the infinite predictions on the Web.
Here's a prediction from yesterday with CBSSports.com's Pete Prisco predicting the Ravens finishing third (10-6) in the division, with – surprise – the Bengals (12-4) winning it and the Steelers (11-5) coming in second. ESPN's Mark Schlereth doesn't think the Ravens will make the playoffs. Here's another one predicting the Bengals. And another. And another. And another.
Over/Under On Flacco Stats Line
Flacco has never thrown for 4,000 yards in a single season. He's never thrown more than 25 touchdowns. He's never thrown less than 10 interceptions.
Can he improve on all of those marks coming off a superb playoff run, Super Bowl MVP performance and a record-breaking contract?
Fan "Frank" gave an over/under stats line to ESPN's Jamison Hensley: 4,230 yards, 28 touchdowns and nine interceptions.
"Frank, these numbers are very attainable," the AFC North blogger wrote. "I think the INTs could be more in the 10-to-12 range. The number that Flacco really needs improvement, and one that no one talks about, is completion percentage. He should be over 65 percent. Last year, he was 59.7 percent."
What do you think about Frank's proposed stats? Over or under?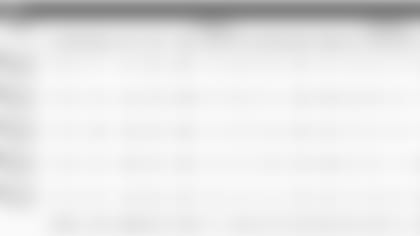 Troy Smith Signs With Montreal Alouettes
Troy Smith hasn't given up on his football career.
The former Ravens backup quarterback and 2007 fifth-round draft pick signed a two-year contract with the Montreal Alouettes in the Canadian Football League.
Smith's NFL career lasted four seasons: three in Baltimore and brief stints with the San Francisco 49ers and Pittsburgh Steelers.
The former Heisman Trophy winner threw for 1,734 yards, eight touchdowns and five interceptions for a 78.5 passer rating during his NFL career. He's also played for the Omaha Nighthawks in the UFL.
His new team indicated he may be one of the backups.
"We've been in discussions together for well over three months and have been patiently waiting for Troy to finish his commitments at Ohio State," Alouettes General Manager Jim Popp said. "We'll have to fast track Troy in order to get him over the learning curve of the CFL and caught up to speed over the next several weeks. He's here to learn and grasp the game for future competition."
Could Ravens Release J. McClain?
That number will be reduced when the 53-man regular-season roster is set, which is when the offseason rule of the top 51 salaries only counting against the cap will no longer be in effect.
One of the highest salary-cap figures on the team belongs to linebacker Jameel McClain ($4.2 million), who is on the physically unable to perform list after sustaining a spinal cord contusion. He has yet to be cleared for football contact, and at this point that clearance doesn't appear to be coming any time soon.
Asked if McClain could get released, Hensley responded: "There's a chance if the Ravens need the cap room."
Brady Injury Almost Changes Entire AFC Landscape (Video)
Patriots quarterback Tom Brady looked to have a scary knee injury during New England's practice yesterday.
A fan captured* *the moment in the video below. Tampa Bay Buccaneers defensive end Adrian Clayborne pushed Patriots tackle Nate Solder into Brady during a team scrimmage, and Brady fell to the ground clutching his knee.
Had Brady gone down for the entire season – or even part of it – as was once feared, it would have drastically changed the AFC landscape and the Ravens' chances for returning to the playoffs.
But, it turns there was no structural damage to his knee. 
"Sources say Tom Brady attended meetings last night, intends to practice today and play Bucs in preseason game," tweeted ESPN's Ed Werder.
Ravens No. 9 On Forbes List
The franchise is now ranked No. 9, with its value increasing from $1.157 billion last year to $1.227 billion this year.
The Dallas Cowboys are the most valuable team in the NFL at $2.3 billion.
The Ravens are the most valuable of the four AFC North teams: Steelers No. 14 ($1.1 billion), Browns No. 22 ($1 billion) and Bengals No. 27 ($924 million).