'Surprising' Potential WR Demotion
You can't read too much into a single practice, but the Ravens grabbed everyone's attention yesterday with some interesting changes at wide receiver.
Two rookie receivers took first-team snaps with quarterback Joe Flacco as third-year veteran Tandon Doss stood on the sideline.
"[I]t was surprising to see wide receiver Tandon Doss standing on the side as rookies Marlon Brown and Aaron Mellette got some snaps with the first-team offense," Vensel wrote. "Brown and Flacco looked to be out of sync early, but the quarterback had instant chemistry with Mellette. "
With top receiver Torrey Smith on the sideline (he was given the day off) the primary alignment for three-wide sets included Jacoby Jones, Brandon Stokley, and Brown, per WNST's Luke Jones.
But Mellette got in on the action too. And just as he did in the first two preseason games, Mellette made the most of his opportunity.
In the video below, you can see Flacco float a perfect pass from midfield to the seventh-rounder for a score, beating cornerback Chris Johnson in coverage. Mellette wasn't prefect as he did drop a couple of passes.
Meanwhile, Doss primarily ran with the second-team offense. But when he did run with the first team he "made the most of his snaps … catching a few passes," Vensel wrote.
This doesn't necessarily mean Doss has lost his footing as one of the leading candidates to start opposite Smith, or be the No. 3 receiver.
For now, the Ravens are exercising their due diligence in evaluating the younger weapons that have excelled in their opportunities against defensive backups.
"What you saw today is [that] we're going to give those young guys an opportunity," Head Coach John Harbaugh said Sunday. "Some of the young receivers have done an excellent job, and I think we owe it to our team and owe it to them to see what they can do in there with the first group. We'll practice those guys and probably play them a little more with the ones this week."
Intriguing Formation With Clark, Juszczyk
If you watched the video above, you saw rookie fullback Kyle Juszczyk catch a long play-action touchdown from Flacco over safeties Christian Thompson and Brynden Trawick in coverage.
"This is what comes naturally," Juszczyk told Wilson about working out of the slot. "It was like being in college again."
Prior to the season, many predicted the Ravens would use more two tight-end sets with Dennis Pitta and Ed Dickson. With those two down with injuries, one way the team could compensate is with Juszczyk.
As he continues to work back from a potential season-ending hip injury, Pitta was told by hip specialist Dr. Bryan Kelly that he is making progress in his recovery, reported FoxSports.com.
The Ravens haven't completely ruled out the possibility of Pitta returning this season, and according to Fox Sports' Mike Garafalo, it will hinge on two factors:
1) His continued progress in the final weeks of the preseason.
2) Whether the Ravens need to use their Injured Reserve- *Designated to Return spot on somebody else.*
Too Early For Flacco Post-Contract Letdown Debate
It's too early to start debating whether Flacco will have a post-contract letdown, says The Baltimore Sun's Peter Schmuck.
The Ravens' starting offense struggled in the first two preseason games, and then Flacco followed that up with what may have been his worst training camp practice in the last two years, per Jeff Zrebiec. He threw four interceptions in Saturday's practice, and another potential pick was dropped.
His subpar performances have some people concerned and wondering if Flacco could be the next Raven to have a down year after signing a mega deal like outside linebacker Terrell Suggs.
"That's possible, I guess, but it's unlikely and it's far too early in training camp to seriously consider," Schmuck wrote. "I'm sure there have been a few instances of players becoming less hungry after getting set up for life, but I'll be shocked if Flacco becomes one of them. You don't get where he is – and take the punishment he has taken to play every game for the past five years – just to get richer than you already are."
Schmuck says that Flacco has always played with hunger during his five-year career, long before a contract was on the line. And he predicts Flacco will play with that same hunger to prove that his historic playoff run wasn't a fluke.
"If you're wondering why the offense hasn't clicked during his three quarters of early preseason action, there are all sorts of more logical reasons than the ludicrous notion that he doesn't care as much because he has a Super Bowl ring and money he'll never have enough time to spend," the columnist wrote.
The logical reasons the offense isn't clicking? First, Flacco's top two targets from last year – Pitta and Anquan Boldin – are gone. Second, the full starting offensive line practiced together for the first time Sunday.
"Hmmm. The Ravens are … thin enough at the receiving positions that they just signed a wideout and a tight end who are a combined 71 years old, and we're wondering why the guy who won the Super Bowl MVP trophy in the last real game he played looks a little rusty," Schmuck wrote.
Flacco Glad He's Not A Brown
If the Ravens didn't sign Flacco to a long-term deal, or use the exclusive franchise tag on him, there is a good chance the Cleveland Browns would have swooped in and tried to pick him up, says Sports Illustrated's Peter King.
Asked if it would have been strange to play for the AFC North rival, Flacco told King:
"Yeah, that would have been tough. If Baltimore didn't come up to the plate and get something done before they had to franchise me at one of the levels, some team could have stolen me. I'm glad I didn't have to go through that. I don't really want to say too much about that, aside from that I'm really glad I didn't have to go through all that.
"Because, yeah, Cleveland could have come in and put an offer together that these guys couldn't have matched. They could have paid me a ton of money so that there's no way that these guys could have done anything about it. I would have been disappointed if that happened. I already felt that I had clawed and fought as hard as I could. It would be different. At the same time, you know, I don't think I would have left these guys on a bad note though. It would have been their decision. Really, that's what was crazy about it."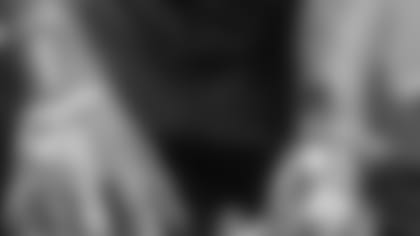 Webb's Sweeeeet New Gloves
Cornerback Lardarius Webb may make his preseason debut in this Thursday night.
If he does, I'd love to see him sporting these sweeeeeet Under Armour Spiderman gloves. (Although, now that I think about it, there's probably some uniform rule that would prevent him from doing so.)
Webb put his new gloves on Instagram, writing, "My Spider Man swagggg!!! #UA"
Webb sported his new gear at the Stevenson practice yesterday, notching a pass deflection and then tipping the ball up to himself on another play and nearly hauling it in for an interception.
"I think if Denver CB] [Champ Bailey misses the first couple of weeks of the season with his foot injury—and Dominique Rodgers-Cromartie remains out with his high ankle sprain—the position Denver thought would be such a strength could have Tony Carter and Chris Harris (the normal slot corner) starting against Joe Flacco in the opener," King wrote. "That's not good." [MMQB]
"As permitted under the CBA, the League will require players to wear non-obtrusive tracking devices in select practices and games. The purpose of these devices will be to collect positional and performance data (e.g., speed, distance traveled, and location on the field). The data captured from the 2013 testing will be used for internal evaluation purposes only, and will not be disclosed to any club … Finally, it is likely that all players will be required to wear tracking devices in all NFL games at some point over the next few seasons." – Memo from NFL vice president Ray Anderson to teams obtained by The MMQB last week.  [MMQB]