Why Did Ravens Trade For A Running Back?
Half of yesterday's Ravens-Colts trade made perfect sense.
The other half is slightly mysterious.
The logic behind sending fourth-year receiver David Reed to Indy can easily be seen. The trade indicates he likely wasn't going to make the team.
He was one of six main candidates for the final three or so wide receiver positions. He wasn't getting as many reps in training camp with challengers Tandon Doss, LaQuan Williams, Deonte Thompson, Aaron Mellette and Marlon Brown pushing him down the depth chart.
Reed was an explosive returner and gunner on special teams, but the Ravens have Pro Bowler Jacoby Jones and capable coverage players. His value there wasn't enough to keep him in town.
So, why not try to get value if you were planning to release him anyway?
"'Tis the season to exchange your spare parts that you were going to cut anyway, if you can get anything of value," wrote ProFootballTalk.com's Darin Gantt.
Now Reed will get a fresh start with a playoff-caliber team after struggling with injuries for three years and getting minimal playing time in Baltimore.
"Had fun playing with D. Reed. I'm happy that he is getting a fresh start," tweeted Ravens top receiver Torrey Smith. "Going to miss him around here but wish him the best of luck."
So that part makes sense.
But trading for a running back isn't as clear.
That position is already seemingly set, and adding third-year Delone Carter muddies the water.
Sure, Baltimore provides a fresh start for a backup who was almost certain to be cut from the Colts roster. Maybe his chances of making an NFL 53-man roster has increased, but he's no lock with the Ravens either, even if he beats out the competition behind leaders Ray Rice and Bernard Pierce.
"With Bernard Pierce recently dealing with a knee injury suffered in the preseason opener, Carter might prove to be an upgrade over third-string options Anthony Allen, Bobby Rainey, and Damien Berry should he prove to be a capable special-teams player," WNST's Luke Jones wrote. "However, it isn't a foregone conclusion that he ultimately makes the 53-man roster."
The Ravens may opt to just stick with four backs even with Carter in town, says The Baltimore Sun's Aaron Wilson. In addition to Rice and Pierce, the Ravens have fullbacks Vonta Leach and rookie Kyle Juszczyk. Many NFL teams don't even have one fullback, let alone two.
The move isn't regarded as a good sign for Allen, Rainey or Berry. Allen has been a solid special teams blocker for Jones, but Wilson points out that Juszczyk can fill that role.  And the Ravens don't need Rainey in their return game.
With a slim chance of making the roster, maybe the exchange helped the Ravens under the salary cap? Nope, the trade was a financial wash.
The Ravens had to pay dead money ($500,000 signing bonus) to Reed with either a trade or a release, per Wilson. Reed is reportedly scheduled to make $630,000 in base salary, Carter is set to make $550,000.
So no clear need was met. There's no clear financial savings.
Uh-oh, here come the conspiracy theorists.
With the trade announcement coming at about the same time news broke* *that Steelers talented rookie running back Le'Veon Bell is expected to miss six to eight weeks with a foot injury, fans wondered if the Ravens were simply trying to block their AFC North rival from adding reinforcements.  Others wonder if Pierce's knee injury is more serious than the team is letting on.
The more likely explanation: Two players with potential now have fresh starts with slightly better opportunities to make their new rosters.  And it doesn't hurt that Offensive Coordinator Jim Caldwell is familiar with his former player in Carter, and Head Coach Chuck Pagano knows Reed from when they were together in Baltimore.
Ravens' Uniforms Ranked No. 24
The Super Bowl champions'* *uniforms aren't getting much love from the peeps at ESPN's Uni Watch.
In his NFL uniform power rankings, Paul Lukas ranked the Ravens get-ups at No. 24. That wasn't as bad as division rival Cincinnati Bengals, who came in almost dead last at No. 31. But the Steelers' look was ranked at No. 3 and the Browns were No. 16.
"Worst-looking Super Bowl champs since, um, the last time this team won the Super Bowl a dozen years earlier (although it's nice that they've dropped the neck roll)," Lukas wrote.
The Ravens' uniforms made it to the semifinals in NFL.com's "Greatest Uniform in NFL History" voting bracket. OK, maybe Ravens Nation's strong voting power had something *to do with that.*
Still, not all objective parties agree with Lukas.
"I've never had a problem with the current Ravens' uniforms, and this version is a huge improvement from the ones they sported in their early days, which featured that huge white stripe down the side of the black pants," AFC North blogger Jamison Hensley wrote. "The team's alternate black jersey with white pants is a sharp look."
Quarterback Joe Flacco and his security guards caught a break, says Hensley.
That's because tackles Bryant McKinnie and Michael Oher won't have to worry about two-time Pro Bowl pass rusher Von Miller in the Ravens-Broncos season opener. Miller was suspended for six games under the NFL's substance abuse policy.
"It should mean a more comfortable pocket for quarterback Joe Flacco," Hensley wrote. "The numbers show how devastating the loss of Miller will be on the Denver defense. Miller has accounted for almost one-third of the Broncos' sacks over the past two seasons (30 of 92)."
Really though, I don't think McKinnie or Oher was all that nervous. They protected Flacco just fine in the divisional playoff game last season, and that was when the Broncos also had Elvis Dumervil chasing the Ravens quarterback.
Predicting CB Battle: Graham vs. J. Smith
Despite a rough outing against the Falcons last week, there are still some reasons Jimmy Smith could win the No. 2 cornerback spot, says Baltimore Beatdown's Jason Butt.
Smith is a former first-round pick with plenty of potential, and Butt says he will never live up to it if he's not placed in game situations. He has the size (6-foot-2, 210 pounds) to be physical and jam receivers at the line of scrimmage.
Despite the potential, Butt predicts the Ravens will stick with veteran Corey Graham as the top corner opposite Lardarius Webb.
"By the end of the preseason, Graham runs away with the second cornerback spot," Butt wrote. "It's hard to discount someone that brings the same kind of consistent play day in and day out. Smith is almost there as a starting cornerback and will get every opportunity a year from now to be the No. 2 corner in the base defense.
"Smith will also be the right cornerback in nickel situations, with Graham sliding inside to cover the slot. Smith will see plenty of playing time this year, though Graham will be considered the second starter at the position."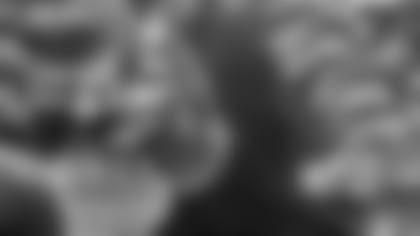 Ryan Mink's story on Bryant McKinnie and Ray Rice's odd relationship spurred more light-hearted jabbing between opposite-sized teammates on Twitter. "But do y'all see the life size action figure of himself that Ray is holding lol," McKinnie tweeted with this picture after seeing the story. "Lol ight bro," Rice responded. [Twitter] * @ElamVsElo: "Pride brings shame. Humility brings wisdom..!" [Twitter] * @JameelMcClain: @DeloneCarter just made the locker room brighter #orangesNpurple [Twitter] * @DeloneCarter: @JameelMcClain see u in the AM ready to grind wit my Cuse fam [Twitter] * @JameelMcClain: @DeloneCarter no doubt hit me if u need anything bro [Twitter]