Don't Want To Upset Super Bowl MVP On National TV
Tandon Doss and Joe Flacco were not on the same page Thursday night, and the Super Bowl MVP let his receiver know it with the nation watching.
Flacco threw a third-down pass intended for Doss in the second quarter, but Doss went one way and the ball went another. The Panthers got their hands on it, easily returning it untouched for a touchdown.
In ESPN analyst and former NFL head coach Jon Gruden's estimation, the fault of the miscommunication belonged to Doss.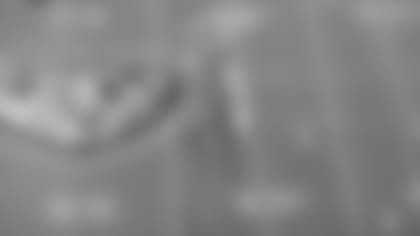 "When you're a slot receiver and they overload you with the blitz, you have to gear it down and look for the ball hot," Gruden said during the game. "And Joe Flacco is expecting Tandon Doss to look for the ball quickly. Tandon Doss didn't do his job and Joe Flacco throws an interception."
Flacco didn't appear pleased.
Below, cameras show Flacco uncharacteristically getting after his wide receiver as they walked off* *the field. Flacco glared at Doss as he shouted and pointed. Doss was also "chastised" on the sideline by Head Coach John Harbaugh and Wide Receivers Coach Jim Hostler, according to The Baltimore Sun's Aaron Wilson.
"You do not want to upset a Super Bowl MVP quarterback on national TV," Gruden said. "That's not going to be good for Tandon Doss."
Flacco wasn't perfect on the night either. He threw another pick on a pass that was intended for tight end Visanthe Shiancoe. On that play, Gruden said Flacco telegraphed where he wanted to throw the ball.
"[Panthers linebacker Luke] Kuechly's all over Flacco's eyes," he said.
For Doss, he'll likely have one more preseason game to prove his value.
He is competing with Deonte Thompson, Aaron Mellette, Marlon Brown, LaQuan Williams and Tommy Streeter for the final three or four receiver spots on the team. Mellette stood out the first two games, and Brown had a coming out party against the Panthers.
Here's to hoping Doss can finish the preseason strong. No matter what happens with him in Baltimore, Doss has always had plenty of talent and still has the potential for a successful NFL career.
This preseason hasn't gone as well as Doss would have liked, and teammate Torrey Smith responded to harsh critics, urging them not to kick Doss while he's down.
"Shouldn't be speaking on media," Smith tweeted. "But when a guy is down and you attack him personally for all of our city to see that's a problem."
Is Brown Ravens' Next Undrafted Gem? No. 2 or 3 WR?
Wide receiver Marlon Brown had a career-changing night at M&T Bank Stadium.
The undrafted rookie free agent was given a huge opportunity by Harbaugh to play with Flacco and the first-team offense. Brown had previously played well against backups and in practice, but he had to prove himself under the lights and against an opposing team's best.
The big-framed Brown (6-foot-5, 205 pounds) led the team with four catches for 59 yards, including a perfectly-timed, 24-yard touchdown snag in traffic.
He stood out so much that ESPN's Jamison Hensley deemed Brown the latest great discovery in the Ravens' rich history of undrafted secret treasures. That list includes Bart Scott, Jameel McClain, Dannell Ellerbe and Priest Holmes. 
"Nearly every year, the Ravens uncover an undrafted rookie gem. This year, that would be Brown," Hensley wrote. "He has too good of a timing with Flacco to be a rookie. He looks too polished to be an undrafted rookie. Here's the most remarkable part: Brown is eight months removed from knee surgery at Georgia."
Not only may the rookie have played his way onto the team, but Hensley believes he deserves more.
"Brown has to be a favorite to land either the No. 2 or No. 3 receiver jobs," the AFC North writer proclaimed.
Night-And-Day Difference With Yanda
Running back Ray Rice may have been the happiest to see Pro Bowl right guard Marshal Yanda return to action.
With Yanda eating up defenders in front of him, Rice churned out 13 yards on the first play of the game, then waltzed through a gaping hole on his one-yard touchdown in the first quarter.
Rice entered Thursday night's contest with only 17 yards on 11 carries in two games without Yanda. He churned out 62 yards and a touchdown on 16 rushes Thursday with Yanda leading the way.
"You can look at tonight's OL like this: With Marshal Yanda and without Marshal Yanda," tweeted Baltimore Beatdown's Jason Butt. "He's the most important piece to that unit."
Added Hensley: "The Ravens' offensive line looked dominant with Yanda and awful without him. It shows how valuable a Pro Bowl guard can be."
Kelechi Uncharacteristically Gets Tossed
While Yanda excelled, his fellow guard Kelechi Osemele did not.
Usually it's the massive 6-foot-5, 333-pound offense lineman doing the pushing around, but not against the Panthers.
Osemele was tossed to the side by defensive tackle Star Lotulelei, who then proceeded to envelop Flacco and drop him for a sack. !
"Lotulelei threw Kelechi Osemele off of him like a rag doll. Wow," tweeted Butt.
Osemele, who is known for his strength, long arms and nasty style of play, may have gotten himself in a bad position on the single play. However, some felt the second-year lineman had his hands full with Lotulelei, a rookie first-round pick, for much of the night.
"Can't recall Osemele struggling this much at any point of his rookie year," The Baltimore Sun's Jeff Zrebiec noted. "He's not alone as it hasn't been pretty with O-line."
Stokley Looking More Comfortable Than Clark
The Ravens signed wide receiver Brandon Stokley and tight end Dallas Clark within days of each other.
They've had about the same amount of practice time to work with Flacco. They both got their first extended action Thursday night.
One looked more relaxed than the other versus Carolina, says Hensley.
"Stokley looked much more comfortable in the offense than Clark," he wrote. "Stokley picked up a couple of third downs, which is why the Ravens signed him. Clark, on the other hand, didn't extend for one pass over the middle and dropped another pass, which was negated by a penalty."
Ejection Deserved After Smith's Kick
There's no justifiable reason to kick another man between the legs when he's down, as Smith did to linebacker Albert McClellan in the fourth quarter.
It sounds like Smith may regret his actions.
"Armond is such a good, solid young person for something like this to happen," Panthers Head Coach Ron Rivera said. "He told me, 'Coach, he twisted on me.' And that's unfortunate, because that's not the type of character that he is. He's disappointed, and he is very apologetic. And I know the league will have something to say about it." 
What If Tyrod Can't Play Next Week?
It's unclear how serious quarterback Tyrod Taylor's head injury was when he was pulled from action.
He left the game after taking a helmet-jarring hit, and Harbaugh said Taylor went through the concussion protocol.
As Zrebiec pointed out, it will be interesting to see what the Ravens do next week if Taylor can't play in the final preseason game. Flacco will be on the sideline with the other starters as they rest up for the Week 1 matchup against Denver.