Steelers Clark Doesn't Hate Ravens, Buuut…
It's hard to hide your true feelings.
Steelers safety Ryan Clark *said *he doesn't hate the Ravens when asked about the rivalry, but in the next breath he took a swipe at the AFC North rivals.
"I get that question a lot and I don't really hate them," Clark said in this NFL Network video. "I was working out with Terrell Suggs this summer before his injury and he's a really cool dude. He said it himself that people don't understand that we only hate you two or three weeks out of the year."
"I will say this about the Ravens: Playing that first game last year and watching them dance on the field, seeing them fake an extra point while up 27 already, it allowed me to understand how much they actually dislike us as an organization," he continued.
"It brewed and stirred up a little hate in me also for me to understand how I have to approach playing them and how I have to look at them."
So to summarize: Clark doesn't hate-hate the Ravens all the time. There's just a "little" hate when the Ravens and Steelers clash. Also, Suggs is cool.
The bitter rivals don't meet until the middle of November and then again two weeks later to kick off the month of December. The fact that Clark is already fielding questions about the matchup during the preseason is proof that it can't get here soon enough.
But for now, Clark is doing what all NFL players should be doing – taking the season one game at a time.
"When I'm not playing the Ravens, I'm not thinking about the Ravens," he said. "This organization, we worry about winning championships, we don't focus on beating one team. There won't be Gatorade baths because we beat the Ravens, won't be parties, won't be bottle-popping and confetti, it will be one game on our journey to win the Super Bowl and I always look at it like that."
T. Smith Thinking Of Cutting Dreads
The Ravens will play the Jaguars tonight in a preseason showdown, but here's some important breaking news. #sarcasm
Reaction from his Twitter followers promptly ensued: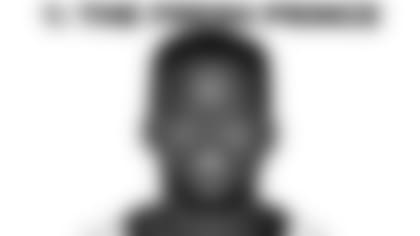 You'll probably remember that the debate about whether Smith should cut his hair flared up last season when Bengals defender Adam Jones tackled Smith from behind by pulling him to the ground with a hand full of hair. Smith would have easily taken gotten a touchdown on the play if his long dreads weren't there to grab.
And @ChelleLilBmore, here are some photoshopped images of Smith with a variety of hair styles created by Flock member MMatt at that time. This might give you a better idea of what he'll look like.
Jags Game Offers Best Look At Starter Battles
The preseason is primarily used to evaluate bubble players and decide the final 53-man roster.
But with the starters getting three quarters of action tonight, it will be fans' final chance to get a good look at some the key battles for starting roles.
Bobbie Williams vs. Jah Reid vs. Kelechi Osemele for left guard: "Williams is the presumed starter, but the 12-year veteran has been bothered at times by swelling in his surgically repaired ankle. … Osemele, who has also gotten work at tackle, could be the starter Thursday night, but look for Williams to be there in Week 1."
Cary Williams vs. Jimmy Smith for right cornerback: "This was considered one of the top battles of camp, and it's fair to say it's still undecided. Neither has seized the job, and both have struggled against elite receivers in the first two preseason games."
Terence Cody vs. Ma'ake Kemoeatu for nose tackle: "This wasn't projected to be a battle, but Kemoeatu continues to have a strong camp and Harbaugh implied that he could be the starter."
Courtney Upshaw vs. Albert McClellan for rush linebacker: "The former practice squad player [McClellan], who started one game last season, has started both preseason games and seems to have a slight edge over Upshaw for now, though the Ravens' depth chart continues to list Upshaw on the top line."
Billy Cundiff vs. Justin Tucker for kicker: "Oh boy. This is going to be one tough call for the Ravens front office."
Hensley: Ravens Won't Pursue Free Agent RB, Will Cut Allen
Even with a tight competition for the backup role to running back Ray Rice, speculation hasn't completely died about whether the Ravens will look to the market and bring in a veteran backup like they've had with Willis McGahee and Ricky Williams the past two years.
But when asked if he thinks the Ravens will look to add a free agent, ESPN's Jamison Hensley said he thinks that third-round selection Bernard Pierce has done enough to win the job.
Beyond Rice and Pierce, the AFC North blogger thinks the rest of the lineup has been decided and sees second year player Anthony Allen as the odd man out.
"It's Rice, Pierce, [Bobby] Rainey," he wrote. "Anthony Allen will get cut."
The Jaguars will rest four starters against the Ravens tonight: left tackle Eugene Monroe (concussion), linebacker Daryl Smith (groin), cornerback Derek Cox (hamstring) and guard Will Rackley (ankle). [Associated Press]
"Courtney Upshaw is a man under the microscope right now. And he knows it," wrote Kevin Cowherd. Upshaw said that he wanted to prove himself on gameday, not just in practice. "If I don't do it in the game, then they can't depend on me," he said.  He'll get that chance tonight. [The Baltimore Sun]
Unacceptable. Can somebody take this man to dinner? … @Tandondoss: I've yet to try crabcrakes since I've been in Bmore .... [Twitter]
Linebacker Ray Lewis says playing at his new weight (about 235 pounds) feels "awesome." [The Baltimore Sun]
We still have half the preseason to go, but it's not too early for Marcellus Wiley to make his predictions about the AFC playoff picture. Two AFC North teams make it. One of them is not the Steelers. [ESPN]
Not that the Republicans had much of a chance of winning in an overwhelmingly Democratic state like Maryland. But Ray Frager says the GOP will have no chance to get the Ravens vote after fans see what vice-presidential candidate Paul Ryan is waving around in the video below. [CSNBaltimore.com]