12 Ravens Cut. Who Could Be Next?
I don't like to use that word often, but it really does.
I've watched guys like Bryan Hall sacrifice whatever it takes to make an NFL dream come true, only to become a cruel roster casualty.  Hall had a positive attitude, was a great teammate, always entertaining, and the guy dropped anywhere from 40-50 pounds after he was asked to attempt a position change from defensive tackle to inside linebacker.
He's a tough one to see let go. It was tough on John Harbaugh. And there are more tough ones to come.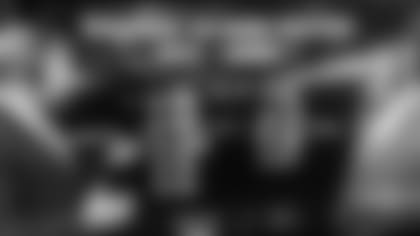 I would never wish the end of a man's livelihood on anyone, but the fact remains that after Thursday's fourth preseason game, the Ravens are required to get to a 53-man roster.
In the graphic to the right, ESPN's Jon Gruden and Mike Tirico outline the number of players the Ravens kept at each position in Week 1 of 2012.
It provides a general guide to how many players the Ravens will keep at each position this season. The team may decide to keep one more at a certain position, say like receiver, but the roster spot must come from another position.
WIDE RECEIVER (6 in 2012)
LOCK: Torrey Smith, Jacoby Jones, Brandon Stokley
BUBBLE: Marlon Brown, Aaron Mellette, Tandon Doss, Deonte Thompson, LaQuan Williams
CUT: Tommy Streeter, Rashaad Carter, Gerrard Sheppard
With a poor preseason showing thus far, Doss has suddenly become the popular pick to cut among fans. Rookies Brown and Mellette have been the unquestionable standouts, while Thompson has been stuck on the sideline with a foot injury. If the Ravens were only judging this position on the last three games, the decision would be more evident, but there are some serious questions.
"Are they prepared to cut ties with Doss, a fourth-round pick in 2011?" asked Zrebiec. "What will they do with Thompson, who was competing for a primary role before a foot injury sent him to the sideline? Is Williams in trouble despite his ability on special teams?"
RUNNING BACK/FULLBACK (4 in 2012)LOCK: Ray Rice, Bernard Pierce, Vonta Leach, Kyle Juszczyk
BUBBLE: Anthony Allen, Delone Carter, Bobby Rainey
CUT: Damien Berry
This one got even more complicated after the Ravens traded for Carter. His power-running style may fit the offensive makeup, but he is "by no means a lock," wrote Zrebiec. If the Ravens keep more than the four "locks," which is no guarantee, it is still too early to predict who has the edge for a fifth spot. "Until we see what Carter can offer in terms of special-teams play, Allen remains the third running back for now but is on very shaky footing," wrote Jones. "Rainey might be the popular pick among fans, but can the Ravens really afford to keep him on the 53-man roster to essentially be a backup return man with limited ability in other special-teams phases?"* * 
Carter has very little time to make a big impression. He has one preseason game to show what he can do. "Time is of the essence," Carter told Wilson. "I'm still going to go in there relaxed and ready to make plays because you can't play this game tight. Seize the opportunity and be confident in your abilities."
TIGHT END (3 in 2012)LOCKS: Ed Dickson, Dallas Clark (Jones has Clark on bubble)
INJURED RESERVE: Dennis Pitta (dislocated hip)
BUBBLE:  Billy Bajema, Matt Furstenburg
LONG SHOT: Alex Silvestro
CUT: Visanthe Shiancoe
Many believe the Ravens opting to cut Shiancoe may be an indication that the team is confident Dickson (slight hamstring tear) will be healthy for Week 1. Wilson also wrote that the performance of Furstenburg made the Ravens more comfortable releasing Shiancoe.
"Assuming Clark stays healthy and picks up the offense, the No. 3 spot will come down to whether the Ravens opt for a more proven pass catcher or a more blocking-oriented tight end (Bajema)," Zrebiec wrote. "Furstenburg is very much in the mix as well."
QUARTERBACK (2 in 2012)LOCK: Joe Flacco, Tyrod Taylor
BUBBLE: Caleb Hanie
LONG SHOT: Dayne Crist (signed Sunday)
SECONDARY (11 in 2012)LOCKS: Lardarius Webb, Corey Graham, Michael Huff, James Ihedigbo, Jimmy Smith, Chykie Brown, Matt Elam
RESERVE/SUSPENDED: Asa Jackson, Christian Thompson
BUBBLE: Marc Anthony, Anthony Levine, Omar Brown
LONG SHOT: Brynden Trawick
CUT: Moe Lee
LINEBACKER (8 in 2012)
LOCK: Daryl Smith, Elvis Dumervil, Courtney Upshaw, Terrell Suggs, Arthur Brown, Josh Bynes, John Simon, Pernell McPhee, Albert McClellan
BUBBLE: Nigel Carr
LONG SHOT: D.J. Bryant, Brandon Copeland
INJURED RESERVE/PUP: Jameel McClain (back/neck), Adrian Hamilton (wrist)
CUT: Bryan Hall, Meshak Williams
OFFENSIVE LINEMEN (9 in 2012)
LOCK: Marshal Yanda, Michael Oher, Bryant McKinnie, Kelechi Osemele, Gino Gradkowski, A.Q. Shipley, Jah Reid, Rick Wagner
BUBBLE: Antoine McClain (long shot according to Jones)
LONG SHOT: Jordan Devey, Rogers Gaines, J.J. Unga, Reggie Stephens
INJURED RESERVE: Ryan Jensen (foot)
CUT: Ramon Harewood, Jack Cornell, David Mims
DEFENSIVE LINEMEN (7 in 2012)
LOCK: Haloti Ngata, Chris Canty, Marcus Spears, Arthur Jones, Brandon Williams, Terrence Cody
BUBBLE: DeAngelo Tyson
LONG SHOT: Cody Larsen
INJURED RESERVE/PUP: Kapron Lewis-Moore (ACL)
CUT: Will Pericak
Flacco's Interceptions More Receivers' Fault
Quarterback Joe Flacco has played in six quarters this offseason. He has been intercepted four times.
That's uncharacteristic for a man that tied an NFL playoff record for putting up 11 touchdowns to zero interceptions. He was pick-less in the last six games of the 2012 season.
Should you be worried that this could be a new trend for the fifth-year quarterback?
"Flacco's handful of interceptions are more surprising than troubling," wrote ESPN's Jamison Hensley. "The increased number of turnovers in the preseason isn't a sign that Flacco has changed. It's evidence that the receivers around him have."
Gone are Anquan Boldin and Dennis Pitta, who could snatch balls out of tight windows. Not only are the Ravens replacing them, but they're doing it on a very short timetable with newly signed Stokley and Clark.
"And, when analyzing each interception, you can blame miscommunication or a receiver not fighting for the ball as much as Flacco," Hensley wrote. "The interception that falls on Flacco's shoulders was the one where he stared down Shiancoe in the red zone on Thursday and was picked off by middle linebacker Luke Kuechly."
The Ravens offense has shown it can move the ball with ease at times this preseason. And other times, it has struggled to find a rhythm and notch a first down. The defense has had ups and downs, but had a great showing last week.
ESPN's Eric Allen measures the level of panic the fans should be feeling about their offense, saying a 6 (on a scale from 1 to 10) is appropriate until they find a clear answer to replace Pitta and Boldin.
After turning the ball over three times Thursday against Carolina, Harbaugh was surprisingly upbeat about what his team had accomplished.
"Maybe he was just using his soothing airline pilot voice to talk us all through some more turbulence, but he sure sounded like a guy who was finally seeing what he wanted to see on both sides of the ball," wrote The Sun's Peter Schmuck. "The Ravens moved down the field efficiently on their opening drive, and the defense held Cam Newton and the multi-faceted Panthers attack in check throughout. The four blow-up plays weren't pretty, but they were easy enough to rationalize. Better now than when the games count."
1)                  The defense is heading in the right direction
2)                  Lardarius Webb and Marshal Yanda are back
3)                  The return game continues to produce big plays
4)                  Tyrod Taylor looks like a competent quarterback
5)                  The Ravens have found their third wide receiver in Stokley
Flacco Buys Birk's House For $1.385 Million
Looks like Flacco is spending at least some of that $120.6 million.
With center Matt Birk retired and moving back to his home state of Minnesota with his wife and six children, his house became available for Flacco's growing family. Flacco purchased the home for $1.385 million, according to Wilson.
"The modern single-family luxury home was built on just over one acre of land and includes a garage and fireplace," Wilson wrote. "Professional athletes in several sports, including the NFL, frequently sell real estate to each other due to familiarity and financial status."
Secret To Success: Undrafted Rookies Carry Equal Weight
The Ravens have developed a reputation for finding undrafted gems. Not only do undrafted rookies have a history of making significant contributions over the years, but they have a major impact on the salary cap.
As an example, Zrebiec points out the Super Bowl XLVII box score.
"Kicker Justin Tucker made both of his field-goal attempts, all four of his extra points and booted four touchbacks," he wrote. "Dannell Ellerbe started at weak-side linebacker and had a team-leading nine tackles and a crucial quarterback pressure on Colin Kaepernick's final incompletion of the Ravens' decisive goal-line stand. Ma'ake Kemoeatu started at nose tackle while Albert McClellan and Josh Bynes played key roles on special teams. It was Bynes' tackle of returner Ted Ginn,  Jr. as time expired that secured the franchise's second Super Bowl title."
What's the secret to their success?
Well, the front office isn't going to give away those details for other teams to mimic, but the overall theme is that the team puts as much emphasis on their undrafted recruiting process as it does the draft.
"I don't want to compare it to Coke's secret recipe, but we compare it to Coke's secret recipe," DeCosta told Zrebiec. "We try to treat the process as one of the most competitive things that we do all year. Besides the games [themselves], undrafted free agency is when you're competing against the other 31 teams for a very small amount of players with a very small amount of money. … For us, it's critically important."