Odds Joe Flacco Wins NFL MVP
Joe Flacco has already earned the Super Bowl Most Valuable Player award, and he has the Corvette to prove it.
Could he continue his playoff streak straight into the 2013 season and become the NFL MVP?
The odds are against him.
Sports book Bovada gives Flacco the 22nd-best odds at 50/1, with a lot of quarterbacks, two running backs, a wide receiver and even a defensive end with better chances. Teammate Ray Rice isn't far behind Flacco at No. 26 with 66/1 odds.
The league's MVP is voted upon by sportswriters at the end of each season and before the playoffs begin. The players that usually win the award often put up seriously ridiculous numbers. Quarterbacks that have won in recent years (Peyton Manning, Tom Brady, Aaron Rodgers) have often thrown for around 4,500 yards, and running backs (Adrian Peterson, LaDainian Tomlinson, Shaun Alexander) churn out 1,800-plus rushing yards.
Flacco has never thrown for more than 4,000 yards. The closest he's gotten was last year when he finished with 3,817.
But with Ray Lewis and Ed Reed gone, and a perceived weaker receiving corps this season, if Flacco can surpass the 4,000 mark and lead his team to the playoffs for the sixth-straight year, nobody will be able to knock the quarterback's success by saying he did it with a remarkable supporting cast (even though that is true of any winning team).
Starting the 2013 season with a new offensive coordinator for the first time of his NFL career, perhaps this will be year that Flacco breaks out, statistically speaking.
In his first few years in Baltimore, the Ravens were winning with a defensive mentality. In his second season, Flacco began pushing for a change to that philosophy, as chronicled in a feature story on Flacco in ESPN The Magazine Friday.
"Joe's first few years in the league, he wasn't able to showcase everything he had," tight end Dennis Pitta said, per Kevin Van Valkenburg. "A big part of that is because this is the Ravens. We were built on defense. That was the philosophy: Limit mistakes, control the ball, let the defense win the game."
Added Flacco: "The whole Why can't you just play safe? philosophy, I don't think those guys would ever outwardly put it that way. But the overall sense of the program, there was a little bit of that. The defense felt like they had the kind of ability that they did in 2000, and that wasn't necessarily the truth. My point was: That's not going to give you the best odds of winning. You might be able to pull it off now and then, but I don't think they'd won more than one playoff game from the time they won the Super Bowl in 2000 to the time I got there. So we obviously needed to take another step."
There was a symbolic moment of a philosophical change in January's AFC Championship in New England with the Ravens down 13-7 at halftime. Flacco and Head Coach John Harbaugh met and agreed on the plan for the second half. Harbaugh announced the plan to his defensive leaders:
"Here is the deal! All second half, we're cutting loose on offense," Harbaugh said. "We're going to spread them out, run no-huddle, attack on every play. I'm putting the ball in Joe's hands. He's going to win the game for us. Let's go!"
"The defense erupted in approval," wrote Van Valkenburg.
Perhaps another symbolic moment for Flacco was when the Ravens let go of Cam Cameron as offensive coordinator, who Flacco said he had a good relationship with, but was "just a tough person to communicate with."
Excluding a meaningless regular-season finale, Flacco went on a tear over the next five games after the coordinator change. He completed 60 percent of his passes for 1,449 yards, 13 touchdowns and no interceptions under Jim Caldwell.
Van Valkenburg asked whether Flacco was capable of putting up those kinds of numbers all along.
"It's hard for him, looking back, not to view it that way," wrote Van Valkenburg.
Said Flacco: "I wish we'd been more willing to take risks. We were never willing to fail to get better. We always played safe. And we won, but we didn't really get better. I had no margin for error. I'd love to throw 40 touchdown passes a year."
*2013 NFL MVP - Odds to Win    *
Peyton Manning (DEN) QB                    5/1
Aaron Rodgers (GB) QB                        13/2
Colin Kaepernick (SF) QB                      10/1
Drew Brees (NO) QB                              10/1
Adrian Peterson (MIN) RB                      12/1
Tom Brady (NE) QB                               12/1
Matt Ryan (ATL) QB                               15/1
Robert Griffin III (WAS) QB                    18/1
Russell Wilson (SEA) QB                       18/1
Andrew Luck (IND) QB                           25/1
Calvin Johnson (DET) WR                      25/1
Eli Manning (NYG) QB                           25/1
Arian Foster (HOU) RB                           33/1
Ben Roethlisberger (PIT) QB                  33/1
Cam Newton (CAR) QB                          33/1
Matthew Stafford (DET) QB                   33/1
Michael Vick (PHI) QB                           33/1
Tony Romo (DAL) QB                            33/1
Matt Schaub (HOU) QB                          40/1
J.J. Watt (HOU) DE                               40/1
Chris Johnson (TEN) RB                        50/1
Joe Flacco (BAL) QB                             50/1
Marshawn Lynch (SEA) RB                    50/1
Philip Rivers (SD) QB                            50/1
Jay Cutler (CHI) QB                               66/1
Ray Rice (BAL) RB                                66/1
Alfred Morris (WAS) RB                         66/1
Jamaal Charles (KC) RB                         66/1
Matt Forte (CHI) RB                               66/1
Steven Jackson (ATL) RB                      66/1
Doug Martin (TB) RB                             66/1
Andy Dalton (CIN) QB                            75/1
Alex Smith (KC) QB                               75/1
Josh Freeman (TB) QB                          75/1
Sam Bradford (STL) QB                         75/1
A.J. Green (CIN) WR                              100/1
Andre Johnson (HOU) WR                     100/1
Brandon Marshall (CHI) WR                    100/1
Reggie Bush (DET) RB                          150/1
WR Thompson To IR? Two More Roster Moves By 4 P.M.
The Ravens still have to make two more personnel moves by 4 p.m. today to get their roster down to the required 75 players.
While they could cut two of any of the "bubble" or "long-shot" players I outlined in yesterday's LFW, the Ravens could also opt to move players to the active physically unable to perform (PUP) or injured reserve (IR) lists.
Harbaugh said Sunday that they still needed to evaluate receiver Deonte Thompson's foot, and some are speculating whether Thompson could end up on IR. That would certainly help with the tough decisions at wide receiver (which Ryan Mink will detail later today).
"If the injury winds up more serious than initially believed, then it's possible Thompson winds up on IR," wrote Baltimore Beatdown's Jason Butt. "To be clear, there's been nothing leading to this thus far. However, Thompson hasn't participated in practice since spraining his foot against Tampa Bay in the first preseason game."
Butt also named tight end Dennis Pitta as a potential candidate for IR or IR-designated to return to free up one of the two roster spots. Guard/center Ryan Jensen reportedly broke his foot in training camp, which could take 10 weeks to recover. So he's another candidate for IR, says Butt.
Finally there are the potential PUP moves, where inside linebacker Jameel McClain (neck/back) and defensive tackle Kapron Lewis-Moore (knee) are both possibilities.
Taylor Appears Healthy, Still May Not Play
When the Ravens signed quarterback Dayne Crist Sunday, it was speculated that No. 2 quarterback Tyrod Taylor may not have been healthy enough to play this week after taking a blow to the head against Carolina last week and undergoing concussion tests.
But Taylor was on the field for the second straight day of practice yesterday. Even if he is healthy, there is still a chance the Ravens opt to keep him on the bench.
"Because the Ravens are only expected to carry two quarterbacks into the regular season, there is a decent possibility that Taylor wouldn't play Thursday in St. Louis even if he was fully cleared," wrote The Baltimore Sun's Jeff Zrebiec. "With starter Joe Flacco unlikely to play as well, that would leave veteran Caleb Hanie and the recently signed Dayne Crist as the Ravens' quarterbacks for that game."
Rookie free agent Matt Furstenburg and veteran Billy Bajema outlasted Visanthe Shiancoe.
But it's unlikely that they both make the 53-man roster considering the Ravens have traditionally kept only three tight ends and versatile fullback Kyle Juszczyk can help at the position.
If there is a third spot, there's a good chance it comes down to Furstenburg and Bajema.
Butt says that if the Ravens want an experienced veteran that knows the offense and is a proven blocker, Bajema is the way to go. But if they want a younger player with more receiving potential (which the Ravens already have in Dickson and Clark) that isn't bad at blocking, Furstenburg would be their choice.
"This one's coming down to the wire and I can see it going either way," Butt wrote. "It would be easy for the Ravens to play it safe and bring Bajema back on. Then again, there's something about Furstenburg that makes him a more appealing option. My gut says the Ravens take the chance on the rookie, even if the safer move is to keep the veteran."
Defense 'Absolutely' Championship-Caliber
We know the story ... the Ravens Super Bowl defense lost a host of defensive starters, including leaders Lewis and Reed.
After all the offseason moves, does Baltimore still have a championship-caliber defense?
"Yes. Absolutely," former Ravens coach Brian Billick told MMQB.com's Robert Klemko. "It would be silly to dismiss the loss of Ed Reed and Ray Lewis. But they've made some interesting acquisitions. I think they're going to have a better pass rush.
"I don't think they're going to fall off because I don't see anyone else getting that much better. Outside of Denver, who everyone looks at as the bell cow right now, who in the AFC is going to be better? Certainly no one in the AFC North, even though Cincinnati is a good team. The thing that intrigues me most about this year is how wide open it is. I could give you 10 NFC teams and seven AFC teams and argue why that's a Super Bowl team. I don't ever remember another year like this."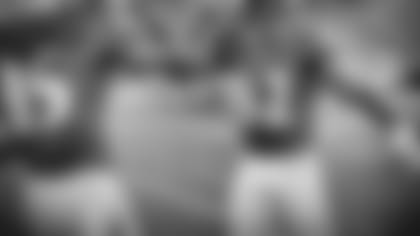 @RavensInsider: Hearing that Ramon Harewood went unclaimed off waivers, making former Ravens offensive lineman an unrestricted free agent [Twitter] * @RavensInsider: Jerry Rosburg on Ted Ginn TD return: 'We can't give up touchdowns. I don't care if it's in preseason or regular season, it can't happen.' [Twitter] * @JackCornell73: Loved my time in Baltimore and met so many wonderful people who are friends for life. Can't wait to see where my next stop will be! [Twitter] * @TorreySmithWR: Salute to family  #terpnation #ravensnation [Twitter/Instagram] * @DJBerry20: Thank You Baltimore for everything it was fun I love this city... Business is never personal... #XLVII… [Twitter/Instagram] * @mspear96: @DJBerry20 you just getting started brother! Can't wait to see you do great things! Honor him and he will honor You!! [Twitter] * @Ravens: @Orioles OF Nick Markakis and his family are visiting #Ravens practice today. Good to see him! [Twitter]