Hold Off Sounding Alarm On Dickson
When tight end Ed Dickson disappeared from Sunday's practice at the Naval Academy, a small Twitter frenzy ensued.
In light of the Ravens losing starter Dennis Pitta for the season, Dickson's absence increased the heart rate of Ravens nation when media reported they didn't see Dickson practicing but also didn't notice him get hurt.
After practice, Head Coach John Harbaugh explained Dickson's "hamstring grabbed a little bit, so we pulled him out for precautionary reasons.
"We'll take a look at it tomorrow and see how it looks and see where we're at."
But, Monday morning, not everyone is feeling so sure. With the web filled with various versions of the headline "Dickson Leaves Practice, Strains Hamstring," many are feeling uneasy.
"But regardless of whether or not it's a major injury, the Ravens have to be a little worried," wrote CBSSports.com Will Brinson. "With Anquan Boldin in San Francisco and Pitta sidelined, there's not a ton of safety-valve type pass catchers available for Joe Flacco to hit."
That's true, but Dickson may be just fine. Before sounding the alarm, take the word of the ones who were at practice and talked with Harbs afterward, and then let's get an update from the head coach later on.
"Nothing serious," Baltimore Beat Down's Jason Butt tweeted.
"Sounded minor," Carroll County Time's Matt Zenitz reaffirmed.
"Not considered serious," confirmed @Ravens.
Four Ravens Crack NFL Top 25 Jersey Sales
Fresh off the* *Super Bowl XLVII victory, Ravens jerseys became a sizzling item.
The NFL released its top 25 best-selling jerseys for last quarter, April 1 to June 30, and guess which team had the most players represented in the list?
That's right, you sharp readers, the Ravens.
Four Ravens cracked the top 25, including retired linebacker Ray Lewis (No. 8), running back Ray Rice (No. 14), wide receiver Torrey Smith (No. 17) and quarterback Joe Flacco (No. 25).
That's a significant jump from last year over the same time period when only Lewis made the list at No. 12.
"The biggest surprise is Smith. I would've guessed Ed Reed or Terrell Suggs at that spot," wrote ESPN's Jamison Hensley. I concur, but am happy to see Smith's popularity rising.
The San Francisco 49ers (No. 1 Colin Kaepernick, No. 13 Patrick Willis, No. 22 Frank Gore) and the Seattle Seahawks (No. 2 Russell Wilson, No. 12 Marshawn Lynch, No. 23 Percy Harvin) each had three players in the top 25.
Despite beating Kaepernick in the Super Bowl, Flacco came in 24 spots behind the second-year sensation. CNBC described Flacco as the "talented but dull QB," using Flacco's dad's own words to jab him for his place on the list. (Time to flash the ring?) Flacco has been anything but dull in training camp, competing with Suggs as the biggest trash-talking Raven.
As for Lewis, will his sales start to die down now that he is retired?
His No. 8 spot was a slight dip from his overall No. 3 ranking last season (highest for a defensive player), but history has shown that some jersey sales continue long after an NFL career has ended. Apparently Joe Montana's 49ers jersey is still going strong.
"Lewis' No. 52 jersey will continue to sell in retirement," wrote CNBC's Michael McCarthy. "Many fans like to wear jerseys of their favorite all-time players, even if they haven't suited up for years."
Similarity In Ravens, Steelers Practices: Physicality
As Peter King continues his tour of NFL training camps, he came away with one distinct memory from Pittsburgh.
The Steelers are keeping the spirit of smash-mouth AFC North football alive, with King detailing a drill in which linebacker Larry Foote plowed into running back Le'Veon Bell. The collision* *apparently prompted hoots and howls from those watching.
King asked Mike Tomlin why his practices are so physical when so many other teams take it easy for fear of injury. The head coach replied, "I just think physicality is an asset of ours, collectively,'' Tomlin says. "In order to make it an asset, we've got to do it. You've got to pit man versus man out here. You've got to compete. And that's what we're going to do. We're not going to run away from it. Football is a game that's continually evolving, and we acknowledge that. But the physicality of the game will never go anywhere."
Interesting. Harbaugh had to answer a similar question after he suddenly told his players Friday that they would be running their final 11-on-11 drills in full-tackling mode.
"We feel like we want to be a physical defense," Harbaugh said. "We want to make sure we're ready to tackle when the first game comes around, so that's something you have got to do."
Ah, there's nothing like the AFC North. No other division is more physical.
Here's an abrupt transition.
The Ravens may be smash mouth on the field, but they're putty in their kids' hands off of it. We tweeted out a few father-son and daddy-daughter moments from practice, and got a big response. Here's a couple of moments that will melt your heart.
Here's Joe with little Stephen Flacco, and Ray Rice with baby girl Rayven. And in case you missed it, Haloti Ngata enjoyed ice cream with his kids on the field and Ed Dickson shared a moment with his cute one.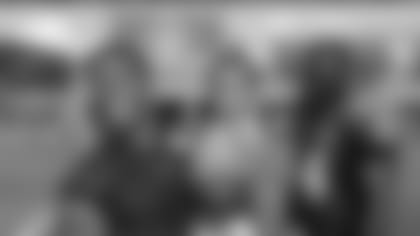 McKinnie Speaks Out: I'm Not Fat Or Sloppy
Left tackle Bryant McKinnie is "tired" of weight questions, says Butt, and the blogger thinks McKinnie has a point when he says people give his weight more attention than it deserves.
McKinnie reported overweight in Minnesota in 2011, some reports saying he was 400 pounds, and ever since reporters have been focused on his weight.
After telling reporters after yesterday's Navy practice that his weight won't affect his play, McKinnie said: "I don't know why this weight thing is following me back every year," McKinnie said, per Butt. "I reported overweight one year. And now it's a constant thing. The thing about is when people see me they feel I lost or gained weight.
"It's not an issue. I'm not like a big, huge guy. I'm not fat or sloppy. People will see me and they're like, 'Oh, you lost a lot of weight.' Actually, I didn't. It's just every time I'm overweight, whether it's five or 10 pounds, people assume I ballooned up like crazy."
@mzenitz: Teammates continue to rave about reserve safety Omar Brown. Tandon Doss on Brown: "That boy is Baby Ed Reed. Legit. That boy's a ballhawk"
@mzenitz: Ihedigbo said Omar Brown's "Baby Ed Reed" was given to him by Ed Reed last year and that the team still calls him that.
Deonte Thompson is showing he belongs. Says Vensel: "Thompson has gotten a lot of reps with the first-team offense during camp and worked almost exclusively with the ones on Sunday. He was Flacco's favorite target and he got open in a variety of ways. He was very effective out of the slot, including one play where he ran a skinny post, snatched a pass and moved the chains. On another play, Thompson was lined up on the outside and got behind cornerback Corey Graham, but Flacco overshot him.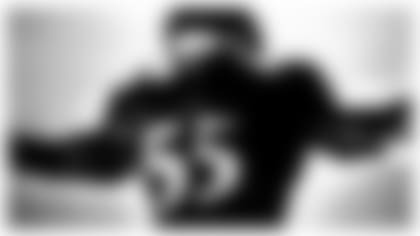 Suggs' comment with the picture he tweeted to the right … @untouchablejay4: The shadows betray you,.........    BECAUSE THEY BELONG [TO] ME! 
And I'm proud to be a part of it …. @pmgleason: Ravens PR tree keeps growing. Congrats to 2012 star interns @adleclair (Cardinals) & @jones_billy (Raiders) on new full-time jobs.
@bmoreeisenberg: Ogden hit that speech out of the park. Beautiful job.
@gerrysandusky: Ravens fans I spoke to after J.O.'s speech seemed to think Ogden represented himself and the Ravens with class. Agreed.
"Nose tackle Terrence Cody revealed that he had elbow surgery this offseason in addition to a previously known hip surgery," reported Aaron Wilson.
Oh my goodness, Haloti Ngata. This will go down as a classic local Baltimore ad.