Ravens May Boast NFL's Most Talented Roster
It's hard to believe it's only been about five months since the Ravens Super Bowl-winning roster was* *stripped and people were predicting doom and gloom in Baltimore.
A trade, cuts and free agency led to high-profile Ravens like Anquan Boldin, Ed Reed, Paul Kruger and Dannell Ellerbe joining new teams.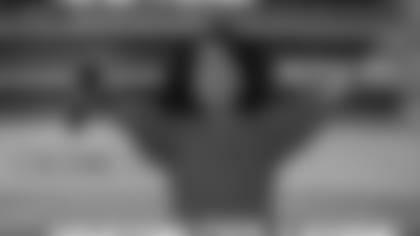 This Internet Meme reflected the moment perfectly, with Oprah yelling out "You get a Raven! You get a Raven! Everyone gets a Raven!" (For all you football fanatics that don't watch Oprah, this clip explains the joke.)
"You're almost surprised driving up here today to see this beautiful facility, the Under Armour Performance Center, to still be standing," Sports Illustrated's Peter King sarcastically joked when he visited Monday, referring to the personnel losses that once seemed insurmountable.
But now that General Manager Ozzie Newsome has had time to implement his plan, outsiders are starting to believe again. In fact, despite the turnover, the Ravens could boast the best roster heading into the preseason.
"I'm not counting the Baltimore Ravens out," Brian Baldinger said on the NFL Network. "You never take them off the perch until somebody unseats them.
Newsome had a busy offseason.
His goal even before the Ravens went to playoffs was to improve on defense, especially against the run. He reloaded the roster with three-time Pro Bowl outside linebacker Elvis Dumervil, top-notch linemen Chris Canty and Marcus Spears, safety Michael Huff and linebacker Daryl Smith.
Of the NFL veterans that found new homes this offseason, King says Smith may have the biggest impact on his new team. Canty made his list at No. 4 (Boldin to San Francisco was No. 2).
"People didn't trust in Ozzie Newsome and Eric DeCosta and John Harbaugh a couple months ago and now all of a sudden … I mean, they're so good," said NFL Network's Mike Mayock.
Combine Newsome's ability to reload, with Harbaugh's ability to develop and coach, and Baldinger left Owings Mills feeling impressed.
"I was in Baltimore and nobody runs practice quite like John Harbaugh right now," Baldinger said. "When you see Haloti Ngata's tongue hanging down to the ground after practice and Ray Rice walking off the field with his shoes off already because the dogs (feet) are burning and barking. Their defense is already better."
After watching the new-look Ravens in camp, the 13th team he personally visited this summer, King made a bold prediction:
"These are still the Super Bowl champions and I believe they are going to be playing deep into January again," King said.
While we don't know exactly what order in which they will fall on the final preseason depth chart, we know that wide receivers Torrey Smith, Jacoby Jones, Tandon Doss and Deonte Thompson are locks to make the roster.
But which of the "bubble" wide receivers have an inside track on winning the remaining two or three roster spots.
When the Ravens open their preseason in Tampa Bay tonight, there are four main receivers you'll want to keep an eye on* *as they play for their job: David Reed, LaQuan Williams, Tommy Streeter and Aaron Mellette.
In the opinion of The Baltimore Sun's Matt Vensel, Reed, who signed a two-year deal in March, is a "strong" candidate if he can stay healthy. And as of right now, he believes that Williams and Mellette are both ahead of Streeter, "who should be praying for a – wink wink – season-ending hang nail injury."
"LaQuan has been a pretty good special teams player, but he doesn't give them much offensively, so Mellette could have the edge there," Vensel wrote. "Carrying seven wide receivers seems like a lot, but it all depends on the numbers for special teams."
Below is a breakdown from The Sun's Aaron Wilson of the four receivers and where they stand heading into the preseason opener.
David Reed (4th year, 5th round, signed 2-year deal in March)Missed some practice time with a groin injury, questionable to play Thursday Where he stands: "While his latest injury is not believed to be serious, it adds to the questions about Reed's durability. … But the Ravens love his speed and work ethic and what he potentially could add to the return game so they rewarded him with a two-year, $2.5 million deal in March. If Reed can stay on the field, his special teams prowess gives him an inside track for one of the final roster spots."
LaQuan Williams (3rd year, undrafted free agent)Missed some practice time with a bruised shoulder Where he stands: "Williams is healthy now and starting to make his case for playing time. The team likes his versatility, toughness and special-teams skills. Even though the former Poly standout isn't expected to grab a starting role, he's squarely in the conversation as a key reserve and in the running to earn one of the final roster spots for the third consecutive year."
Aaron Mellette (Rookie, 7th round) Where he stands: "Perhaps, no Ravens' rookie faces a bigger transition to the league than Mellette who played in the Southern Conference the past four seasons. The 23-year-old, who rewrote Elon's receiving record book, has certainly held his own, catching most balls thrown in his direction and finding ways to make some plays. But there have been times where he's struggled against physical coverage and looks tentative within the offense. The Ravens abhor cutting draft picks without giving them at least a year in the organization to grow so it's likely that they'll find a way to keep Mellette. But with so many young guys bidding for so few spots, it won't be easy."
Tommy Streeter (2nd year, 6th Round, IR last season) Where he stands: "If training camp practices are any indication, Streeter has an uphill battle to make the team. In recent practices, undrafted rookie free agent Marlon Brown has been getting more of an opportunity than Streeter has. At 6-foot-5 and 215 pounds, Streeter has the look of a dangerous big-play threat that could become a red-zone weapon. However, the tools haven't translated to the practice field and the former University of Miami standout may be running out of time."
Third Tight End: Furstenburg or Bajema?
 "That's an interesting battle because both bring something different to the offense," Vensel replied. "Bajema is a pretty good blocker, which is why he has been able to play in the NFL for so long. Furstenburg is a better athlete and pass catcher. He kind of reminds me of Chris Cooley a little bit in the way he moves. I think Bajema has the edge right now. He is out there with Shiancoe when the Ravens use two tight ends.
"But who makes the team might depend on what the Ravens are looking to get out of their third tight end. At the very least, I think they would love to stash Furstenburg on the practice squad."
Genuine Ravens Excitement
While preseason games can be a bore for the casual fan, it is anything but that for players.
Thursday night represents a life-changing opportunity for younger players, a fresh start for newly signed veterans, and a chance to finally hit somebody.
When the Ravens charter plane took off for Tampa Bay, judging by players' tweets, they were genuinely excited and grateful for the preseason kickoff.
Just landed in Tampa and its slowly sinking in that we finally get to hit somebody else tomorrow. — Michael Huff (@Huffy247) August 7, 2013
Feeling extremely blessed for what's about to happen tomorrow.. If only my family could be there to witness it in person — Aaron Mellette (@A_Mellette3) August 8, 2013
Got off the plane in Tampa...and we can say it re dawned on me lol... Opportunities knock but once... Take advantage if them! — Ramon Harewood (@mvpbig) August 8, 2013
Thank u lord for the gift to play Pro football! I realize you could've chose anybody else to give this gift to but you saw fit to choose me — marcus spears (@mspear96) August 7, 2013