Joe Flacco Is … [Fill In The Blank]
His response to Lisa Salters' question in the ESPN post-game interview said it all.
"The touchdown pass to Anquan Boldin, take me through that," Salters said to quarterback Joe Flacco following his 299-yard, two-touchdown performance in the Ravens' 44-13 win over the Bengals.
Flacco looked puzzled. He looked down and said quietly to himself. "Which one was that?" Then asked Salters, "What happened on that?"
Despite taking the microphone away from her mouth, you still could hear Salters say, "It was your second one."
"Oh, yeah," Flacco said. "OK, so we had a little route …"
It didn't matter what he said after that. When a quarterback can't recall a spectacular pitch and catch like the one he and Boldin put together, you know he had a good night.
And everyone across the league took notice. Twitter erupted after Flacco's 34-yard pass to Boldin.
"Perfection," CBSSports.com's Jason Butt wrote of the pass in the face of pressure.
"Pay the man. Hear that [Owner] Steve [Bisciotti]?"
More On What They're Saying About Flacco, Ravens …
Finally, Fiiiiiinally Steve Young Is Impressed:Perhaps the Ravens offense and Flacco's toughest critic through the years has been Super Bowl MVP Steve Young. The ESPN analyst has regularly criticized the unit for not doing enough to help the defense.* *
But Young believes a new era in Baltimore has begun.
"[Flacco] put himself on the front page," Young said in the video below. "It's about Joe Flacco. And it's not because he meant to, it's because he was superior, it's the nature of the game today with quarterbacks. The Ravens are now set in my mind, more than ever, including in 2000, to go the distance with this formula."
Young said that if this team were like the ones we've seen in Baltimore's past, safety Ed Reed's interception would have been the play that bailed out the offense and saved the day. Instead, on Monday night it was a play that was simply icing on the cake.
"This is a completely different scenario. … You saw [Flacco]. He ran the show," Young concluded.
Beware, NFL. Baltimore is for real: "So what's a scarier development for the Baltimore Ravens' future opponents and their rivals in the AFC North: That Joe Flacco and Baltimore's new no-huddle offense looked absolutely lethal in picking Cincinnati apart in Monday night's 44-13 victory? Or that, in the second half with the game still in doubt, Baltimore was able to rely on its defense, even without Terrell Suggs, to absolutely slam the door and put the game away?" asked SI.com's Chris Burke. "Now, the rest of the NFL will be left with the conundrum of figuring out how to stop this Baltimore train that appears ready to barrel down the tracks. Think you can stop the Ravens' offense? Good luck."
Trophy Talk Already? "The actual engraving of the trophy is on hold, but the Baltimore Ravens have opened up a lead on the AFC North," wrote FOXSports.com's Zac Jackson. "And they sent quite a message in doing so. …  The Ravens are going to play fast, Flacco looks like the genuine item, and the pass rush misses the injured Terrell Suggs but isn't exactly turning to the practice squad for help. Ed Reed is still on the roster, too. It was his 34-yard interception return for a touchdown with 13 seconds left in the third quarter that provided the exclamation point."
Webb: Refs Made A Mistake
With the Bengals trailing 41-13, cornerback Lardarius Webb was sent on a blitz off the edge and nailed quarterback Andy Dalton on his blind side just as he released a pass.
M&T Bank Stadium erupted in cheers, but a yellow flag came out and Webb was called for a personal foul despite not using his helmet or making contact with Dalton's head, says CSNBaltimore.com's J. Michael.
Webb and Harbaugh were visibly upset. The head coach even called a timeout after the play, and used the extra time to lay into the official a little more.
Believing he didn't do anything illegal, Webb doesn't expect a fine from the league.
"I was just giving effort. I wasn't trying to hurt him. I wasn't trying to do something stupid," Webb told CSNBaltimore.com. "I'm going to leave it to the NFL, let them see it. I was trying to be as legal as possible. I put my head on the other side of him. I gave him a shoulder. I hit him low, in between the waist and ribs.
"People make mistakes and the ref made a mistake. ... You're going to have adversity. You're going to have bad calls."
Webb wasn't the only one to think the refs made the wrong call.
"Not sure I agree with the late hit called on Webb," wrote CBSsports.com's Jason Butt. "That was a form tackle, leading with shoulder, hitting Dalton in the back. … Harbaugh is laying into this replacement ref. Almost seemed like the call was given in sympathy.
Fine Likely Coming For Mays Hit On Dickson
Another personal foul penalty can't be disputed like Webb's and could result in a fine from the league.
Strong safety Taylor Mays laid into tight end Ed Dickson with a helmet-to-helmet hit, costing his team 15 yards. The uncatchable ball was sailing past Dickson when Mays launched himself into the third-year veteran.
"This just isn't* *smart. Come on, safety Taylor Mays," said NFL Network's Darren Sharper. "You see the ball, if you have any awareness, you see the ball flying by your head and it's not going to be caught. Don't launch yourself into a defender because it not only costs your team, it's gonna cost your pockets."
"But you said, 'If you have any awareness.' Maybe that's the issue," responded fellow analyst Heath Evans.
"That is the issue," Sharper concluded.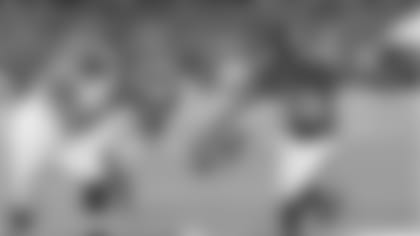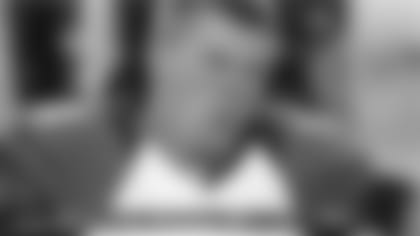 Classic Images In Ravens' Rout
Asked if he knew he would return a record-breaking interception for a score, Reed classically said:
"Yeah, I wasn't going to let the O-lineman catch me. That's why I just dove."
Reed's comment caused the room to erupt with laughter. "That O-lineman" was 335-pound tackle Andre Smith, pictured right.
Reed admitted that he pulled his hamstring and that Father Time does catch up to you, but he was still sure he could out-run the big man.
The Ravens' pass rush was slow out of the gates, but it wasn't non-existent.
Just ask Dalton if he felt the pressure, especially after defensive tackle Haloti Ngata hit him from behind and led him to this "inevitable grimace."
Youth Movement On O-Line Effective
I wouldn't believe you if you said you saw*this Ravens starting offensive line coming (from left to right): Michael Oher, Ramon Harewood, Matt Birk, Marshal Yanda, Kelechi Osemele. *
But by removing 35-year-old Bobbie Williams and 32-year-old Bryant McKinnie and inserting a third-year player (Harewood) and a rookie (Osemele) in their spots, the Ravens suddenly injected a youth movement that "transformed what was one of the oldest groups in the league," wrote the Baltimore Sun's Aaron Wilson.
"And the strategy was effective for the most part as Flacco had sufficient time to complete 21 of 29 passes for 299 yards, two touchdowns and no interceptions for a 128.4 passer rating."
Now it's Birk as the sole elder statesman with four starters under the age of 28: Marshal Yanda (27) Oher, (26) Harewood (25) and Osemele (23).
McKinnie, Williams React To Getting Benched
Perhaps the rest of the world didn't see the offensive-line surprises, but McKinnie did and he told Wilson he's fine with it.
"I knew this was happening," said McKinnie, who agreed to a contract restructure last week that cut his salary from $3.2 million to $2.2 million. "I'm taking it fine. It's definitely a long season, I just have to do what I'm supposed to do. I'm a team player."
Williams offered similar sentiments, saying he just wants to help out any way he can when called upon.
"Whatever goes on, it's about the team," Williams said. "We all play a role. The main thing happened, we won. It's just how things roll. It's a big team picture. Everybody is good with that. It's a long season, it's a long season."
Browns' Best CB Suspended For Ravens Game
That's because Haden was suspended Monday without pay four games for violating the NFL policy on performance enhancing substances. He tested positive this offseason for the stimulant Adderall, according to espncleveland.com.
"Haden did not apply for a Therapeutic Use Exemption (TUE) before using the drug, which is commonly prescribed to treat Attention Deficit Hyperactivity Disorder," wrote Tony Grossi. "The drug is commonly abused to fight tiredness."
The Ravens won't mind not having Haden out there as he looked good in the Browns' season opener against the Eagles, recording six tackles, one pass breakup and an interception.
"This night could create some bad blood," wrote Dan Hanzus. "Sitting on a 28-point cushion early in the fourth quarter, the Ravens kept throwing in Flacco's final series. Think the Bengals noticed?" [NFL.com]
With the salary cap calculated differently during the regular season (counting top 53 players, not just the top 51), Wilson provides an update on the Ravens remaining cap space. They are now about $1.5 million under the limit, which ranks as the fourth-least in the league. [The Baltimore Sun]
Ravens new outside linebacker Paul Kruger was targeted by the Bengals, says Wilson, "overwhelming him at the point of attack on running plays. Kruger had trouble getting off blocks and was knocked flat on his back during one sequence. He had one tackle through three quarters and wasn't nearly as physical as his predecessor, Jarret Johnson." [The Baltimore Sun]
ESPN Stats on Ravens pass rush: "The Ravens sent five or more pass rushers on 16 of Andy Dalton's 41 dropbacks. Against the additional pressure he completed 40 percent of his passes and threw his only interception." [ESPN]
@JasonButtCBS: TE Todd Heap paid a visit to the Ravens locker room post-game. He's in town for Art Modell's funeral tomorrow. [Twitter]
@JasonButtCBS: Ray Lewis was asked if this is the offense he's been waiting for: "I've been here a long time. ... You can finish that off for me." [Twitter]
Ramon Harewood after his first NFL game and start … @mvpbig: All my Bajan Fam.. They can never take this away from me... From parish land Barbados to Monday night football... Trully humbled and blessed [Twitter] * @mattvensel: Bernard Pollard is easily my favorite #Ravens player. Talks big, hits big, always entertaining. Perfect fit here in Baltimore. [Twitter] * @GerrySandusky: I wonder if Art Modell had any idea how many of us would love Monday Night games like this when his vision helped create them. Thanks Art. [Twitter] * @PMGleason: All Ravens have Art Modell t-shirts in their lockers. Many could wear them under their pads tonight. [Twitter] * @Ravens: A bunch of @Orioles at the game. Cal Ripken Jr., Brady Anderson, JJ Hardy, Mark Reynolds, Matt Wieters, Jim Johnson and Adam Jones. [Twitter] * @RAVE_TV: Our control room just erupted!! Our replays helped the coaches see the knee down and throw the challenge flag. [Twitter]