Canty: Ravens Absolutely Disrespected
Terrell Suggs stood in the middle of the team huddle in the season opener versus Denver, firing up his squad before the game.
With the loss of eight Super Bowl defensive starters, including future Hall of Famers Ray Lewis and Ed Reed, there are plenty of skeptics who don't believe the rebuilt Ravens defense will succeed in 2013.
From the outside looking in, some pundits and analysts believe the skepticism is warranted. So when Andrew Siciliano of the NFL Network heard that Suggs used the "disrespect" card, he thought it was simply a tactic used to ignite teammates before a nationally-televised game.
"I know that's motivation, but come on, do you really think you guys are disrespected?" Siciliano asked Ravens defensive lineman Chris Canty on "Around the League" Wednesday.
"I absolutely think this team is disrespected," he replied. "When you start talking about the turnover that this team has had in the offseason – the retirement of Ray Lewis and the departure of several other players – a lot of people didn't give us the opportunity to have a successful season this coming year. So, I definitely think the disrespect card is the appropriate card to play."
Of course, Canty went on to emphasize that after the Ravens defense gave up a franchise-high 49 points to the Denver Broncos, he understands they have to "earn" their respect.
Siciliano was still taken aback by Canty's perspective.
"Do you think it just was natural skepticism, or legitimate disrespect?" Siciliano asked.
Canty stood his ground, saying: "[I] definitely got to say it is legitimate disrespect. People are saying that we're not going to have an opportunity … to make it to the postseason after you have a quarterback [Joe Flacco] that's done nothing but do that since he's been in the National Football League. I mean, come on."
The Ravens have admitted that they are "ticked off" at themselves because of the way they played last week. While they esteem quarterback Peyton Manning and the Broncos, the Ravens feel they made it easy on them with poor tackling and execution. Canty also mentioned a lack of focus.
 The defense is looking forward to its next opportunity to prove its worth. Defensive Coordinator Dean Pees still believes this is a top-10 defense.
He noted in a must-see passionate and candid press conference yesterday that his unit gave up 307 yards on nine plays. He said on 61 other snaps, Baltimore held Denver to just 203 yards. The Ravens kept the Denver run game to 2.8 yards per rush and sacked Manning three times and hitting him four more.
Overall, he was pleased with the defensive effort, but knows they have to fix the mistakes that led to the 307 yards of destruction.
"We didn't play poorly; we played poor plays," Pees said. "And there were nine of them, and we've got to correct those nine plays. I still believe we can be a very, very good defense.
"It is personal. I love this defense. I love these guys. And when you put that much work into it and hard work and [are] really dedicated to it and believing what you're doing and really just a few things make an unbelievable amount of difference, it does – it really bothers me. It bothers me because I want us to be a top-10 defense. I want us to be a top-tier defense. I think we are a top-tier defense if we don't do those things."
Brady Furious With Receivers
One of the knocks critics use on Flacco is that he doesn't raise receivers' game, unlike, they say, Patriots quarterback Tom Brady.
But with Wes Welker and his two starting tight ends from last season gone, Brady is not meshing well with his new targets after two weeks of football. I wouldn't underestimate Brady going forward (just like Flacco and his targets), but he can thank his defense and its three fourth-quarter interceptions for holding off the New York Jets in Thursday night's victory.
Brady completed less than 50 percent of his passes last night, and he was clearly upset with some drops and a miscommunication with Julian Edelman in the red zone in the first half.
These Sports Nation GIFs capture the moment. (For mobile users, tap the "View In Browser" icon at the top of this page.)
Teammates Give Reed Walker For Birthday
I nearly woke up my entire sleeping house with a loud belly laugh when I saw this picture of former Ravens safety Ed Reed using this platinum walker in the Houston Texans locker room.
Apparently, teammate Danieal Manning placed it next to Reed's locker, all wrapped in colorful paper, as a gift for Reed's 35th birthday, per The Houston Chronicle.
I give Reed props for being a good sport and playfully using it with cameras all around.
By the way, after undergoing offseason hip surgery, Reed missed Week 1 and will be a game-time decision for this Sunday.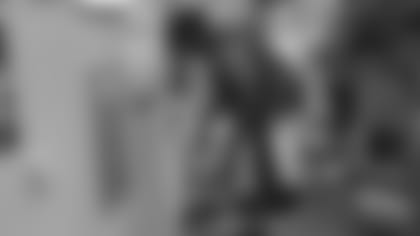 Week 2 Picks: Browns vs. Ravens
As much disrespect as has been paid to the Super Bowl champs thus far, all 43 pundits below think they will rebound against the division rival Browns Sunday.
Jeff Zrebiec (Ravens 23, Browns 17): "After honoring the Super Bowl XLVII championship team, the 2013 Ravens will start to carve out their own identity with a workmanlike victory over the Browns behind a revitalized run game and a few big plays from the defense."
Aaron Wilson (Ravens 27, Browns 17): "Stinging from embarrassing season debut last week, Ravens take it out on Browns by getting back to business with physical running game, swarming defense."
**ProFootballTalk.com**: 2 of 2 pick the Ravens
Michael David Smith (Ravens 21, Browns 7): "The Ravens gave up seven touchdown passes to Peyton Manning in Week One. I feel reasonably confident saying they will not give up seven touchdown passes to Brandon Weeden in Week Two. The Browns' offense looked pretty bad in the opener and will continue to look pretty bad in the second game of the season."
Mike Florio (Ravens 34, Browns 17): "Brandon Weeden is no Peyton Manning.  He's also no Eli Manning.  And he may be no Cooper Manning.  Besides, with 10 days to prepare and a superior team on both sides of the ball, the old Browns will get to .500 as the new Browns stake out more familiar territory at 0-2."
**Sports Illustrated, Don Banks**: Ravens 27, Browns 13
"The Ravens aren't as bad as they looked over the course of the last 40 minutes of the game in Denver, but Peyton Manning in the zone can do damage to your self-esteem. The Browns came up small once again in their home-opener, and quarterback Brandon Weeden is immediately under pressure to prove he's not headed for bust-ville (as opposed to, say, Canton). Denied their party last week by a scheduling conflict with the Orioles, the Ravens will probably hang their Super Bowl banner and try to get the bad taste out of their mouth at Cleveland's expense. Baltimore's homefield advantage remains one of its most trusted assets."
**CBSSports.com, Pete Prisco**: Ravens 21, Browns 13
"The Ravens will have had a long time to stew over their opening-night loss to the Broncos. They looked battered after that one, but I see them bouncing back here. The Browns struggled on offense against Miami, and that continues here. Baltimore gets back on track."
**NFL.com, Elliot Harrison**: Ravens 36, Browns 17
"Cleveland usually plays Baltimore very tough ... that's why I'm predicting a blowout. Actually, my sense is that the Ravens – particularly their defense – will be extremely fired up to put kickoff night in Denver behind them. New Browns coach Rob Chudzinski is going to get this deal turned around eventually -- just not in Week 2 against an angry Terrell Suggs-fueled pass rush that will aim to do what the Dolphins did to the Browns in Week 1: collapse the pocket around Brandon Weeden. So Chudzinski will have to "max protect", which means either leaving tight end Jordan Cameron in to block more or choosing to not send the backs out. Figure on the latter scenario, as Cameron was the most heavily used target in the passing game last Sunday (nine catches for 108 yards). What a bright spot for the Browns he's becoming. #CLEvsBAL"
**The Sporting News, Vinnie Iyer**: Ravens 27, Browns 10
This is Iyer's "Lock of the Week." He explains: "Joe Flacco and the Ravens have had a long time to recover from Peyton Manning's shellacking, and they should be pumped for their home opener as Super Bowl champions. And oh yeah, since Flacco and Coach John Harbaugh have led the team, it has never lost to the new/old Browns (10-0), with an average scoring margin of 13 points. The same Browns who just lost by 13 at home to the Dolphins. It's an NFL homecoming game."
Oz The Great And Powerful
This seven-page MMQB.com feature on General Manager Ozzie Newsome is a must-read.
Author Greg A. Bedard interviewed 19 people to detail the "Wizard of Oz's" journey from a segregated South, to Alabama, Cleveland and Baltimore.
"Newsome is a transcendent figure in football lore, who after rising above segregation in the South played for the great Bear Bryant at Alabama, achieved personal success as an NFL player but endured heartbreaking team failures, and then rose to become one of the most powerful and successful figures in personnel," Bedard wrote.