Flacco-Kaepernick McDonald's Commercial Echoes Jordan-Bird Ad
I have to admit it's pretty cool that Joe Flacco stars in a commercial that harkens back to basketball legends Michael Jordan and Larry Bird's ad that may have been one of the best of its era. 
The recently debuted McDonald's commercial pits Super Bowl XLVII quarterbacks Flacco and Colin Kaepernick against each other in a throwing competition for a box of Mighty Wings. 
The quarterbacks make impossible passes – like bouncing a football off the scoreboard and through the goal posts – bringing back memories of the Jordan-Bird improbable shoot-off for a Big Mac nearly 20 years ago (check out the original). 
McDonald's is hoping Flacco and Kaepernick can re-create the basketball stars' magic in order to drive sales. But do the quarterbacks have the similar charming chemistry felt between Jordan and Bird in the 1993 version?
"The best ads come from simple stories, and this is a timeless one," Allen Adamson, managing director at consulting firm Landor Associates, told USA Today. "What made a good story the first time around was the magic between Jordan and Bird — the chemistry felt real. This has the foundation to be a big idea, but it all depends on getting the details right."
There is a modern twist in the updated commercial. The lights suddenly go out in the middle of Flacco and Kaepernick's competition – just as they did at the Superdome in New Orleans. While in the dark, you can hear someone running off with the Mighty Wings.
The commercial asks viewers "Who's got the #MightyWings," hoping to create some social media buzz before they reveal the culprit in Part 2 of the campaign, which airs Oct. 6.
Last week, Flacco told media that there is a mystery celebrity in the commercial, but didn't reveal who it was. USA Today writer Bruce Horovitz has a pretty obvious guess.
"[F]or the campaign to come full circle, it wouldn't be a bad bet to put some money on Jordan or Bird. Or both," he wrote.
Without further ado, here's the commercial (mobile users tap the "View in Browser" button). 
Just two weeks into the season, and the AFC North is already beginning to take shape. 
ESPN's Jamison Hensley says the Ravens and Bengals are starting to look like the "true leaders" of the division, as many anticipated prior to the season. 
The Bengals toppled the Steelers, 20-10, on the Monday Night Football national stage. That puts Cincy and Baltimore tied at the top of the division with a 1-1 record, while Cleveland and Pittsburgh are both off to 0-2 starts. 
After a terrible Week 1 showing, Pittsburgh did little to prove its opener was a fluke. 
"This is it, right? There is no fixing it, not now, not in a matter of weeks or even months," ESPN's Kevin Seifert wrote. "The team the Pittsburgh Steelers put on the field Monday night looked old, slow and – blasphemous as it might seem in the Iron City – a little soft." 
It's still early, but based on history, the Steelers' chances of making the playoffs are slim. No team has made the playoffs after starting 0-2 since the 2008 season (Chargers, Vikings and Dolphins all did it that year). 
Neither quarterback from last night's matchup looked particularly impressive.  Hensley says Bengals quarterback Andy Dalton's stock is falling, after posting a remarkable 78.8 percent completion rate in a Week 1 loss to the Bears. Monday night Dalton was off target, even with seemingly more time to throw.
"There still are 14 games to go in the regular season, though, so Dalton has plenty of time to prove his Week 1 showing was no fluke," Hensley wrote. 
As for Pittsburgh's Ben Roethlisberger, he had one of the worst days of his career as a downfield passer, per ESPN Stats & Information, overthrowing nine passes. 
Jacoby: Never Had A Knee Injury This Bad 
First right tackle Michael Oher said he's never had a sprained ankle as bad as the one he sustained in Week 1. 
And now receiver Jacoby Jones is saying the same thing about the sprained knee he suffered in the same game. The Ravens No. 2 receiver isn't sure when he'll return. 
"Honestly, I can't even predict when it's going to be," Jones told The Baltimore Sun's Aaron Wilson. "It's in the good Lord's hands and I'm just trying to rehab it and get better. I've never had a knee injury this bad. I've had my nicks and bruises before." 
"You got your wish," tweeted The Sun's Matt Vensel. "Matt Elam played every defensive snap for the #Ravens Sunday." 
A week after veteran safety Michael Huff struggled in Denver, the Ravens pulled the trigger on bringing in the rookie, who played well outside of a penalty and the first play of the game in which he was in coverage on a 53-yard reception to tight end Jordan Cameron. 
Oher played all 72 snaps despite an ankle sprain.
Jimmy Smith, who replaced Corey Graham in the starting lineup, played 60 snaps.
The Ravens kept their outside linebackers fresh with lots of rotations: Terrell Suggs got 49, Courtney Upshaw 42, Elvis Dumervil 39 and Pernell McPhee 20. 
Here's a screen grab of the NFL's official playtime percentages.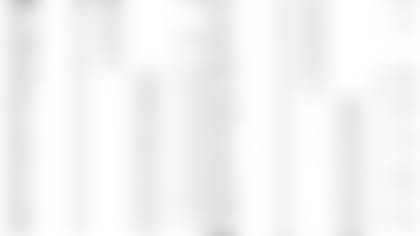 Don't expect this topic to go away until reporters have asked Ray Rice about it. 
For now, people are speculating what went down since the tape is inconclusive (GIF below, mobile users you know the drill) as to whether he actually spit on Browns defensive tackle Phil Taylor
Here are the points Baltimore Beatdown's Jason Butt makes in favor of Rice : 1) Spitting would be waaaay out of his character, 2) He has a mouthpiece in, which would make it mighty difficult and 3) In the tape,* *you don't see any actual spit.
Things that are not in Rice's favor: 1) He makes a pucker face and head motion that could be construed as spitting 2) He did something to make Taylor erupt and slap him.
I feel seriously silly after typing all of that. I feel like I'm trapped in that magic loogie "Seinfeld" episode. Let's hope this topic dies very soon.