Discussing Details Behind Ray Lewis Statue
The city of Baltimore got to celebrate one last time with the greatest defensive player in Baltimore history Sunday as Ray Lewis was enshrined into the Ring of Honor.
There was no question that Lewis would join other Baltimore greats in the ring, including Jonathan Ogden, Jamal Lewis, Peter Boulware, Johnny Unitas and Lenny Moore.
But considering Lewis' 17-year iconic NFL career is on a level all its own, some have wondered whether Lewis will also be recognized in a way that distinguishes him from the other greats.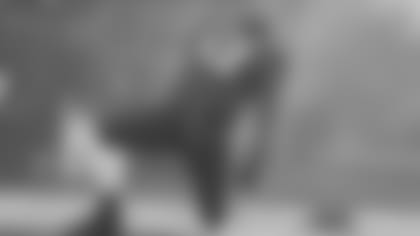 Byrne noted that the discussions internally at the Under Armour Performance Center are now centered on the details behind Lewis' future statue.
The Ravens would like to erect it sooner rather than later, and don't plan on waiting until Lewis is inducted in the Pro Football Hall of Fame five years from now. Instead, they want to do it "as quickly as possible."
And while Byrne didn't want to make any promises, he said, "I wouldn't be surprised if we do it next year."
Lewis' statue will go up alongside the bronze 13-foot Johnny Unitas statue at M&T Bank Stadium. Unitas is in a throwing pose, and the question the Ravens are currently asking themselves is what pose Lewis should be in.
"Should the statue be the iconic end of the squirrel dance?" Byrne asked. "Or should he be in a linebacker stance?"
My vote (and of course I don't have one)? I would love to see a screaming Lewis at the end of his dance chiseled into history for the rest of time.
Why Ray Didn't Do His Dance Sunday
With a dance as iconic as Lewis', why didn't he perform it at the Ring of Honor ceremony?
Lewis was introduced out of the tunnel Sunday, but acknowledged the crowd and gave high fives to his teammates. WNST's Glenn Clark asked Byrne what conversations led to the decision for Lewis not to dance.
"I don't think there was as much [conversation] as people might suspect," he replied. "I spoke to Coach [John] Harbaugh to say, 'Look, we've brought out our Ring of Honor guys in different ways. In pre-game, we've brought them out before we bring the team, we've brought them out just before we introduce whatever starting group we're going to do. Or we can not bring him out.'
"John's immediate reaction was, 'No I'm OK with having Ray there in the tunnel and stuff. And I said, 'Well how about we bring him out just before we introduce the defense. He said, "Yeah, I'm good with that. It will be good to see him.' That's basically as much conversation that we had about it."
Was there any conversation with Lewis about his dance?
Byrne said the topic never even came up. He said. "I never suggested it to him. I never asked him if he wanted to do it."
The Ravens needed to balance the love the city and franchise have for Lewis with the need to be a separate team in 2013.
"My personal opinion is this was not the time for the dance, but if Ray looked at me and said, 'Hey, the people would really like it' or 'I'm willing to do it,' we probably would have done it," Byrne said. "It really just didn't come up.
"I thought the way it happened was tremendous. In fact, when Ray was in the tunnel and we put a camera on him and showed him on our big screen, the stadium literally shook. It's shaken very few times since the building's been up. I was on the field and I could feel the vibrations when they first saw him in the tunnel and that's before he walked out. … That was like, 'Holy cow!' That was a very cool moment for all of us."
Lewis Questions Leadership After Jones Party Bus Incident
For the second time this month, Lewis questioned the Ravens' leadership in his new role as an ESPN analyst. This time, Lewis addressed the issue in light of Jacoby Jones reportedly getting struck in the head with a bottle by a woman on a party bus while celebrating the 34th birthday of Bryant McKinnie.
Prior to the Denver Broncos' win over the Oakland Raiders Monday night, Lewis said there is a leadership void in Baltimore after his and Ed Reed's departures.
"We talk about the transition of losing so many guys, a guy like myself and Ed Reed and other guys that are based off leadership, I've said it earlier: 'Where would the leadership come from?'" Lewis says in the video below. "Because the leadership being strong in the locker room and winning games, listen talent sometimes can win you games. But when you talk about what's going on off the field, that's the most important place where leadership steps up.
"When you think about the Baltimore Ravens and the transition that they went through, they're missing leadership right now. When you have an incident like that, the first thing a leader is going to do is find some way to dissolve everything that's going on and actually dissolve it before it comes to that type of head or even gets to this point. When you talk about the Baltimore Ravens they're going to have to refocus and find some quick leaders in that locker room very quickly."
(Mobile users, to watch the video, tap the "View in Browser" button at the top of the page.)
Ravens Ranked No. 10 In Ultimate Standings
ESPN The Magazine's 11th annual Ultimate Standings have been released, ranking the Ravens franchise as the 10th best in all of sports, and second among NFL teams. The Green Bay Packers (No. 5) are the only NFL team to be listed ahead of the Ravens.
The magazine surveyed 1,011 sports fans across North America to determine "what they want most in return for the emotion, money and time they invest in their favorite clubs." Then, it asked 59,298 fans how they rate their favorite teams in seven categories, including title track, ownership, coaching, players, fan relations, affordability and stadium experience. It did its own calculations for a final category, bang for the buck.
Below are the results for all eight categories, plus the weighted average of all to come up with an overall ranking.  While the Ravens ranked No. 10 overall, they ranked No. 1 title track, which is the championships a franchise has won or is expected to win within the lifetime of current fans.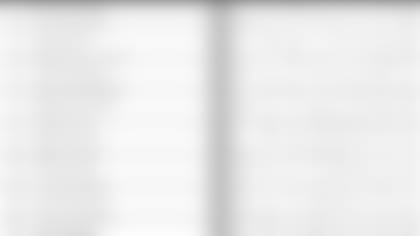 Reed Calls Suggs 'Weirdo'
There isn't much context to this statement so it's a little curious.
But ESPN's Tania Ganguli reported that outside linebacker Terrell Suggs "suggested" to Reed that he tried to ruin Lewis' return to M&T Bank Stadium Sunday.
The former Ravens safety was in town for a matchup with his new team, the Houston Texans. He was showered with the beloved "Reeeeeeeeeeeed!" chants throughout the day, and came out on the field one last time to say goodbye to fans after the game.
"I know the guy's a weirdo," Reed said of Suggs, per Ganguli. "He made a comment about me coming back trying to play this game and make interceptions, rain on Ray's parade. … After the game he said that. He's a –  he's a – just a guy."