Flacco Reveals Baby Pics, Why He Skipped Birth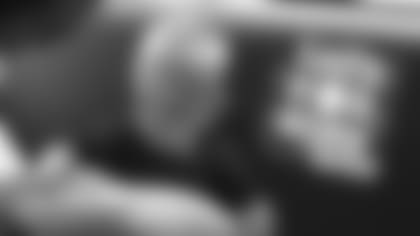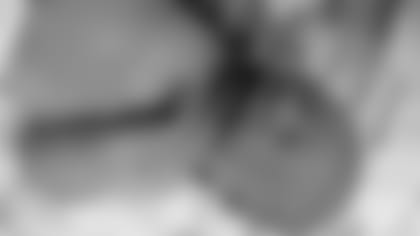 Joe Flacco has revealed pictures of his new son, Daniel, and let me be the first to say, "A-dorable."
The Flaccos busted the cuteness scale with this photo of Joe helping his oldest son Stephen, only about 14 months older, hold his new infant brother. You can't help but be happy for Joe, his wife Dana and their growing family.
You also can't help but be grateful for the dedication the Super Bowl MVP has to his team. Dana went into labor just a couple hours prior to the start of the Week 2 matchup against the Cleveland Browns, and Joe skipped the birth to play. He led his team to a 14-6 victory.
CNN's Rachel Nichols reminded Flacco that earlier this summer, PGA golfer Hunter Mahan was so adamant that he be there for the birth of his first child that he left the Canadian Open when he was leading by two strokes going into the final round. He gave up the chance to win $1 million in prize money. Mahan made it to the hospital just in time to welcome his baby girl into the world.
"I don't know what I would have done if I was in his situation, but it is a little bit different," Flacco told Nichols in the CNN video below. "When he leaves the tournament, he's affecting himself. I have a big-time responsibility to this organization and to this football team. My job as a quarterback is, I think, to show up for your team.
"Obviously, your heart and a lot of your mind is with your wife and your to-be child, but I can't think of any cooler way to celebrate a victory. Going back to the hospital and seeing something as special as what happened that day."
Flacco makes a good point: He would be affecting more than just himself, but that doesn't mean everyone in his position would make the same decision. When Steelers quarterback Ben Roethlisberger was expecting his baby a few years ago, he said he would skip a game for it. Luckily for Steelers fans, he was never forced to make the choice.
And while "Joe Cool" has a reputation for keeping his composure, skipping his child's birth wasn't easy on him. He lost cell service in the stadium as 70,000 fans poured into the stands, and admitted that his mind wandered to his family when he was on the bench.
"It was killer," Flacco said. "Especially right at the moment. I was way more fidgety than I normally am – just walking back and forth and doing a lot of things I don't normally do. I was just so much more amped up and so, 'Ahhhhhh, what's going to happen?'"
While it was tough to miss the birth, Flacco said there was one plus for his mother-in-law.
"I think my mother-in-law was very happy though," he said. "My wife had her in there and if I was there, it probably would have just been me and her. The fact that I wasn't there gave her the chance to see her daughter have a baby and I think that was probably a pretty special moment too."
T. Smith, Leach Dismissive Of Lewis' Leadership Criticism
While working on a Habitat for Humanity construction project in Baltimore, wide receiver Torrey Smith and fullback Vonta Leach were asked about criticism from former teammate Ray Lewis and a "leadership void" in the Ravens locker room.
Can I reiterate the two Ravens players – with four other teammates – were at a community project on their day off when asked about a leadership void? I doubt that will make a TMZ headline.
In light of the Jacoby Jones and Bryant McKinnie party bus incident in which a woman reportedly struck Jones over the head with a bottle, Lewis said on ESPN that without him or Ed Reed in the locker room, the Ravens are "missing leadership right now."
"We have great leadership, so to say because of one incident, that it's a leadership issue, to me, is a joke because everyone is not going to always be around and incidents happen," Smith told Aaron Wilson at the Habitat for Humanity project. "Stuff happens in the locker room, stuff happens in the spur of the moment. Now, if it happens every week, all the time, then that's a problem. For one incident to happen and say it's a leadership issue when most of the team wasn't there, it's an overreaction.
"It's only bad because someone went and ran to TMZ. If no one knew, it wouldn't be an issue. We would resolve it in the locker room. It's resolved anyways. We just have to deal with the questions from the media. I think it's funny that we're doing this, building a home, one day after everybody found out about the other thing. We all know it comes with the territory. Everybody is doing a great job."
Leach reportedly broke into laughter when he was asked about a leadership void.
"Leadership on our team is good," Leach said. "I don't think necessarily there's a question about our leadership. It's bad publicity, but no one got hurt or arrested. It could have been worse. Things happen. It's alright."
If you were to ask Head Coach John Harbaugh who the leaders are on the team, he would likely give you a long list that includes Flacco, Vonta Leach, Marshal Yanda, Dallas Clark, Ray Rice, Terrell Suggs, Elvis Dumervil, Haloti Ngata and Lardarius Webb.
But CSNBaltimore.com's Clifton Brown says you shouldn't overlook Harbaugh himself. Brown was impressed with the way Harbaugh handled himself at the press conference in which he was asked about the party bus incident.
"Harbaugh could have given it the 'no comment.' But he didn't dodge questions," Brown wrote. "He admitted he was disappointed. His reaction, even laughing when someone asked if he would celebrate his birthday on a party bus, was the right touch. It showed that Harbaugh wasn't too uptight to see a little humor in an embarrassing situation. Meanwhile, saying he was not impressed with Jones and McKinnie was part of their punishment, calling them out publicly for their poor judgment.
"One of the toughest things about being a head coach is that you never know what will come across your desk next. When Harbaugh left M&T Bank Stadium on Sunday after a resounding victory over the Texans, the last thing he expected to talk about Monday was a party bus. Not the kind of 51st birthday present he was looking for. However, Harbaugh has the experience to deal with the unexpected, and the clout that comes with success."
Power Rankings Week 3: Not As Big A Bump As Expected
The Ravens'*big-statement, 30-9 win over the Texans wasn't such a big statement after *all for some of the analysts below.
While the victory gave the Ravens a good bump up some lists, there are others where they hardly moved. And in the case of ESPN, Baltimore beating a team that was ranked No. 4 had absolutely no effect on its standing. It did, however, push the Texans down nine spots.
ESPN's rankings are based on a panel of six voters. One voter, Jamison Hensley, who covers the Ravens, very much disagreed with the overall ranking his website gave the Ravens, as he has them at No. 5
He wrote: "A third straight week at this spot makes no sense. The Ravens (2-1) routed the No. 4 Houston Texans by three touchdowns on Sunday and they failed to move up one spot. … It's obvious that few agree with me."
SportingNews.com, Vinnie Iyer: No. 7 (moved up two spots)
"The Ravens showed champion's spirit by taking care of the Texans at home. They did it with the running game, special teams and a defense that has been really good when not facing Peyton Manning."
The Baltimore Sun, Matt Vensel: No. 7 (moved up two spots)
"Surprisingly, their game against the Texans didn't get much attention nationally, but they made a big statement. The offense is still struggling, but their defense appears to be championship-caliber."
SB Nation, Ryan Van Bibber: No. 7 (moved up four spots)
"Baltimore's defense hasn't given up a touchdown since Week 1 against the Broncos, though they allowed [seven] during the season opener. The Ravens had their way with the Texans this week, helping the offense overcome a week without Ray Rice."
FoxSports.com, Brian Billick: No. 8 (moved up four spots)
"It's only fitting that on a day when Ed Reed and Ray Lewis were both back in Baltimore that the Ravens scored a defensive touchdown en route to a 30-9 shellacking of the Texans."
MMQB.com, Peter King: No. 9 (moved up five spots)
"No Ray Rice with the explosive Texans coming to town, and the Ravens win by 21. That's a big win for a team with a lot of new parts. And good contributions by newbies Daryl Smith and Tandon Doss (he's sort of a newbie)." 
ESPN, Panel of six voters: No. 11 (no movement)
"Though Peyton dismantled them in the season opener, the Ravens quietly rebounded well. Baltimore is one of three defenses to not allow a passing touchdown in the past two weeks."
NFL.com, Elliot Harrison: No. 11 (moved up one spot)
"That was a heckuva defensive performance in Baltimore; my bad for changing my pick last week. My original thought was that the Ravens would show a lot of pride and thwart the Houston Texans' attack, but then I fell victim to "NFL analyst nervousness," given the loss of Ray Rice and the general poor performances by John Harbaugh's offense. Oops. Several big plays were made by Baltimore's front seven, especially Daryl Smith, who had 10 total tackles, a pick-six and a pass defensed. That's a heady stat line for an inside linebacker."
CBSSports.com, Pete Prisco: No. 11 (moved up four spots)
"That defense came up big against the Texans. They might not be flashy on offense, but they can still play good defense."