Pollard Has Message For WR Green
Ravens safety Bernard Pollard doesn't like to just hit an opponent.
He likes to punish an opponent.
Not literally of course. But delivering a good-old fashioned thumping in the middle of the field can often times be enough to make a receiver think twice about coming into Pollard's territory again.
Enter Bengals receiver A.J. Green.
Green will be coming to M&T Bank for the Ravens season opener Monday night and Pollard has a message for the second-year player, says CBSSports.com's Jason Butt.
"I think A.J. Green is a special talent. He is a really special talent. The guy can go down the field, he can go across the middle," Pollard told reporters Monday.
"But, when he goes across the middle, he has to see us. And that's not taking anything away from him, but this is what we live for. When we see receivers come across the middle, if we are in the right defense, we are going to smack you, and we are going to let you know that you came across the middle on the wrong team."
Green exploded onto the NFL scene as a rookie Pro Bowler last season, but only notched two receptions for 26 yards and no touchdowns in one game against the Ravens. He sat out the first matchup due to injury.
But the Ravens shouldn't worry about Green coming across the middle, says ESPN's Jamison Hensley. The 6-foot-4, 207-pounder has shown he is more apt to get past defenses down the field after notching 11 catches of 35 yards or more last year (most in the league).
And Pollard recognizes that.
The hard-hitting safety didn't just dish out a warning for the Bengals wide receiver. He also talked about the respect he has for Green's ability to instantly impact a game.
"Having said that, if you miss (Green), the guy can hit a home run," Pollard said
Why Was Gorrer Odd Man Out?
Backup cornerback Danny Gorrer was happy to make the Ravens 53-man roster Friday night, but that only lasted for a couple of days.
After signing safety James Ihedigbo Sunday, Gorrer was the odd man out and cut from the roster. Some fans didn't take to the news well, but the Ravens couldn't afford to hold onto the 2009 undrafted rookie out of Texas A&M because of a depleted and banged-up safeties corps.
"The Ravens thought highly of Gorrer, but he was ultimately the victim of a numbers game," wrote The Baltimore Sun's Jeff Zrebiec. "Their initial 53-man roster included seven cornerbacks and four safeties, including rookie Christian Thompson and veteran Sean Considine, who sustained two concussions during training camp. That left both Gorrer and second-year cornerback Chykie Brown vulnerable."
Plus the Ravens recently lost safety Emanuel Cook, who was placed on injured reserve after undergoing surgery on the leg he broke during the preseason.
After seeing game action in 11 Ravens games last season, notching five tackles and four pass deflections, Gorrer hopes to find a new home with an NFL team and tweeted he will now play with an even bigger chip on his shoulder.
But he holds no ill-will towards the Ravens and is grateful for support from Baltimore fans.
"Man just want to say thanks for the love, lol it makes me [happy] to see the love y'all showing for Lil ol me! I'll be ok I got God on my side," Gorrer tweeted.
For those of you who haven't had your fantasy draft yet – like me, Garrett Downing and Ryan Mink (by the way, Mink is the Commish and a big-time slacker for putting it off. Oh and beware of his fantasy advice, I'm pretty sure he missed the playoffs in 2010 and baaarely squeaked by last season) – here are some last-minute tips from NFL.com.
Wide receiver Torrey Smith is a fantasy sleeper and would present good value as a No. 3 or No. 4 drafted in the middle-to-late rounds, says Michael Fabiano. "Smith is someone to keep an eye on this year," he said.
Receiver Anquan Boldin should also be considered a third or fourth fantasy option, but if you are deciding between the 10-year veteran and Smith, the clear choice is Smith. "I think Torrey has much more upside. He younger and I think he's the better fantasy option on that roster," said Fabiano. "Look at what Boldin has since he's left Arizona – it hasn't been much. His statistics, his fantasy value have all dropped."
And what about running back Ray Rice? Should fantasy owners be at all concerned about quarterback Joe Flacco's recent statements to Peter King that the offense will be "100 percent no-huddle?"
Even with the no-huddle, Marcas Grant doesn't see Rice's fantasy numbers diminishing.
"Flacco is probably exaggerating, but the results of Baltimore's extended dalliance with the no-huddle is hard to deny," Grant wrote.  "However, it begs the question: What becomes of Ray Rice?
"He should still be the focal point of the offense, thanks to his abilities as a pass-catching back. If you drafted Rice, have no fear. The upshot is that Flacco could open a lot of eyes this year."
Ravens, Texans Popular AFC Super Bowl Picks
My goodness, our friends over at ESPN having been chugging the Deep Steel Blue, Battle Red, Liberty White (the Houston Texans' many team colors) Kool-Aid.
Seven NFL analysts were asked to predict their Super Bowl contenders and ultimate winner, and Houston was the team picked most to represent the AFC. The Ravens were picked twice and the Patriots once.
With Houston winning a playoff game last season despite not having starting quarterback Matt Schaub, who is back and looking impressive, pundits see the Texans going all the way.
Here are the panel's picks, along with Ron Jaworski and Bill Polian's reasoning for going with the Ravens:
John Clayton:Packers over PatriotsHerm Edwards:Eagles over TexansMel Kiper: Packers over Texans
Chris Mortensen: Texans over 49ers
Adam Schefter: Packers over Texans
Ron Jaworski:Packers over Ravens
"The Green Bay Packers have the most multi-dimensional offense in the NFL, and they will clearly benefit from a revamped defense after a debacle on that side of the ball in 2011. I think the Ravens reach the Super Bowl not on the strength of their defense, but on the arm of Joe Flacco, the legs of Ray Rice and a wide-open offense."
Bill Polian: Ravens over Falcons
"When I think ahead to the Super Bowl, I think we'll see two teams whose time has come in the Atlanta Falcons and Baltimore Ravens. And we'll witness the ascent of two talented quarterbacks in Matt Ryan and Joe Flacco. … That anyone spent the offseason criticizing Flacco strikes me as ludicrous. Flacco didn't drop the ball in the end zone against the Patriots in the AFC championship game. In fact, it was Flacco who drove the Ravens to give them two chances to win that game. It was others who didn't make plays. While he doesn't play in an offense that shows off his skill statistically, Flacco is a winning QB, and his record (44-20) shows it. The injury to Terrell Suggs may have deprived the Ravens of the label of AFC favorites, but they can withstand the loss. In their defense, they can scheme rush as long as they have cover corners – which they do – and their young linebackers will grow over the course of the season. In a one-game situation, it's a flip of the coin between these two teams. But if this game is serving as Ray Lewis' farewell party, I think Baltimore gets the emotional edge."
Thoughts on replacement officials' impact on division games, like the Ravens-Bengals showdown Monday night? "All games in a 16-game schedule are important – but none more important than the six division games in Week 1," wrote Pat Kirwan. "Last season, four of the division races were settled by a game or less. In Week 1 last year, Baltimore beat Pittsburgh and went on to win the AFC North with the same 12-4 record as the Steelers. I sure hope the people in the press box and at Park Avenue pay special attention to these division games with replacement refs." [CBSSports.com]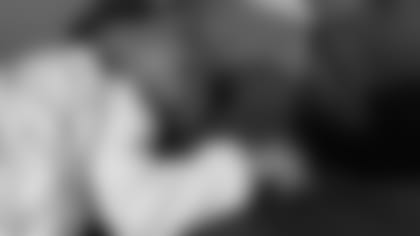 Here's a look at the highest-paid Ravens players: Haloti Ngata ($12.2 million), Terrell Suggs ($10.4 million), Anquan Boldin ($8.3 million), Lardarius Webb ($8.3 million), Ray Rice ($7 million), Marshal Yanda ($6.4 million), Ray Lewis ($6.3 million), Ed Reed ($6.3 million). [ESPN] * The Ravens are counting on Jacoby Jones to improve their kick and punt returns. [The Baltimore Sun] * @Artj97 Art Jones]: Great day of prac. [Im so excited for the season. Counting down the days #MNF [Twitter] * @TorreySmithWR: Can't believe the season is here already and that I'm going into my second season as a pro #blessed [Twitter] * Rookie running back Bernard Pierce's fiancée gave birth to Bernard Jr. on Aug. 5. …. @BPierce_30: Up all night gotta love em tho. … Woke me up 2 hours early this morning 2 smh lol [Twitter]