Better 2012 Season? Flacco vs. Big Ben
When young quarterback Joe Flacco first came into the league, division rival Ben Roethlisberger was a four-year veteran who already had a Super Bowl win under his belt.
To date, Big Ben has been in three Super Bowl games, winning two.
Despite Roethlisberger's respected experience, NFL Network's Charley Casserly and Solomon Wilcox believe the younger Flacco is in position to have a better 2012 season.
"Roethlisberger would be the easy pick," Casserly said. "But I'm going to go with Flacco. Here's why: I think he's going to build off the New England [AFC championship] game. Watching him in the preseason, he's been more decisive, more confident throwing the football. In the past, he'd hold it and take some sacks. I see him taking the next step this year."
Meanwhile, the Pittsburgh offense has a lot of moving parts. Roethlisberger's top receiver Mike Wallace missed the entire preseason. Starting running Back Rashard Mendenhall is injured. And two rookie offensive linemen, selected with high draft picks in April, are not projected to start the season.
Roethlisberger also has a brand new offensive coordinator in Todd Haley, meaning he'll have to excel in a new system and get used to the new style of play his new coach is teaching.
Wilcox believes Big Ben, who is notorious for holding onto the ball to create extra time, now has to learn how to get rid of the ball in the early phase of the play.
"That is something Ben has not proven he can do," Wilcox said. "He likes to buy time, try to extend the play to make plays.  Joe Flacco operates on schedule within the offense that Cam Cameron is running. I'm going to give Flacco the ascending edge right now above Ben Roethlisberger."
Additionally, Flacco has been more durable than Roethlisberger. As Wilcox points out, Flacco hasn't missed a start in his four-year career, while Big Ben has only played all 16 games in one of his eight seasons in the league.
"The one separating factor is the durability and the consistency in being able to play every week," Wilcox said.
And while Casserly concedes that Roethlisberger currently has the better weapons at the wideout position, he thinks Flacco has a pretty good stable of receivers himself.
"Torrey Smith, watching him in the preseason, he looks like a different player," Casserly said, adding that Anquan Boldin looks faster after having a minor procedure on his knee.
"Pittsburgh has better receivers, but Baltimore's receivers are going to play better this year," Casserly concluded.
T. Smith, Green To Be Compared For Next Decade
Flacco and Falcons quarterback Matt Ryan have been compared – and will continue to be compared – since 2008 when they were both drafted in the first round.
Will a similar association be made with two AFC North receivers drafted last year: the Ravens' Torrey Smith and the Bengals' A.J. Green?
The Baltimore Sun's Matt Vensel thinks so, especially after the two "scared the bejesus out of NFL secondaries."
Both receivers scored seven receiving touchdowns last season, which was just one short of rookie leader Julio Jones.
"Though their pedigrees and expectations were different as rookies, both Green and Smith ended up comparing favorably to the rookie totals of some of today's most respected wideouts – like Detroit's Calvin Johnson (48 catches for 756 yards in 2007), Arizona's Larry Fitzgerald (58 for 780 in 2004), Houston's Andre Johnson (66 for 976 in 2003), New York's Hakeem Nicks (47 for 790 in 2009), and Philadelphia's DeSean Jackson (62 for 912 in 2008)."
Ravens-Bengals One Of Best Games To Kick Off Season
Are you hungry for some football?
Then the showdown between the Ravens and Bengals ought to satisfy your appetite, says CBSSports.com's Jason La Canfora.
The columnist ranked all the season openers by putting them in food categories that vary in their effectiveness in satisfying your hunger: Footlong, six inch, wrap and slider.
The Bengals-Ravens matchup is easily a footlong.
"For all of their gains last season, the Bengals could not beat the Ravens or Steelers; that will have to change if the AFC North balance of power is to truly shift," wrote La Canfora. "Baltimore's defense looked vulnerable in the preseason, for what it's worth, and trying to muster a pass rush with Terrell Suggs possibly out for the season won't be easy. This could well be Joe Flacco's breakout season, while Andy Dalton seeks to avoid the sophomore slump. Ravens have one of the NFL's true home-field advantages, and fans have been clamoring for a Monday night game for a while."
Why Restructure McKinnie Contract Now?
Yesterday provided a whole lot of drama as Bryant McKinnie tweeted a play-by-play of his contract restructuring negotiations with the Ravens.
In the end, the two sides came to a new agreement with McKinnie's reportedly salary dropping from $3.2 million to $2.2 million, but the left tackle still has the chance to make his original base salary if he reaches a 50-percent play time incentive, according to The Baltimore Sun's Aaron Wilson. No years were added to his deal.
So it all worked out in the end, and both John Harbaugh and McKinnie said they are ready to focus on next week's opponent, the Cincinnati Bengals.
But the lingering question on many fans' minds is why the negotiations went down six days before the season opener.
Neither the Ravens nor McKinnie have answered that question, but there are no shortages of opinions from pundits.
Some, like ESPN's John Clayton, point to Tuesday's 4 p.m. deadline requiring all teams to get under the cap. But several reports say the team is a couple million under the cap, which makes analysts think that money could go toward a new Flacco contract.
Sports Illustrated also noted that player salaries are guaranteed if they're on the 53-man roster when the regular season begins. So if a change was going to be made, it had to be done before that time. The Ravens have shown some concern over McKinnie's conditioning and weight, and the incentives in his new contract still give him the opportunity to make $3.2 million, but doesn't tie the Ravens down if McKinnie isn't able to hold up for a rigorous 16-game season.
Both CSNBaltimore.com's Ray Frager and ProFootballTalk.com's Mike Florio say the Ravens had more leverage by dealing close to the season opener.
"With everyone in the NFL gearing up for the openers and with guaranteed money to anyone who's on the roster for Week 1, McKinnie might have had to wait a while, giving him even less leverage," wrote Frager. "If the Ravens had approached him about a pay cut a couple of weeks back, McKinnie could have decided to walk and had more opportunity to latch on with another team in time for Week 1. You can't necessarily argue with the Ravens' view that McKinnie, whose conditioning and weight have been concerns in recent seasons, was overpaid at $3.2 million."
Added Florio: "The events that resulted in Ravens nearly cutting left tackle Bryant McKinnie arose from, by all appearances, a perfectly-executed squeeze play that prevented McKinnie from determining what another team would pay before having to make a decision about his future." Quick Hits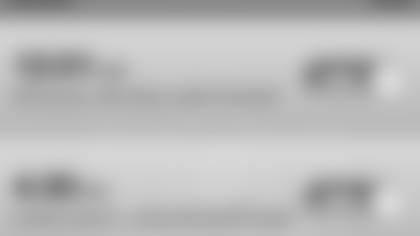 While neither are expected to get significant, or any, playing time Monday night, Ravens offensive lineman Gino Gradkowski will face his brother and Bengals quarterback Bruce Gradkowski. They both joined Glenn Younes to talk about the big game. [WNST] * Back to back tweets from @TwentyER: Why are we letting Big Mac go we not trying to win a super bowl. … Ok Mac is a raven just signed is what I'm hearing I'm not that late somebody has to workout people [Twitter] * @PMGleason: #Ravens have won 8-straight games vs. AFC North foes, marking the NFL's longest win streak by a team vs. its own division. [Twitter] * @JasonButtCBS: Harbaugh wouldn't say who's starting at LG -- Bobbie Williams or KO. Did say KO will play big role on offense though. [Twitter] * @RavensSalaryCap: The Ravens have reached Injury Settlements with LB Stevie Baggs and TE Matt Balasavage.  Both have been released. … Injury Settlements allow teams to save Cap space and release a player from IR.  Player get chance to play again.  A win-win for both sides. [Twitter] * @nfl: Don't forget to set your alarms tonight. #BackToFootball  [Twitter] * @TorreySmithWR: Haloti is treating us to lunch...crabs with the fellas @Artj97 @Tandondoss @TheRealMtCody @BryanHall95 @pmcphee90 [Twitter] * @RayRice27: Yes just beat @BobbyRainey in madden and the streak stays alive lol [Twitter] * Get a little behind-the-scenes action with Paul Kruger during a workout as he prepares for the 2012 season. [RAVE-TV/BaltimoreRavens.com]