'Bonehead' Play Of The Year
We all know Baltimore committed a host of mistakes that ultimately led to what Ravens players called a humbling defeat in the NFL's nationally-televised kickoff game in Denver.
"The Broncos didn't beat them. The Ravens beat themselves," wrote ESPN's Jamison Hensley.
We'll explore some of those Ravens self-inflicted gaffes, but first there was a silly blunder that stood far above the rest – a blunder that wasn't committed by a Raven at all.
"In fact, if this isn't the Bonehead Play of the Year, then we're in for quite a treat at some point this season!" wrote Sid Saraf.
Of course Saraf is referring to Broncos linebacker Danny Trevathan's dropped ball before he crossed into the end zone when he was sailing in for a pick-six. He admirably jumped the route on a pass from Joe Flacco to Ray Rice on fourth-and-1 in the fourth quarter, but then he just let go of the ball in celebration before he crossed the goal line.
The "fumble" was knocked out of the back of the end zone and was ruled a touchback. Baltimore got the ball back at the 20-yard line with a first down and ultimately got a touchdown out of it.
"Somewhere, Leon Lett and DeSean Jackson are smiling," Saraf wrote, referring to the last two players to suffer humiliating similar errors.
"If it wasn't already 42-17, that probably would be pretty embarrassing for Trevathan," tweeted the Baltimore Sun's Jeff Zrebiec. "Actually, it still is, regardless of the score."
NBC cameras caught Broncos Defensive Coordinator Jack Del Rio screaming at Trevathan on the sidelines. The second-year player told reporters after the game the he thought he was in the end zone when he let go of the ball.
"It was a young mistake. I was just in the moment," Trevathan said. "I thought I was in the end zone. Next time I'm going hold the ball up high and give it to a fan or something. But it's not going to happen again.
Ravens Teammates Injuring One Another
As I mentioned, the Ravens had a few blunders of their own.
After the game Head Coach John Harbaugh said it was the self-inflicted mistakes that cost his team the game.
"The biggest issue that we had tonight is that we gave them too many easy things," he said. "That's just the bottom line. You can't give up that many easy plays."
As Hensley pointed out, the Ravens dropped a number of passes, they allowed a blocked punt, there was some miscommunications in the secondary, they missed a challenge on a key play of the game (more on that below) and they even injured their own teammates – twice.
The first injury came when Jacoby Jones was calling for a fair catch on a punt, but rookie teammate Brandon Trawick didn't see Jones and ran right into him. Jones left the game with a sprained knee. !
The second injury was less avoidable.
Guard Marshal Yanda was pushed back into right tackle Michael Oher's leg, causing him to leave the game for good with a twisted ankle.
There was no official update for either offensive starter after the game. And two rookies – Marlon Brown and Rick Wagner – filled in. !
Suggs Guarantees Ravens-Broncos Playoff Rematch
While Ravens Nation is understandably concerned after witnessing quarterback Peyton Manning torch the defense for an NFL-record-tying seven touchdowns, outside linebacker Terrell Suggs has a different perception.
Not only did the defensive leader preach patience after the game, but according to USA Today, he guaranteed a Ravens-Broncos playoff rematch.
For that to happen, the two teams would have to meet up in the postseason.
But before the Internet goes nuts over the guarantee, you should know Suggs has made similar guarantees after the Ravens lost to playoff-caliber teams in the past, including the Steelers and Patriots.
His overall point is that it was only one game, and he believes his team is still a playoff-caliber squad.
Suggs' Interesting Sack Dance
One of the bright spots of Thursday night's game was the Ravens' defensive line as Suggs, Chris Canty and Elvis Dumervil all got sacks on Manning.
But SB Nation wants to know exactly what Suggs was pantomiming in his sack dance.
"Please, if you're reading this, help us out," wrote Seth Rosenthal. "Is he conducting an orchestra? Sprinkling something? Unfurling some sort of flag? Replacing the carriage in his typewriter?" !
And of course Suggs captured the national audience with his introduction as "Hacksaw" from "Ball So Hard University."
What most people didn't see, however, was when Suggs was behind the camera filming the introduction he had a few other names he came up with. The Sunday Night Football crew posted this little video of Suggs on their Facebook page.
Dungy: Non-Challenge Not Harbaugh's Fault
It would be easy to blame Harbaugh for the non-challenge flag on Wes Welker's catch that was really an incompletion. He's the one who throws the red flag, so he's the obvious target.
But Harbaugh is on the sideline and doesn't get a view of the replay if it isn't shown on the video boards at the stadium. And at a road stadium, they don't show controversial replays for strategic reasons.
While a challenge flag may have changed the course of the game, NBC analyst and former NFL head coach Tony Dungy made it clear that the non-challenge wasn't Harbaugh's fault.
"Everybody's going to be blaming John Harbaugh, but this is on his assistant coaches," Dungy said after the game on the television broadcast on NBC. "As soon as we showed the replay, they got to tell John, 'Throw the flag, throw the flag.' He didn't get that information. That was on the assistant coaches."
The only problem is that Harbaugh said they didn't see the replay. So the next question being asked is: why not?
Hensley: Harbs' Extension Is Vindication
Moments before the start of the game, reports broke that earlier this summer Harbaugh received a four-year contract extension from the Ravens. He'll reportedly average $7 million per year, with only Bill Belichick, Sean Payton and Andy Reid making more.
The wide consensus is that Harbaugh is undeniably worthy of the extension after leading the Ravens to the playoffs in each of his five years as head coach, with three trips to the AFC championship and a Super Bowl title.
But Hensley says the contract is "more than a reward" for his past success.
"Even though everyone in the organization knows this is -- and has been -- Harbaugh's team, this new deal confirms that the Ravens have their leader in place for the foreseeable future. Yes, the Ravens lost two faces of their franchise in Ray Lewis and Ed Reed. But Harbaugh has been the one who has steered this team through challenge after challenge."
The AFC North blogger pointed out that under Harbaugh, the Ravens overcame serious injuries to star players, the bad-boy culture changed to "team, team, team," popular players have been let go, and they continued to win despite four defensive coordinators in five years. Harbaugh also made the gutsy decision to part ways with former offensive coordinator Cam Cameron just a few games short of the playoffs last season.
"But his greatest accomplishment was how he picked up a team that lost the AFC championship game in heartbreaking fashion in the 2011 season and led the Ravens to the franchise's second Super Bowl title the next season," Hensley wrote.
Ray Lewis Declined Invitation To Join Ravens
Rice said earlier this week that he was trying to convince the Ravens former general, Ray Lewis, to join them in Denver for the kickoff game.
What came from that invitation?
ESPN's Sal Paolantonio reported that Lewis passed because he wanted to focus on his family, one reason for his retirement after the Super Bowl win. (Hat tip ProFootballTalk.com.)
Lewis was still sort of present in Denver, however.
NFL legends from all 32 teams counted down the start of the season, and Lewis got the honor of counting off the final second.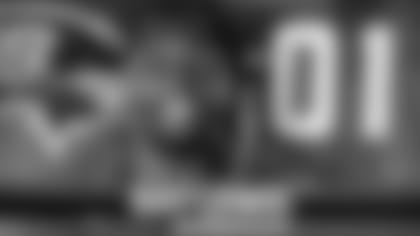 Michael Huff was a target of criticism on Twitter after he missed a tackle that led to a 44-yard reception and shortly after was in coverage on a Broncos tight end Julius Thomas touchdown. 
Added The Sun's Aaron Wilson: "Knock on Michael Huff in the past has been his tackling, which is rookie Matt Elam's strong suit.
Flacco Throws Career-High 62 Passes
CBSSports.com's John Breech points out that Flacco threw a career-high 62 passes. His previous high was 52 attempts in a 22-17 loss to Seattle (2011).
Part of the reasoning for that is the Ravens were playing from behind nearly the entire second half.
But with the passing game struggling and Pro Bowl running back Rice only getting 12 rushing attempts, cue the familiar cry of Baltimore needing to get the rock in his hands more often, "NFL Total Access."
Pundits were not impressed with the performance of* *tight ends Dallas Clark and Ed Dickson.
Both tight ends dropped multiple passes from Flacco, and one drop from Clark would have likely led to a seven-point lead heading into halftime. And CBSSports.com's Jason La Canfora noted that Clark wasn't getting separation from defenders.
"The loss of tight end Dennis Pitta (hip injury) was felt right away," wrote Hensley.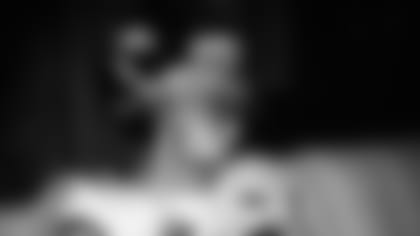 Love it! Check out this photo from Matt Birk as the retired center watched the Ravens season opener. [Instagram] * @deemason85: I blame MLB for this! Bc ravens should b playing at home!!!  … Ppl when I say I blame MLB... That was a joke!! * Flacco in awe of Manning's seven-touchdown performance. "It's a sweet way to start a season and get ahead," he said. "He's almost halfway to 20 already." [ESPN] * @ravensinsider: John Harbaugh: 'The blocked punt was a big deal. It was just too easy for them. We gave up too many easy things, that's the issue.' [Twitter] * Fullback Vonta Leach scored the first touchdown of the 2013 season. Here are the first TDs in the last five years: Kevin Ogletree, WR, Cowboys (2012); Greg Jennings, WR, Packers (2011); Devery Henderson, WR, Saints (2010); Antonio Brown, WR, Steelers (2009); Eli Manning, QB, Giants (2008). [FoxSports.com] * This video about Rice meeting with Boston marathon survivor is a must-see. [NFL Network]