Ravens Evaluating Free Agent Market … Who's Out There?
The Ravens offense has sustained a significant number of injuries.
Dennis Pitta, Jacoby Jones, Michael Oher and Deonte Thompson were all being counted on prior to training camp. They were all missing in the second half of Sunday's blowout loss to the Denver Broncos.
ESPN's Ron Jaworski believes that injuries have clearly caught up to the Ravens offense, and that may be why the front office plans to "evaluate the free agent wide receiver market," according to the Baltimore Sun's Aaron Wilson.
Apparently it is doing the same with the free agent tight end market, as 2010 undrafted rookie Jake Ballard is reportedly coming in for a workout after the New England Patriots cut him after a training camp battle.
The report comes just a few days after tight end Ed Dickson dropped four passes, reeling in just one catch on five targets. Fellow tight end Dallas Clark dropped a potential touchdown pass right before halftime that would have given the Ravens a seven-point lead.
Meanwhile, there haven't been any reports yet on the free agent wide receivers the Ravens may be interested in signing.
With Jones' reported sprained knee that will sideline him until mid-October (four to six weeks), the offense could use some reinforcements. Of the receivers remaining on the market, there are three that stand out to NFL.com's Chris Wesseling.
 "Brandon Lloyd, Laurent Robinson and Austin Collie are the premier talents among the available veterans," Wesseling wrote. "While Lloyd has gotten nary a nibble on the open market, concussion risk Robinson remains unsigned after working out for a half-dozen teams since the end of July. Collie has concussion concerns of his own and has been limited to the slot throughout his career."
Collie played under Offensive Coordinator Jim Caldwell with the Indianapolis Colts, and he was Dennis Pitta's roommate in college at BYU.
But ESPN's Jamison Hensley says the impact the loss of Jones will have at the receiver position is "minimal" and believes the answer for his replacement is already on the roster.
"Jones was the No. 2 receiver for the Ravens, but it's debatable whether he's the second-best receiver on the team," Hensley wrote. "You can make the argument that undrafted rookie Marlon Brown is a better pass-catcher right now than Jones. ... Brown's size and ability to make catches over the middle is an asset to this offense. So, in the big picture, Baltimore is going to miss Anquan Boldin (more on him below) more than Jones."
Added Wesseling on Brown: "No street free agent will be able to beat him out by the time Jones returns."
Additionally, seventh-round rookie Aaron Mellette could also be activated to help at receiver.
That said, Hensley said the impact Jones will have on punt returns will be "moderate" (Lardarius Webb filled in Thursday) and the impact on kickoff returns is "big." Bernard Pierce filled in there with Thompson still down. His return is still unknown.
With a real need on special teams, and more bodies needed at receiver, the Ravens may be looking for a receiver that can have an impact on the return game.
If that is the case, Wesseling points to Josh Cribbs as the potential answer.
Ray Lewis: 'Baltimore Will Be Fine'
Ray Lewis has probably heard all the talk about how this year's Ravens defense could be better than last year's Super Bowl-winning unit led by the greatest defensive player in Baltimore history.
After the defense gave up a franchise-high 49 points against Denver, many pundits are sounding the alarms.
But Lewis isn't buying it.
He won't give himself or his former partner in crime that much credit. The Ravens linebacker-turned-ESPN analyst shared his thoughts on his former team's blowout season-opening loss.
"Baltimore will be fine," Lewis said on "Sunday NFL Countdown" yesterday.
"They're that type of team, alright. Our pedigree has always been that. One stumble in the road ain't never stopped nothing."
That's a similar sentiment several defensive veterans shared right after the game, including outside linebacker Terrell Suggs, who watched how Lewis led the unit for years.
Lewis did give his analysis on what went wrong for the Ravens, as quarterback Peyton Manning picked them apart for an NFL-record-tying seven touchdowns.
"In the first half the other night, they played checkers. You see? The second half, you was supposed to play chess," Lewis said.
He went on to explain that Manning is the best in the game at reading defenses, and that he can move players out of position as they try to confuse him with disguised alignments.
Jaworski gave a similar analysis.
"Once again, Peyton Manning at the line of scrimmage is] one of the best in the business – [maybe the best ever," he said on ESPN's "Mike and Mike." "When he gets to the line of scrimmage to orchestrate that offense, you could see he always got the correct play called – particularly in the second half."
Put Manning's skill to read defenses against Baltimore's brand-new unit (eight new starters from the Super Bowl team) and Manning easily wins the game of chess.
Once Defensive Coordinator Dean Pees and the unit better learns its strengths and weaknesses and develops its communication and chemistry, Lewis could be proven right: "Baltimore will be fine."
Ravens camp can essentially be split into two groups.
One group is having feelings of regret over the trade of Anquan Boldin after his monster debut with the San Francisco 49ers yesterday, catching a game-high 13 passes for 208 yards and one touchdown.
The other group wants to move on and stop looking in the past.
Those in latter faction won't get their wish, as everyone in the nation is gushing over Boldin.
"The receiver Baltimore traded away for a sixth-round pick: 13 catches, 208 yards, one touchdown," Peter King wrote. "I remember when Boldin signed with Baltimore in 2010, how the Ravens raved about how quickly he adjusted to the new offense and to quarterback Joe Flacco. I looked it up this morning: He had 20 catches for 287 yards in his first three games in Baltimore."
And now Boldin has quickly moved on to San Fran, noting the instant chemistry the he and quarterback Colin Kaepernick have established.
For those regretful Ravens fans, Wilson reminds them that the difficult decision to trade Boldin was a "complicated" one.
The Ravens wanted to retain Boldin, but needed to restructure his contract because of a very tight salary-cap situation. After negotiations didn't work out, a release was inevitable, but the Ravens managed to get a sixth-round pick out of the deal. With cap savings of $6 million through the trade, the front office added needed defensive pieces including linebacker Elvis Dumervil, defensive tackle Chris Canty, safety Michael Huff and linebacker Daryl Smith.
"At the time of the trade, the Ravens' thinking was that wide receiver Torrey Smith would emerge as the go-to outside receiver and that tight end Dennis Pitta would slide into Boldin's chain-moving role," Wilson wrote. "The potential season-ending fractured, dislocated right hip that Pitta suffered in August when he crashed to the ground going up for a jump ball in the end zone obviously couldn't have been anticipated.
"A credible argument could be made that the Ravens' offense wouldn't have felt the absence of Boldin so severely if not for Pitta being out of the equation on the injured reserve-designated to return list."
Wilson noted that the gamble was made with the bet that younger receivers would emerge. Smith has shown he is capable of being a No. 1 receiver, and made five catches for 92 yards against the Broncos. And nobody could have predicted the injury to Thompson, who could still come back and make an impact.
"As painful as it is for the Ravens to see Boldin excel for his new team while they go experience growing pains with their revamped offense, none of this should come as much of a surprise, if at all," Wilson wrote. "If anything, it's a predictable scenario unfolding. … And the Ravens' precarious receiver situation has been exacerbated by the unfortunate injury to Pitta, the one guy they could least afford to lose after trading Boldin."
New Appreciation For OherRight tackle Michael Oher has never missed a start in his five-year career. As such, nobody ever got a chance to see how the offensive line would fare without him.
We all got that look Thursday night, and it wasn't pretty.
"There's a new appreciation for right tackle Michael Oher," wrote Hensley. "After he left the game in the middle of the second quarter with a sprained ankle, quarterback Joe Flacco and the passing attack weren't the same."
With Oher in the game, Flacco completed 63 percent of his passes (12 of 19) with only three off-target throws, Hensley noted. Without Oher? Flacco dropped to a 51 percent completion rate (22 of 43) with eight off-target passes "all of which were overthrown."
@AnquanBoldin: That was a grown mans footballgame. Happy to get win number one, but we're just getting started here. Fans were awesome today at the Stick. [Twitter]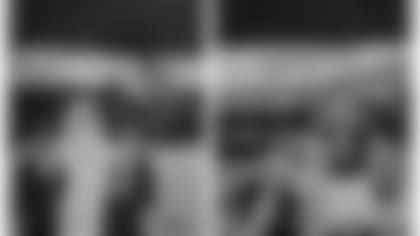 @GerrySandusky: Had a chance to watch Ray Lewis a little on ESPN today. I think he'll be a big star in the media world too. What did you think? [Twitter]
@jtuck9: Never thought I'd be saying this haha: everybody needs to go get the October issue of @cosmopolitan…[Twitter/Instagram]
What was the problem in the secondary against Denver? Hensley says it was poor tackling and pursuit. "Baltimore's secondary, namely safety Michael Huff and cornerback Jimmy Smith, took bad pursuit angles when the Broncos caught the ball and failed to bring them down once they got there. It played a factor in the Broncos' three longest plays of the game. … "The Ravens defense allowed 259 yards after the catch (120 of which came from Demaryius Thomas), more than any defense had allowed in a game during the previous two seasons, according to ESPN Stats & Information. That accounted for 56 percent of Manning's 462 passing yards." [ESPN]
And what went wrong on the blocked punt? "The Ravens then had their first punt blocked in four years because rookie second-round pick Arthur Brown couldn't block David Bruton," wrote Hensley. [ESPN]
"Flacco's fault? Stop. Just stop," Peter King wrote about the Ravens' loss. "[H]e had so little help from his receivers that you have to chalk this up as a learning experience. He learned he's going to rely on two good running backs and his speed downfield." [MMQB]
The Orioles had a "smaller than normal crowd" during the Ravens season-opener, reported Mike Florio. They had 17,383 fans at Camden Yards the night of the Ravens season opener, whereas on a previous weeknight series against the Tampa Bay Rays (Aug. 19-21) they had an average of 26,508 per game. [ProFootballTalk.com]
"The 25.1 million viewers] figure makes Thursday night's game the [third-most watched NFL opener since the league started opening the season on Thursday night in 2002. The 2010 and 2011 openers were both seen by more than 27 million viewers," wrote Florio. [ProFootballTalk.com]
What former Ravens CB Cary Williams said to Riley Cooper during a skirmish. [ProFootballTalk.com]
John Harbaugh didn't see the replay of Denver Broncos wide receiver Wes Welker's failed catch, but Ravens assistant coaches did. Ian Rapoport discusses the Ravens' breakdown. [NFL.com]