As a reminder, or for those new to "Late For Work," this space is reserved each weekday morning as a roundup of news and social media from around the web about the Ravens.
Appearing on ESPN's Monday Night Countdown before the Lions-Giants game in his role as an NFL analyst, retired Ravens linebacker Ray Lewis gave his reaction to the team's terminating of Ray Rice's contract.
"I am disappointed; this is personal for me," Lewis said. "So I'm torn. This is a guy, a young man I really took under my wing and tried to mentor to make sure he had a successful career and stayed away from things like this. Seeing this video – let me very clear, going through this myself personally – a man should never, ever put his hands on a woman, bottom line. So we can speculate about a lot of different things but what we need to make sure is very clear is what we saw in this video is him actually putting his hands on a woman and that is where it is personal for me."
ESPN colleague Suzy Kolber asked why this was personal for Lewis.
"My mom went through that," he replied. "It was one of the greatest things that drove me in my life, was to make sure a man never touched my mom again. I witnessed that. There were times I went through beatings with her. So to go through that and know what that feels like that a woman is lesser than you and can't fight back. If that's my sister, my daughter, then we have another issue.  That is why for me for it stings because he is a friend and I've always tried to take this young man and give him something different and teach him something different, educating him while he was going along his process. … When you watch this video you see that something was lost by him, by this young man. Some leadership was lost. He got out there and started doing his own thing and what it is in the dark is going to come to light."
Lewis said there are no comparisons between his 2000 legal situation and Rice.
"This is nothing about me personally," Lewis said. "Me speaking with the owner of the Ravens today, Steve Bisciotti, just moments ago, and listening to what Steve was saying about the reasons why Ray Rice will never play for the Ravens again. When he saw this video himself, he put his daughter and he put anybody that's connected to him that's a female, he put them in that position. You have to take a step back when you are an owner or anyone who walks in the room and you see that type of evidence that you have not heard before or seen before. One thing Steve made very clear: There is no comparison of me and Ray Rice. It is night and day. It is night and day of anything we have ever been through and that's why both situations are totally different."
The full video is below (mobile users tap "View in browser" to watch).
Ray Rice's wife, Janay, released a statement via Instagram Tuesday morning:
"I woke up this morning feeling like I had a horrible nightmare, feeling like I'm mourning the death of my closest friend. But to have to accept the fact that it's reality is a nightmare in itself. No one knows the pain that the media & unwanted options from the public has caused my family. To make us relive a moment in our lives that we regret everyday is a horrible thing. To take something away from the man I love that he has worked his ass of for all his life just to gain rating is a horrific. THIS IS OUR LIFE! What don't you all get. If your intentions were to hurt us, embarrass us, make us feel alone, take all happiness away, you've succeeded on so many levels. Just know we will continue to grow & show the world what real love is! Ravensnation we love you!"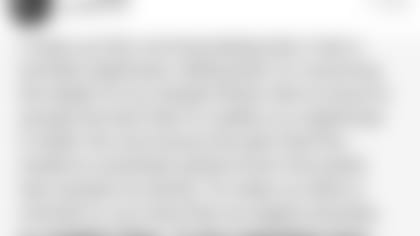 The Ravens held an open locker room media session Monday night, and teammates Torrey Smith and Chris Canty shared their feelings in the CSNBaltimore.com video below.
The White House responds with President Barack Obama saying that "hitting a woman is not something a real man does." [Chicago Tribune]
Pro Football Focus released their grades from the Ravens-Bengals season opener, highlighting three noteworthy performances by Kelechi Osemele (plus-4.7 grade), Daryl Smith (minus-2.7) and Terrell Suggs (plus-3.6). "Suggs can still play, and he proved it against the Bengals," wrote John Breitenbach. "The stat sheet shows just the solitary hurry but the tape shows a different story. On a number of occasions Suggs immediately beat an offensive lineman, only for Dalton's quick release to save him from recording pressure. Marshall Newhouse's first live game action for the Bengals featured him looking a little silly as he was beaten inside right off the snap. It wasn't just him either with* *Kevin Zeitler and Andre Smith both beaten by Suggs at various stages." [ProFootballFocus.com]
Drops are uncharacteristic for the Ravens. [ESPN]
Running back LaMichael James was released by the San Francisco 49ers, and Marc Sessler thinks one potential landing spot is the Ravens after they cut Rice. [NFL.com]