For Humphrey, living right has taken on deeper meaning, one that has helped him emerge as one of the NFL's top cornerbacks.
What he's doing on the field is obvious. Heading into Sunday's game against the Cincinnati Bengals, Humphrey is the only NFL player with at least two interceptions, two forced fumbles and two fumble recoveries. He's been the top defensive catalyst during Baltimore's current four-game winning streak – a cornerback clearly worthy of Pro Bowl status.
But Humphrey isn't just playing differently. He's convinced that living a more disciplined and spiritual life has unlocked the key to maximizing his immense talent.
He has brought more focus and purpose to every aspect of his daily routine – training, practice, film study, diet, and how he spends his free time. Listed at 6-feet, 197 pounds, Humphrey is a physical specimen who entered the NFL with all the tools necessary to be an All-Pro cornerback – size, strength, speed, long wingspan, toughness and intelligence.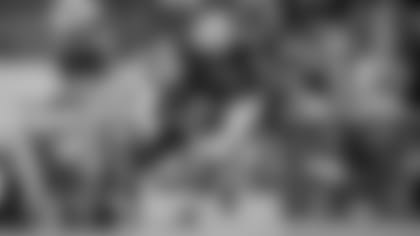 Yet, even when he was the Ravens' first-round draft pick in 2017 after an outstanding college career at Alabama, Humphrey sensed something was missing. About two years ago, he found out what.
"I grew up in the church, tried to keep God in my life to some aspect, but I can't say I was walking in the straightest path," Humphrey said. "Two years ago, I made that adjustment. It's been sailing smooth ever since. My parents are happy I came back to my roots."
His family has noticed the change. His mother, Barbara, says her son's spiritual commitment is linked to him becoming a better player.
"He's really living a stricter, Christian life," Barbara said. "No drinking, smoking. He listens to gospel music. He's not in the clubs. He's reading the Bible, going to Bible class when he can. He has really turned it all the way around.
"He was home during the offseason about two years ago and said, 'I need to get my life right, because what I'm doing, I'm not happy with it, not satisfied with it.' I guess God was working on his life. It's helped him to focus more. If he's not reading the Bible, he's reading the playbook. He's cut out so much other stuff that was in his life, and it can't help but show up on the field."
Halfway through the season, Humphrey has compiled an impressive stack of momentum-changing plays. Against the Pittsburgh Steelers, he punched the ball away from top wide receiver JuJu Smith-Schuster, then made a cat-quick athletic recovery of the fumble to set up Justin Tucker's game-winning field goal in overtime.
Against the Seattle Seahawks, Humphrey had a scoop-and-score for a fourth-quarter touchdown that iced the game.
"He's an incredible player," Seahawks Head Coach Pete Carroll said prior to that game. "I loved him in the draft. I spent some time with him down in Alabama and had a visit with him, because we would have loved to have had him on our team back when opportunities came up. He's doing great. He's playing really aggressive. He has tremendous play speed. He's a playmaker."
Against the Patriots, Humphrey's 70-yard scoop-and-score early in the third quarter helped change the momentum back in Baltimore's favor.
It's not just Humphrey's athleticism that makes him special. It's his versatility and physicality. There isn't a type of receiver Humphrey isn't built to blanket from sideline to sideline.
He has the speed to handle explosive targets like Odell Beckham Jr. of the Browns, and the wiggle to handle shifty receivers like Julian Edelman of the Patriots. Humphrey is a willing tackler and will fight off blocks from linebackers and offensive linemen to bring ballcarriers to the ground. Some cornerbacks shy from contact. Humphrey relishes it. He'll do the glamorous work or the grimy work, the definition of a complete corner. Humphrey has even been working in the slot this year, something he had to learn to be able to follow the opponent's top receiver everywhere he went.
"The thing people don't understand is how hard it is to move from outside to inside, back to outside," Defensive Coordinator Wink Martindale said. "He is a top-level corner at any one of those spots. And he could play linebacker if he wanted to, he's that tough."
Humphrey's athletic talent is not a surprise, considering his off-the-charts family genes. His father, Bobby Humphrey, was an All-American running back at Alabama who played five seasons in the NFL with the Broncos and Dolphins, making the Pro Bowl in 1990.
Barbara still holds the school record in the 400 meters at the University of Alabama-Birmingham. Marlon shares his mother's love for track and he once aspired to make the Olympic team. Humphrey still trains at his Hoover (Ala.) High School track during the offseason and credits track for helping him excel as a cornerback.
"I'd say track has helped a lot, not just my speed, but the way I use my hips," Humphrey said. "I was a hurdler. A lot of things that I do now in the offseason, I train more like a track athlete than a football athlete. Using my hip mobility. Playing corner, it's all about having fluid hips and being smooth, not stiff. Just the things I've learned through track has really helped me out."
Ravens backup quarterback Robert Griffin III was a track standout at Baylor and says the mentality it takes to win a race mirrors the mentality it takes to win one-on-one battles as a cornerback. He says Humphrey has applied some psychological lessons from track to football.
"In track, when you line up and the gun sounds, it's you against everybody else," Griffin said. "Nobody is coming to save you. There's no safety over the top, no pass rush. It's you versus everybody else. When it's nut-cutting time in track, it takes total trust in what you do. Marlon lines up every week with total trust he's going to get it done."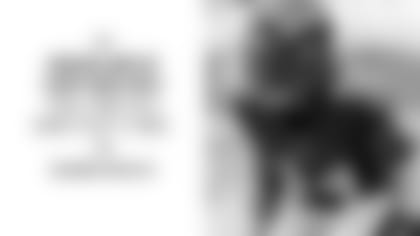 A former first-round pick himself, Ravens cornerback Jimmy Smith could see Humphrey's physical talent from the moment he joined the team. But Smith says Humphrey's mindset has never been more intense. He was the best player in training camp this year, approaching every practice like it was game day, and that focus has carried into the season.
"His confidence is through the roof," Smith said. "You need that to play corner. Other than quarterback, it's the position where you have the most potential to be embarrassed. But he has no fear of that. He likes to bang. If anything, we have to get him to play less physical."
Humphrey wants to draw attention with his play, not his words. He doesn't covet fame or seek headlines. He can be a willing interview subject, or a reluctant one. On the field, he's not much of a trash talker, unless an opponent insists on trying to push his buttons.
"I don't really like to do much talking, but if a player wants to take it there, then I enjoy those games for sure," Humphrey said. "It can be fun when things get chippy. It just depends on how it goes, but I can't allow myself to be bullied."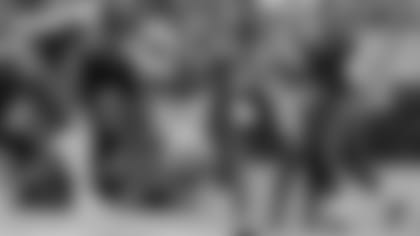 Humphrey relishes the opportunity to face the other team's best receiver each week, knowing he can frustrate them with both his finesse and his physicality. Humphrey and Beckham got into it on the field in Week 4, but Humphrey ran after the All-Pro receiver after the game to apologize. Humphrey didn't back down, but that's also not how he wanted to conduct himself.
"He's not a trash talker, but he ain't no punk either," Smith said. "Don't try him."
Once Humphrey sets his mind to accomplish something, he isn't satisfied until it's done. One of his proudest moments occurred this spring when he earned his degree in Human Environmental Sciences from Alabama. Humphrey took online classes during the 2018 season and admits it was more difficult playing last season while completing courses. But he wanted his degree badly.
"Taking classes during the season may have been too much on my plate," Humphrey said. "You get Monday off and a half-day Tuesday, but you're like, 'Nah, I really don't want to do those assignments.' Then you let it slide until Wednesday, and the next thing you know, it's Thursday. Then Friday you get the evening off and you say, 'Man, I'm going to get a nice dinner and maybe go watch a high school football game.' Then you realize you've got an assignment due at midnight. You're staying up late to do it. Luckily, Alabama time is an hour behind us, so I had until 1 a.m."
The next assignment for Humphrey is to help the Ravens reach the playoffs. He made no secret of two goals before the season started – making the Pro Bowl and reaching the Super Bowl.
"Anything that ends in bowl," Humphrey said before training camp.
At age 23, Humphrey has found a comfort zone on field, and away from the game. Living in Baltimore has grown on Humphrey, but it was an adjustment for someone who had never lived outside Alabama. He remembers one of his first trips to the Inner Harbor after being drafted, and he did not receive the warmest welcome.
"My waitress told me I didn't play for the Ravens," Humphrey said. "Just wouldn't believe me. I had just been drafted, I'm all excited. She looked at me and said, 'You DON'T play for the Ravens.' I was like, 'Ok.' Then my Uber driver got an attitude with me. I realized quickly things might be different, that I wasn't home anymore."
Now Humphrey feels at home, and his teammates feel like family. He is comfortable enough to be different if he wants, like being an unabashed "cat guy" and one of the team's most flamboyant dressers, regardless of what anyone else thinks of his wardrobe.
"I dress the way I dress," Humphrey said. "People ask me – why do I have an Afro? It's because it's what I want. That's one of the biggest things I love about this team. You've got a lot of personalities. These guys have really accepted me for who I am. They may not realize the impact they have on me for accepting me, but it's really been a blessing. I try to accept them the same way."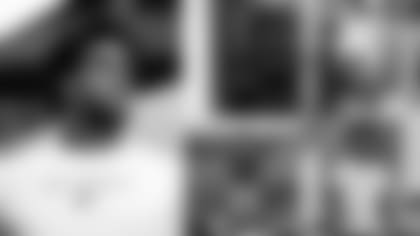 Humphrey displayed that by giving his No. 29 jersey number to Thomas, who wore that number for nine seasons in Seattle before signing with the Ravens. Humphrey chose No. 44, the same number his father wore in the NFL.
"I was even surprised Marlon did that," Barbara said. "Guys get attached to their number."
In appreciation, Thomas donated to Barbara Humphrey's track club in Hoover. For that gesture, Thomas instantly became one of Barbara's favorite NFL players. But her favorite Raven remains her son, who is living his best life in the moment.
"He's confident in himself and confident in those guys with the Ravens," Barbara said. "You can tell he's in a good place."