Derrick Mason reached the 11,000 receiving yard milestone Sunday, even further solidifying him as one of the NFL's greatest wide receivers.
But, unfortunately for the Ravens and Mason, his performance Sunday will be remembered by the catch he didn't make.
On the first play of the fourth quarter, with the Ravens and Steelers tied at 20, the Ravens took a deep shot into the end zone.
Mason had a couple steps on Pittsburgh's defense and was wide open along the right sideline. He reached his hands out for what looked to be an easy touchdown catch.
The 21-yard pass bounced off Mason's facemask and out of reach. Just like that, a precious scoring chance escaped the Ravens.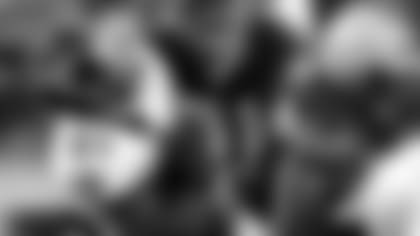 Mason collapsed in disbelief and held his sunken head in his hands. After a second, he straightened up with a big smile on his face, as if laughing was the best medicine for such an obvious gaffe.
"I just didn't catch it – that's what it boils down to. Didn't catch the ball," Mason said. "It happened. You move on, but that's one that I gotta have. I gotta have. I cannot allow myself to relax in a situation like that, regardless of how open I am. But, it is what it is. You move on."
The offensive drive, which already included a called-back Willis McGahee touchdown run, crumbled after Mason's drop. And the miscue was the start of a rough fourth quarter for Baltimore.
The Ravens were flagged for two penalties on the next play and an ineligible player downfield penalty was enforced. On the next play, right tackle Oniel Cousins was penalized for an obvious 15-yard unsportsmanlike conduct foul. An incomplete pass intended for Mason on third-and-30 from the 41 sealed a punt when the Ravens once had a first down at the Steelers' 21-yard line.
"You think you have a touchdown, you get it called back. You think you get a touchdown ...," quarterback Joe Flacco said, trailing off. "We definitely hurt ourselves and we'll take a look and see what happened."
It seemed Mason had a shot at perhaps erasing his blunder when he caught a long pass over the middle later in the fourth quarter. But the 13-year veteran was quickly slammed into by Steelers linebacker Lawrence Timmons, who dislodged the ball for an incompletion. Ravens guard Marshal Yanda was called for holding on the play anyway, which would have negated the catch.
Mason was visibly shaken up by the play and he clutched his leg immediately. He was tended to on the field by trainers and eventually limped off.
Mason returned to the game on the Ravens' next and final drive and caught an important pass for eight yards and a first down. But Baltimore's comeback came up short.
It's the second time a dropped pass has haunted the Ravens this season. Mark Clayton lost the handle on a fourth-and-4 pass in the final minute at New England, which ensured the Ravens' first loss of the season.
Despite his drop, Mason was still quite productive as usual Sunday. He finished with seven catches for 77 yards to lead the Ravens in receiving for the sixth time this season. No other Raven had more than two catches.
Mason surpassed the 1,000 yard receiving marker for the third straight year and eighth time in his career. He is averaging 86 yards per game over his past three games and is just the 22nd player in NFL history to ever reach the 11,000 receiving yards milestone.
But this is one game Mason said he would like to put out of his mind.
"Forget about this one, it's over and done with," Mason said. "We just have to prepare for the next one; that's all that matters. We win, we're in."