PLEASE NOTE:The opinions, analysis and/or speculation expressed on BaltimoreRavens.com represent those of individual authors, and unless quoted or clearly labeled as such, do not represent the opinions or policies of the Baltimore Ravens' organization, front office staff, coaches and executives. Authors' views are formulated independently from any inside knowledge and/or conversations with Ravens officials, including the coaches and scouts, unless otherwise noted.
At 6:48 a.m. on Sunday morning, Ravens cornerback Prince Miller became a first-time father.
Right after last Saturday's M&T Bank Stadium practice, Miller flew to Georgia, stayed in the hospital all night and literally pulled his daughter, Nyla Imani Miller, out into the world.
Sitting in Athens Memorial Hospital, family was the only thing on the 22-year-old cornerback's mind.
"It's just so surreal," Miller said. "Just watching the birth of your child is amazing."
But football thoughts weren't far away.
"They returned soon after," Miller said. "You realize you've got to get back to work."
The next day, Miller was back on a flight to Baltimore. It was back to battle for a roster spot and a way of life for his newfound family.
There are a lot of rookie free agents battling the odds to make NFL rosters, but few of them have as much weight on their shoulders as Miller.
About nine months ago, when he found out he was going to be a parent, the responsibility of fatherhood hit Miller like a wide receiver's stiff arm.
"Since I found out I had a child on the way, I've felt that added pressure and extra want-to and determination to fulfill my lifelong dream," Miller said.
"Every day I'm out here playing my heart out. You've got to provide for your family. That's what I'm doing, investing in our future."
If Miller doesn't make the Ravens' roster – which is inherently a long shot considering he's an undrafted free agent – his family's future gets a whole lot more complicated.
Miller graduated from Georgia with a housing degree, but he seemed to doubt he could immediately land job in that market. If he doesn't make it with the Ravens or anywhere else, Miller would like to earn his Masters degree.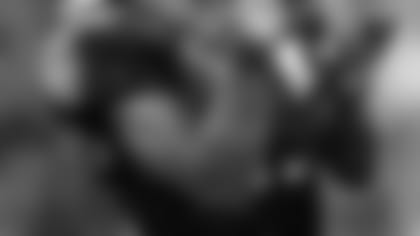 But asked what he'd do when the bills of a newborn baby pile up, Miller – who grew up in a single-parent home himself – immediately answered "whatever it takes."
All those "ifs" are something Miller tries not to think about when he's at training camp. But it's impossible to stay focused on football with a newborn at home, when he can't wait to call home. There's a curfew for players, but that doesn't stop Miller from spending late nights talking to the Nyla and her mother, Jessica Williams.
"I talk to them day and night," Miller said. "Of course I want to be there, but you know, it's a bittersweet situation. I want to be there, but I've got to provide for them."
Miller has his work cut out for him if he's going to make Baltimore's roster.
He might have to beat out one or two other returning Ravens in the secondary, including K.J. Gerard and Marcus Paschal. He also has to stand out from newly-signed rookies Doug Dutch and Chris Hawkins.
Miller also has to compete with a clear physical disadvantage. He stands at just 5-foot-8 and has been matched up against 6-foot-4 tight ends and Pro Bowl receivers.
Miller doesn't think anything about it anymore. After all, the University of Georgia product battled big receivers in the Southeastern Conference. He'll lose the occasional jump ball to taller wide receivers, but not without a fight.
"Prince has done a good job," Secondary Coach Chuck Pagano said. "He's got his ups and downs like any rookie is going to have, but he stays with it. He's a competitor."
One edge that Miller does have is that he can play in the nickel. That, combined with the rash of injuries Baltimore has sustained in its secondary, has given Miller a lot of reps in training camp practice.
Miller played outside and in the slot in college, but to transfer that to the professional level is rare. Nickel coverage demands an expansive knowledge of the defense and where help lies over the middle.
"You can just tell when you watch Prince play he has great instincts, he knows football," said Chris Carr, the Ravens' nickel cornerback last year. "He's smart. He's playing nickel and corner. A lot of rookie corners can't handle that."
Special teams is also one place where Miller, a college punt and kick returner, will likely have to make an impact. He's competing with a few veterans – Tom Zbikowski, Mark Clayton and perhaps Carr – for punt return honors.
Miller got his first major audition Thursday night in the Ravens' preseason opener against Carolina.
With injuries again a factor, Miller didn't start, but played nearly the entire game. He notched a couple pass deflections in coverage and nearly picked off one. Miller also returned a punt 57 yards to set up the eventual game-winning touchdown.
Seven different Panthers got a hand on him during the return, but Miller ran through them like they weren't there. He kept churning forward, as if driven by sheer will.
"It just kind of flies by and your natural abilities take over," Miller said of the return. "You're not out there thinking about your next move, you're just running. It was just a great, great experience."
Following the game, Miller looked at his phone. He had about 40 congratulatory text messages and emails waiting for him. He wanted to get back to everybody, but knew where the first call had to go – home.
"This is just one of those things that you go through in your life and it makes you a better person afterwards," Miller said. "There are definitely brighter days ahead, but this isn't the worst position to be in by any means."