Ben Cleveland is a rookie, but he's taking a mature approach to competing for a starting job.
How quickly Cleveland adapts to the NFL will help determine whether the third-round pick immediately starts at left guard, and whether the Ravens move Bradley Bozeman from left guard to center. After his first practice at rookie minicamp Friday, Cleveland said he was focused on learning the playbook, not trying to measure where he stood in the competition.
"That's way too far ahead into the future to look at," Cleveland said. "I'm really focused on today, getting the playbook down. It's a bunch of new guys. We're all seeing this playbook for the first or second time. You can't go play fast until you know what you're doing.
"That's really what I'm worried about right now, not thinking ahead to fall camp and that starting job. Obviously, that's the goal for this year. That can't happen until I get the playbook down and learn my assignments."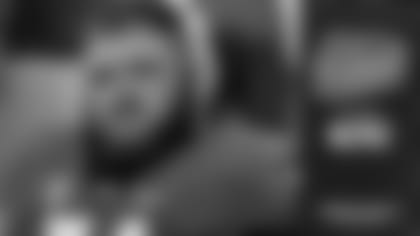 Ben Cleveland Joins The Lounge
The Ravens' third-round guard from Georgia talks about his physicality, what he envisions for his rookie season and his country roots.
It's important for Cleveland to be comfortable with the playbook by training camp, when he will try to build chemistry with veteran offensive line teammates. Linemen are often asked to pull and take part in combination blocking in Offensive Coordinator Greg Roman's system, so while Cleveland was an imposing blocker in college, there will be a lot for him to grasp. Coaches will be looking for the offensive line combination that works best together. Cleveland said he hasn't had much communication with Baltimore's veterans yet, but one player he has heard from is Bozeman.
"Bozeman reached out to me the night I got drafted," Cleveland said. "Just kind of setting himself up as a friendly face. Him playing in the SEC, we kind of have that common ground. It's exciting to get to work together with people who have worked at this level for so long. There's so much that a young guy like me is going to be able to learn from them, regardless of how successful I might have been in college. The NFL is a completely different game and it's something they've seen."
Tylan Wallace Adjusting to Different Offense
There are several things that make the leap from college football to the NFL challenging for rookie wide receivers. Running routes while being defended by more talented and physical cornerbacks is just part of the transition. For Ravens fourth-round pick Tylan Wallace, he'll also be part of a Ravens offense that differs greatly from the offense he played in at Oklahoma State.
The Cowboys ran a lot of no-huddle offense and Wallace lined up almost exclusively on the right side. With Baltimore, Wallace could be asked to line up on both sides and in the slot, and far more plays will be called from the huddle.
"I think the biggest thing, at least for me, is just the different way they run offense in the NFL," Wallace said. "Obviously, I come from Oklahoma State. We're a big tempo team, one word, go. It's definitely different than getting in a huddle, hearing a play call and getting out there. I'm definitely excited to get in here and learn. The first day wasn't too bad, went pretty good, but I've definitely got a lot of learning to do."
Wallace made it clear that keeping his head in the playbook won't be a problem. If anything, forcing himself to take a break from studying has been a bigger issue.
"The hard part for me is knowing when to actually put the book down," Wallace said. "Yesterday I was really nervous. I wanted to make sure I knew what I was doing when I got out there."
Daelin Hayes Got Goosebumps Arriving At Ravens Headquarters
Fifth-round outside linebacker Daelin Hayes was a huge Ravens fan growing up, which made being drafted by Baltimore an even bigger thrill. Hayes looked up to Hall of Famers Ray Lewis and Ed Reed, and he was filled with emotion arriving at the Under Armour Performance center for minicamp.
"I got goosebumps when I first came in the building," Hayes said. "Talk about a long line of great players that came before you. The standard was the standard and you feel that when you walk in this building. It's just a feeling of excellence."
Hayes was a versatile linebacker at Notre Dame, and the Ravens view him as someone talented enough to make plays as a run defender, pass rusher or coverage linebacker. However, Hayes had nine career sacks at Notre Dame and made it clear that getting after the quarterback was his favorite part of the job. If he shows the ability to pressure quarterbacks as a rookie, it will surely increase his opportunity for playing time.
"I enjoy rushing the passer," Hayes said. "I feel there's no quicker way to change the outcome of a game than sacking the quarterback."