'Tis the season to be thankful, and Ravens tight end Nick Boyle is certainly feeling it.
Making his return to the field a year and six days after suffering a major knee injury, Boyle said he appreciated every detail about the Ravens' 16-13 win in Chicago's Soldier Field.
"The whole day was awesome," Boyle said with a beaming smile Wednesday.
"Walking into the stadium, knowing you're going to play, pre-game, getting warmed up, getting everything ready to go – that's the stuff that I miss so much, and like I said, it was awesome being out there with my teammates. There are still things I've got to get better at and get to where I was, but it was really good just to start it like that."
When Boyle went down during the Ravens' 23-17 loss in New England last year, it was obvious that it was going to be a long road back. Anyone watching the play could see that from their couch.
Boyle's ACL was spared, but he had a torn hamstring, meniscus, PCL, MCL and a small fracture. The inside part of his hamstring tore completely off the bone as the "whole inside of the knee blew-out."
The mauling tight end hardly showed any emotion as he was carted off the field in a torrential rainstorm, but he doesn't spare his feelings on the resulting initial surgery in Texas.
"That was the like the worst surgery of my life," Boyle said. "That week after was miserable – staying there in Texas."
Boyle's family came out with him, as did his larger support system including the Ravens. But for a guy that enjoys his job so much, the mental and emotional pain was a lot to take on top of the physical pain of the recovery.
"When you get injured like this, you fight daily battles with yourself when you're not feeling good yet," Boyle said. "You always think to yourself, 'Am I going to be the player I was before?' That goes through your head daily, and you've got to really erase that, and just go to work and work every single day."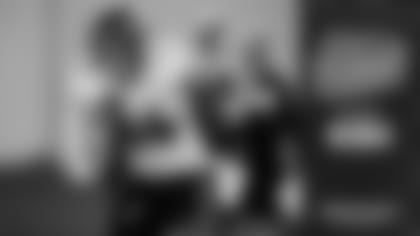 304: Nick Boyle Stops By The Lounge
The Ravens tight end talks about his recovery from a major knee injury and expectations for the upcoming season.
Boyle spent his entire offseason in Baltimore rehabbing the injury, putting in work alongside offensive tackle Ronnie Stanley. Boyle bickered with Stanley about who was working harder, bickered with the training staff about the best way to do it.
While he tried to have as much fun as he could, it was grueling. Boyle said he gained more of an appreciation for other players who have had to overcome major injuries. He was also thankful for the Ravens allowing him to take his time.
Boyle had to have another surgery in the late summer to clean things up, delaying his return further. When he got to the end of his 21-day practice window, he still didn't feel prepared enough to play in Miami, and asked if he could get a full week of up-tempo practices under his belt before he played.
So Boyle and the Ravens circled Chicago on the calendar, and it was worth the wait. Boyle played 40 percent of the offensive snaps against the Bears. The Ravens' first two plays of the game were both runs behind Boyle blocks. The first went for five years. The second went for 10.
"When I blocked my guy, and I saw the running back get through, that made me feel a little better," Boyle said with a laugh.
Boyle said he didn't feel too sore the next day. His knee repaired, but he said he just needs to keep building strength through the rest of his leg to be back to his previously dominant self.
Boyle is one of the best blocking tight ends in the NFL and a key part of Baltimore's offense. As he gets stronger, so too will the Ravens' offense.
"I don't think I'm there yet, but I think I'm getting better every single day," he said. "I have full belief that I will go out there, and I will be how I was, and I will be even better. But that stuff just takes time."