When Nick Boyle's left knee was injured in Gillette Stadium on Nov. 15, 2020, he showed hardly any emotion as he was carted off the field in a pouring rain. Just a slight grimace. He looked like a gladiator.
When the injury happened, Boyle said he went numb. His knee was "stuck in the turf and backwards" and he just couldn't get up.
But the pain wasn't far off – both mentally and physically.
Before Boyle went under the knife, the surgeon told him it might be the end of his career and that he had only seen one knee injury that severe. Talk about sobering.
When he came out of surgery, the pain was so bad that it broke Boyle – one of the toughest players you're bound to find – down.
"The surgery was gruesome," his wife, Kristina, said. "I've never seen him like that. I've been with him for a long time and I have never seen him cry like that or cry that much.
"It gave him an entirely new perspective on football in general. He saw how quickly it can be taken from him."
Now Boyle is back, ready to launch the next chapter of his career with a new knee and new abs – something he's quite proud of having for the first time.
Boyle returned to the field last season, but he was really limping through it. He wasn't the same player as before or really close to it, and he knew it. Now he's "a new guy," as coaches have said. Boyle lost 10-12 pounds this offseason and his knee feels much better than last year.
"This whole process for me, going through this whole injury has been a lot," Boyle said this week at OTAs. "Just staying motivated and just keep working every single day. I feel really, really good right now."
Boyle worked diligently with the Ravens' medical staff throughout the process. He and his family live in Baltimore full-time, so he was constantly at the Under Armour Performance Center last offseason trying to get back on the field as soon as possible, while being careful not to rush it.
But Boyle is a gamer. So watching his teammates play without him was excruciating. While his kids were a huge source of balance and laughter during the dark days of his recovery, he asked his family to leave him alone on gamedays. He was so emotional, he needed to have space.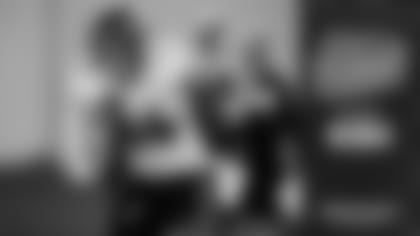 304: Nick Boyle Stops By The Lounge
The Ravens tight end talks about his recovery from a major knee injury and expectations for the upcoming season.
Boyle sat out the first nine games of the season, but couldn't take it anymore. He is a perfectionist, his wife said. He has always said, "bad tape lives a lot longer than good tape." But at this point, he felt he had to play, even though he knew it wouldn't be his best.
He suited up in Week 11 in Chicago, a game the Ravens entered without Lamar Jackson and a host of other injured players.
"[Last] year was tough for me. Seeing people practice, watching the film, being in the meeting rooms, it was like, 'I just have to try anything I have to do to get out there,'" Boyle said. "It's just so hard to sit back and watch when you've been a part of something …
"Maybe I wasn't really good or ready, or my leg wasn't up to standard, but I really wanted to get out there and kind of show that I'm here to really try to get back on the field. I feel like people just around the league – sometimes people get injured and strain out injuries and don't really want to get back out there. That was like the Number One thing I didn't want to show."
Boyle played 32 offensive snaps that game. On the first two plays of his season, he had back-to-back successful blocks to give running back Devonta Freeman a crease. His teammates took notice.
Boyle didn't play that many snaps again the rest of the year. He had just 10 the following week, then sat out the next two games. He played three more games, then shut it down before the regular-season finale. As Head Coach John Harbaugh said, "last year, he just wasn't the same guy."
"Any time a player gets back out there and they don't feel like they're playing even close to where they were before, it's a very demoralizing kind of thing," Boyle said. "That's kind of where you find who you are and what you do."
With that in mind, Boyle decided to change things up a bit this offseason. He had rehabbed for so long in Baltimore that he wanted a change of scenery. His agent found a trainer out in Arizona that specializes in working with athletes coming back from knee injuries and takes a more holistic approach.
Boyle had never been to Arizona (besides for a game) before, he had two young kids, and a wife 30 weeks pregnant. They had to cancel their daughter's first birthday party and reschedule a family trip to Disney World, but he convinced Kristina to uproot the family and move there for two months.
They rented an AirBnB with a playground and pool, were only 10 minutes away from Mark Andrews and his family. Even Kristina, who is very much a planner, said it was really great. During the kids' naps, Boyle would go catch balls with Andrews and they'd get together for big family dinners.
"I saw how hard he worked," Andrews said. "I saw how hungry he was. And if you see him right now, he looks like a different person. He's ready to go."
Boyle also had another workout partner at the Arizona training facility – former Steelers pass rusher James Harrison, who tormented the Ravens for years. Boyle didn't say anything to him the first couple days.
"I was kind of like, 'He's a Pittsburgh Steeler, no one really likes him,'" Boyle said. "But after a couple of days, I kind of broke the ice [and] started talking to him. I found out he's a really nice dude. … I see him there and he's super strong. I felt like an eighth grader next to him half the time when I'm out there."
Part of the plan was also strict dieting. Boyle ate a pre-planned and prepared meal four times a day. There was zero snacking. Kristina would cook the same food as his regimen and Boyle still wouldn't eat it. That's how strict he was about sticking to the plan, all to help his knee get that much better.
"I think it was just a lot of de-loading on my knee," Boyle said. "I like to say, 'You take some load out of the car, and even though the horsepower's still the same, you get to move a little bit faster.' Overall, I just feel way better."
"He's never had abs, never in his entire life," Kristina said with a laugh. "He is very proud of those. He checks on them everyday to make sure they're still there."
Now the question is whether Boyle can get fully back to the level he was at pre-injury, when he was arguably the league's most dominant blocker and a reliable receiver.
The Ravens drafted a pair of rookie tight ends in the fourth round this year, Charlie Kolar and Isaiah Likely. Baltimore has reinforcements this time around, but there's nobody quite like Boyle – especially if he's back in top form or close to it.
At 29 years old, Boyle is entering his eighth season. He was a fifth-round pick out of Delaware in 2015 and he's signed three contracts with the Ravens. By all measures, he's had a very successful career.
The Boyles are having a house built on a lake in Nick's home state of New Jersey. If he is nearing the end of his playing days, they'll be ready to move on. But before then, Boyle wants to ink another chapter in his comeback story.
Ask Boyle, Kristina said, and he'll say he wants to play 10 more years. Plus, he's excited that his oldest son, Brock, can now spot his dad on TV and cheer for him during games. He wants to make his kids (now three), and everyone else, proud.
"With injuries like this, always you're thinking whether you're going to be able to play the same or not," Boyle said. "That kind of fuels me every day to do that. Just consistency and work."