In a game where the NFL's two best defenses were facing each other, it was evident that yardage would be at a premium, making punter Sam Koch![](/team/roster/sam-koch/5db3abab-9670-4b0b-93b7-286dcac1e69c/ "Sam Koch")'s job all the more important.
Even though the Pittsburgh Steelers pulled out a 13-9 win over the Ravens with a late-game touchdown rally, Koch was a key player in keeping Baltimore's AFC North rival at bay for the majority of the afternoon.
A telling statistic for punters around the league in how many kicks were placed inside the 20-yard line.
Out of seven boots, Koch put four inside the 10.
The former sixth-round draft pick had punts downed on Pittsburgh's 7-, 4-, 1- and 8-yard lines, tying a career high for punts inside the 20 during a single game.
"It's the same for every game," Koch said. "You have to concentrate on field position, and to get them down inside the 10 is even better. It really helps the team out, especially the defense."
Koch finished with a 41.7-yard gross average and a 41.0 net average, marking the ninth time this season he's posted a net average of at least 40 yards.
The three-year veteran credits the sharp play of long-snapper Matt Katula, along with a new way of dropping the football as he kicks that he and special teams coordinator Jerry Rodburg borrowed from rugby.
"I'm a lot more comfortable with that drop," Koch said. "It's kept things consistent for me. And, Matt has been placing the snap right at my right hip. That lets me just focus on what I'm doing, because there isn't anything else to worry about."
Koch now has 31 punts inside the 20 this year, breaking his previous single-season record of 30 set as a rookie in 2006. His 31 ties Dave Zastudil for the third most in Ravens history.
Ravens Running Strong
The Steelers entered Sunday's contest allowing an NFL-best 73 rushing yards per game, but Baltimore succeeded in tallying 112 yards, 87 of which came from 260-pound fullback **Le'Ron McClain**.
"That's our mentality," Mc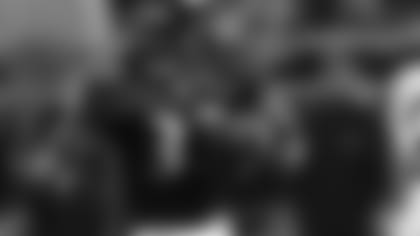 Clain said. "We've just got to go out there and do what we do. I was just doing my thing, running North and South. It was wearing those guys."
"We got a lot out of the unbalanced line," said head coach John Harbaugh. "I think we got some yards out of it. We tried to protect the football for the most part. I thought we did a pretty good job of that."
**Willis McGahee**  added 18 yards on six carries, while rookie running back Ray Rice![](/team/roster/ray-rice/9d941a20-0c76-412d-85fd-165a029d59e6/ "Ray Rice") was inactive because of a lower leg contusion.
Dallas is Next
To a man, the Ravens' locker room was already in the process of putting the loss in the rearview mirror. The focus is now a matchup with the Dallas Cowboys in the final game to take place at Texas Stadium.
That significance was not lost on the players.
"We'll come in Monday], just look at the tape and move on," said quarterback [Joe Flacco![](/team/roster/joe-flacco/3e20766f-6520-4ca1-9901-44389aaea8b8/ "Joe Flacco"). "Dallas is a good team. It's the last game in [Texas] Stadium. We're going to go there ready to play. We've got two games left to get some wins and prove that we're a playoff team, and that's exactly what we're going to do."
The Cowboys, 8-5, defeated the defending Super Bowl champion New York Giants 20-8 Sunday night.
The fact that Baltimore's matchup with the Cowboys is scheduled for Saturday night makes moving forward even more critical.
"You go to Dallas in six days," said defensive tackle **Trevor Pryce**. "Where else can you go? We'd like to go to Pittsburgh and play again, but we can't because of the schedule."
Notable
Safety Ed Reed![](/team/roster/ed-reed/89ece203-7de4-4b40-9651-f16f4c3b7699/ "Ed Reed") recorded his fifth-career sack against the Steelers, his first since 2004. Reed also posted his second fumble recovery of the year, a turnover that led to **Matt Stover's** third field goal of the game. … The announced attendance at M&T Bank Stadium was 71,502, the largest crowd in Baltimore football history. … Cornerback **Fabian Washington** suffered a hamstring injury, while linebacker **Jarret Johnson** sustained a calf injury. … Linebacker Ray Lewis![](/team/roster/ray-lewis/1c6d5ed3-fe49-4a89-a6b5-9e358e906ae7/ "Ray Lewis") praised Pittsburgh quarterback Ben Roethlisberger for his heady play, especially after he engineered a 92-yard drive that culminated in a game-winning touchdown in the final minute. Roethlisberger was singularly adept at creating plays with his legs while scrambling away from Baltimore's pass rush. "That's a special skill that most great quarterbacks have," Lewis said. "They can get out of the pocket and do things like that. He's one of those guys that can get out and make plays. He made a couple of plays tonight."