If Ravens fans focused solely on Philadelphia Eagles safety Quintin Demps' 100-yard kickoff return for a touchdown last week, they would have given a poor evaluation to Baltimore's special teams.
Immediately after the Ravens' 36-7 victory, head coach **John Harbaugh** would have agreed with them.
But after further review, Harbaugh changed his tone. Delving deeper into the game footage, the coach saw some things to be happy about from the unit.
"I was disappointed with the special teams on the spot after the game, but going back and looking at the tape, I'm pleased with them, believe it or not, because all of the other plays were really good, solid, positive plays," Harbaugh said in his Monday press conference.
The Ravens' special teams made a few critical plays that translated into points.
Most-notable was rookie linebacker Jameel McClain![](/team/roster/jameel-mcclain/1b9210af-8755-4fdb-886e-580e37c99afe/ "Jameel McClain")'s blocked punt for a safety. The Ravens were clinging to a 10-7 lead in the third quarter, when McClain burst through the middle of Philadelphia's line to stuff punter Sav Rocca's kick in the end zone.
He was able to notch his second safety of the year largely due to Ed Reed![](/team/roster/ed-reed/89ece203-7de4-4b40-9651-f16f4c3b7699/ "Ed Reed") , who occupied Eagles personal protector Sean Considine on the play, freeing up the middle.
Reed and special teams coordinator **Jerry Rosburg** actually set up Considine earlier in the game with a similar rush. That time, there was no blocked punt, but it did produce a 10-yard tripping penalty that led to **Matt Stover**'s 44-yard field goal, the first points of the game.
"They made a particular protection adjustment to handle Ed, and Jerry set up a rush two times in a row," Harbaugh stated. "One time it got the tripping penalty when Jameel came through there and got the tripping penalty, which tacked on 10 yards on top of the 17-yard return that Yamon [Figurs] had and set up the field goal early in the game, which was a big part of the game.
Also, Harbaugh pointed out the Ravens' efforts containing explosive punt returner DeSean Jackson, who has one punt return for a touchdown this year.
Jackson fielded five punts, but only averaged 6.0 yards per attempt. His longest was 15 yards. Much of that credit goes to two-time Pro Bowl special teamer Brendon Ayanbadejo![](/team/roster/brendon-ayanbadejo/0e939635-1a76-4e0f-a8e4-525731af352f/ "Brendon Ayanbadejo") , who led the team with six special teams tackles.
Harbaugh would, however, like to see Baltimore improve returning kickoffs. **Yamon Figurs** had one kickoff for 21 yards and **Jim Leonhard** contributed 18 yards on another try.
"Punt coverage was really good," said Harbaugh. "DeSean Jackson was a game breaker. I thought the punt coverage was great. The return game, the punt return game, was solid and we've just got to keep working the kick return game. We're close, [but we need] to make sure we get on our targets and block a little better."
Gaither, Terry Might Play will be able to play this weekend against the Cincinnati Bengals.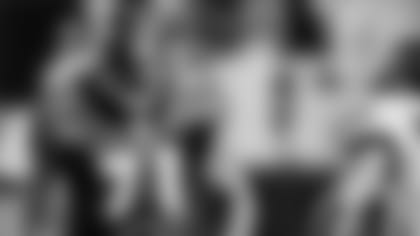 Terry was knocked out in the first quarter of Sunday's game with a concussion and did not return. He actually was replaced at left tackle by Gaither, who was an emergency activation to provide depth despite an injured right shoulder.
"We're not ruling them out at this stage," Harbaugh stated. "We think there's a good chance they'll be able to play."
The Ravens were thin as it was across the line. Right tackle **Willie Anderson** played on the right side with a sprained ankle. Gaither was pulled in the fourth quarter when the game was out of reach in favor of the recently-signed **Chad Slaughter**. even left briefly with an eye injury. He was replaced by rookie **David Hale** until Grubbs returned.
"Jared Gaither gutted it out throughout the course of the game [and] he played well," Harbaugh explained. "There were a number of little bumps and bruises that guys had that they fought through, but we'll see as we go again this week. We're not, obviously, a completely healthy football team."
Can the Ravens afford any other losses on the offensive line?
"We've got to be able to overcome it, and our guys have been able to do that," the coach continued. "And we've had a lot of injuries this year, but you don't hear our guys breathing a word of it because it's not relevant. We've got to come back with the guys we've got and play, and our guys have done a good job of that."
Monday night's 51-29 win by New Orleans over Green Bay boosted the NFL to the first 800-point weekend in its history. A total of 837 points were scored in the league's 16 Week 12 games, the most ever in a single NFL weekend.
The previous record was 788 points, set three times (September 5, 8-9, 2002; December 5-6, 2004; and December 29-30, 2007).
The Ravens have been doing their part to boost the tally each week, scoring at least 27 points in five of their last six contests.
Games this season are averaging 45.0 points. If that average holds, it would top last season's average of 43.4 and the record average since the 16-game schedule was instituted in 1978 of 43.7 points per game in 1983.
Currently, linebacker Ray Lewis![](/team/roster/ray-lewis/1c6d5ed3-fe49-4a89-a6b5-9e358e906ae7/ "Ray Lewis") lead their respective positions in Pro Bowl voting. Visit the Pro Bowl Bound? section and vote for the Ravens in the Pro Bowl. … Linebacker **Antwan Barnes** had an original tackle on running back Brian Westbrook in the third quarter by pulling him down for a 2-yard loss by his jock strap. "I think it's probably a testament to the resiliency of some the football equipment that they're putting on nowadays," Harbaugh joked. … Harbaugh was impressed by Reed's two interceptions against the Eagles, one of which he returned 108 yards for a touchdown and an NFL-record. "Ed has been doing that for a long time in his career, and probably the first time this year where he's had one of those kinds of games, where he basically takes over the football game," the coach admitted. "It was fun to watch. It was fun to watch, me being here for the first time, to see it first-hand."