PLEASE NOTE:The opinions, analysis and/or speculation expressed on BaltimoreRavens.com represent those of individual authors, and unless quoted or clearly labeled as such, do not represent the opinions or policies of the Baltimore Ravens' organization, front office staff, coaches and executives. Authors' views are formulated independently from any inside knowledge and/or conversations with Ravens officials, including the coaches and scouts, unless otherwise noted.
As the first-teamers playfully chatted on the sidelines and those fighting for jobs polished off the Ravens' preseason win last Thursday night, starting left tackle Michael Oher sat by himself on a cooler at the end of Baltimore's bench.
Oher wore a grimace on his face as a heavy rain fell on his head. His mind seemed too busy replaying the proceedings of the night to think to take cover.
The Ravens' 2009 first-round pick and NFL Offensive Rookie of the Year candidate uncharacteristically surrendered a third-down red zone sack on Baltimore's first drive. Then his opponent, Carolina's Tyler Brayton, dropped Joe Flacco for a nine-yard loss on the next series.
"In this league you're going to win and you're going to lose," Oher said Wednesday after practice. "You've got to move on to the next play, the next game."
The way in which Oher moved on gives a glimpse into the make-up of the Ravens' stoic star.
He's driven to be the best, extremely prideful about his craft. After a standout rookie season, Oher has done everything in his power to make sure he's ready to become the pillar of Baltimore's offensive line – its full-time left tackle.
Displeased with how his offensive line performed in the preseason opener, Head Coach John Harbaugh suspended Saturday's practice so his entire team could watch an intense one-on-one pass-rush drill. The drill highlights the sheer desire of one player to impose his will on the other.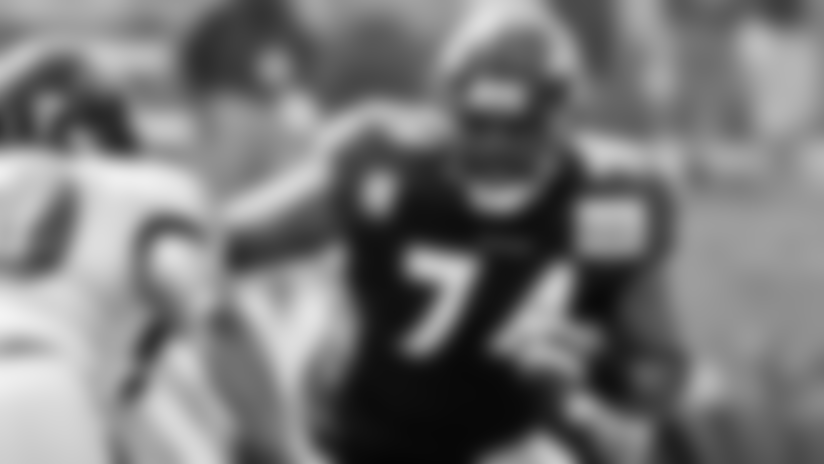 It was the perfect stage for Oher to release his anger over Thursday night's mistakes. It came pouring out, as if Oher was intent on reestablishing his dominance just in case anybody had mistakenly questioned it.
The 6-foot-4, 310-pounder lined up across from Pro Bowler Terrell Suggs. He took him to the ground. Then rookie free agent linebacker Albert McClellan stepped to the plate. It was a massacre.
Oher tied him up, then literally body-slammed McClellan to the turf, drawing a chorus of gasps and cheers from his teammates.
"He got me good," McClellan said afterwards. "I guess that was my welcome to the big-leagues."
Oher and his coaches claim it was just another play, another practice, another display of Oher's consistent progress. That outlook alone shows the kind of franchise player the Ravens believe they have.
"He's like that every day," Offensive Line Coach John Matsko said. "Michael Oher has a tremendous desire to be the best. The guys that really want to be the best have a little difference to them and he's got it. They call it the 'it factor.' That's what he's got. I knew it the day I met the kid."
The "it factor" is a sports myth, an adjective that has never been identified or explained. Matsko only knows he also saw it in Ravens Ring of Honor left tackle Jonathan Ogden.
Oher isn't one wear his emotions on his sleeve or discuss his inner psyche. But he conceded that for him, the "it factor" boils down to pride.
"I've always been a competitor," Oher said. "I've always wanted to win anything I ever did. I wanted to have those bragging rights."
Those are words that make Ravens Offensive Coordinator Cam Cameron gush.
"I think most of the great ones have that," Cameron said. "There's a combination of pride and fear of failure. They don't really want to let other people down. I think he's really special."
It's not selfish pride either, Cameron pointed out. Oher's about as modest as they come.
Cameron laughs at the way Oher constantly says the Ravens "took a chance" by selecting him with the 23rd pick of the 2009 Draft. The Ravens were thrilled Oher slipped that far, yet the previously homeless teenager feels like he must repay the organization.
Oher began paying dividends last year when he started all 18 Ravens games, including five at left tackle – which Oher describes as easy as a right-handed basketball player shooting left-handed. After allowing eight sacks, he finished second in the NFL Offensive Rookie of the Year voting to Minnesota wide receiver Percy Harvin.
Oher came into this offseason looking for more. According to Strength and Conditioning Coach Bob Rogucki's memory, Oher had perfect attendance at the Ravens' voluntary workouts in Owings Mills, Md.
"I have a job," Oher said. "You have to work to succeed. That's what this game is all about, getting better every day."
By virtue of being constantly at practice, Oher has also gained an essential feel for the game – something that only comes with repetition, Cameron said. Cameron described it as a tackle's need to have eyes in the back of his head, to be able to sense his quarterback.
According to Matsko, Oher targets one aspect of his game to improve every day. One day it will be his hands, the next his knee-bending. Then Oher meticulously watches the practice film to see if he did it right.
"All players do it, but Mike takes it to another level," Matsko said. "I've seen more football awareness out of him. He's seeing things quicker, reacting to things quicker. He has a better understanding of offensively what we're trying to accomplish. He's really growing mentally."
Carolina's Brayton is a savvy seven-year veteran that would pose a challenge to any 24-year-old left tackle. Oher will have his hands full again on Saturday with another first round pick – Washington Redskins outside linebacker Brian Orakpo. After being drafted 10 spots ahead of Oher, Orakpo logged 11 sacks as a rookie last year.
But don't be surprised if it's quite some time before you see Oher looking as dejected as he did last Thursday night.
"We're all experiential learners," Cameron said. "You can learn a lot through a negative play or other circumstances. Prideful people get things corrected."