As he sat on his parents' couch watching the 2010 NFL Draft, Arthur Jones couldn't help but ponder what went wrong over the past year.
By the end of his junior season at Syracuse, Jones was among ESPN analyst Mel Kiper Jr.'s top 25 prospects in the country. He was a dominant defensive tackle seemingly bound for the NFL.
Then one decision changed everything.
Jones put the NFL on hold for one year, deciding to go back to Syracuse for his senior season. During that year, he suffered two major injuries while going through an onslaught of personal trials – from the birth of his first child to the deteriorating health of his mother.
Sitting in his parents' New York home just one month ago, Jones' struggles came to a head. His mother was sobbing in the next room and the family was just praying a good NFL team would take him in the fifth round.
He had gone from a rookie who would be virtually guaranteed the security of a hefty contract and roster spot to one that would have to battle his way onto an active roster.
But ask Jones if he regrets his decision to stay at Syracuse and the Ravens' rookie's personality bubbles to the surface. No matter how much has gone wrong over the past year, Jones smiles wide.
"I think made a good decision," A.J. said. "I wish a couple things went differently, but I wouldn't take it back for anything." 
Jones is actually a third-generation Arthur, Arthur Jones III. To make things easier, his parents call him A.J. With his glowing personality and devout faith, it's easy to think A.J. could have also been a third-generation pastor.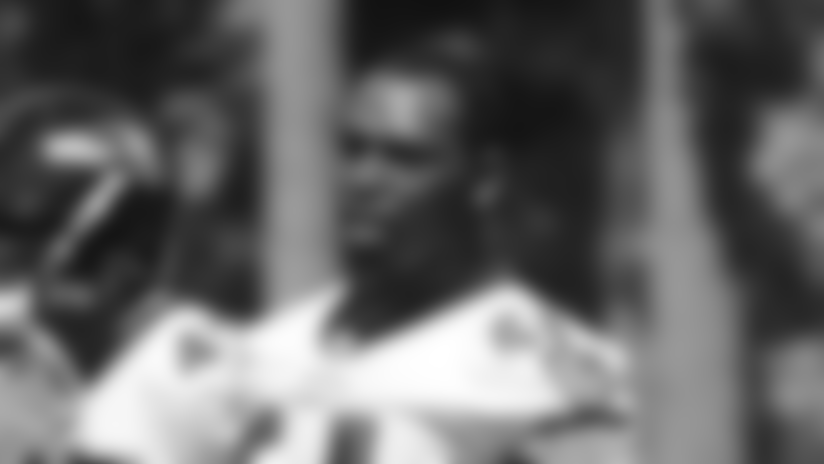 He grew up in Mount Sinai Church of God In Christ in Binghamton, N.Y., where his father, Arthur Jones Jr., has been the congregation's pastor for 32 years. A.J.'s 82-year-old grandfather is also a pastor.
A.J. has always been a caring person. He often volunteered in a soup kitchen and helped with the church's summer program for underprivileged boys, where A.J. taught them life skills like how to tie a necktie or change a tire.
"Our whole family is a bunch of upbeat people," said Camille, A.J.'s mother. "We've always encouraged him that no matter how bad a situation is, it will always work out for good. You may not see it at first, but it will."
A.J. also comes from an extremely competitive family, which not only gave him the non-stop motor that made him a Ravens' draft pick, but also the work ethic to recover from two major injuries in one year.
The youngest brother of the three is Chandler, a 6-foot-5 defensive end at Syracuse. The middle child is Jonathan, a light heavyweight professional mixed martial arts fighter in the Ultimate Fighting Championship (UFC) with a 10-1 record and the nickname "Bones Jones."
All three were high school wrestlers like their father. A.J. was a two-time New York State champion in the heavyweight division. So to say this is a tough family would be an understatement.
"We broke furniture up, the sofa, the railing, all the pictures off the wall," Jones Jr. said. "We tore the house up. If you've got a house of boys that's what they're going to do; they're always going to be competitors."
A.J.'s breakout came against Notre Dame on Nov. 22, 2008, a game broadcast on ESPN. He recorded a career-high 15 tackles, including four for loss, and one sack – phenomenal numbers for a nose tackle.
After that, agents, coaches, everybody started asking him if he was going to declare for the NFL Draft. The NFL Advisory Committee gave him a late second-round grade and Ravens Northeastern Scout Andy Weidl had him as a top 40 player.
"Every tape you put on, the guy made a lot of plays, made a lot of plays in the opponents' backfield," Weidl said. "He's a disruptive, violent kid. He came on the radar."
A.J. thought about the decision of whether to stay or leave for two to three weeks during early 2009. On the surface, it looked like an easy verdict in favor of the NFL.
Syracuse was coming off a 3-9 season and won just nine games during A.J.'s career. The program was about to welcome in a new head coach and its third defensive coordinator in four years. As a potential second-round pick, a healthy contract and an NFL roster spot were waiting.
"We told him, 'It's a recession, money's money. You can go back and get your degree,'" A.J.'s father said. "We tried to encourage him to get out, but he made his own decision and he stuck with his guns."
On the other side was his brother and his teammates. A.J. wanted to play alongside his brother Chandler and as Syracuse's team captain he felt an obligation to return. There was also that competitiveness. A.J. wanted to take the Orange to a Bowl game.
"I have real strong family values and money isn't everything," A.J. said. "Family always comes first. At Syracuse, all those guys are my family."
Two weeks after deciding to stay, Jones was in the weight room bench pressing when his left arm simply gave out. The weights crashed to the floor and A.J. knew he had just torn his pectoral muscle.
A torn pectoral muscle almost always requires surgery, even when it doesn't tear fully off the bone like A.J.'s. Athletes generally make a recovery, but some have reported not being able to ever fully return to their previous form.
"I thought my football days were going to be over," A.J. remembers. "My mind was racing. I was thinking I should have left early."
That was just a sign of a the tough road to follow.
It wasn't like A.J. hadn't been tested before.
A.J.'s older sister, Carmen (a second mother to her three younger brothers) died in 2000 after battling brain cancer for two years. His father gave the family a scare three years ago when a doctor's visit for a hernia turned into open heart surgery.
But A.J. was about to have even more trials.
It started not long after tearing his pectoral muscle when his parent's house caught on fire and A.J.'s dog died in the blaze. His parents were forced to live in a hotel for six months.
A.J. worked all spring and summer to rehab his pectoral injury and made it back by the season debut. But he wasn't playing up to his previous form. Seven games into the season, he had just 18 tackles and one sack.
Scouts looking for tape on A.J. would see a lackluster senior year and wonder if his pectoral injury would forever limit his potential.
Then, with four games remaining, he tore his meniscus in his knee, spelling the end of an already disappointing year. Syracuse didn't make it to the Bowl game A.J. had hoped so badly to reach.
The knee injury came just weeks after A.J.'s fiancée gave birth to their first child, Arthur Jones IV. It was an incredible blessing, but certainly a strain on A.J.'s already busy life.
"That was the positive of the year. It brought joy and excitement," said Jones, who went on to graduate with a degree in communication and rhetorical studies. "But knowing you have to provide for another mouth, it's serious business."
A month later, A.J. learned that his mother was having kidney failure. He offered to donate his own, but Camille won't accept and is still on the waiting list. A result of the diabetes she has long lived with, Camille's sight deteriorated so she now only sees what's inches away from her face.
"There are times I felt like crap like asking, 'God, why me?'" A.J. said. "I had to turn back to my faith harder than ever."
A.J. prayed often, especially thinking back to a special passage from Philippians 4:13 tattooed on his chest. It reads, "I can do everything through him who gives me strength."
He called his father and asked for guidance. His father told him, "When you've got your strong faith, when you've been down a dark road, it's not like life is shattered."
A.J. prepared for the NFL Draft not knowing just how far his stock had fallen. He found out on Saturday, April 24, the third day of the draft.
There were six reporters in the Jones' New York home waiting to document A.J.'s lifelong dream becoming a reality. There was also his family waiting for the joyful tears.
After the third round went by, the fourth round pass and the fifth round was nearing its end, A.J. could hear Camille in the next room crying.
The family started praying that at least he would go to a good team. Then, at pick No. 157, the Baltimore Ravens selected Arthur Jones III.
It was the culmination of millions of dollars lost (a fact A.J. tries not to think about), but finally A.J.'s prayers had been answered.
"Just to hear my name called was a blessing," A.J. said. "To be here on this defense with guys like Ray Lewis and Terrell Suggs and Trevor Pryce, there's no better place for me."
A.J. says he's 100 percent healthy. Like the other rookies, he's trying to learn the playbook as fast as he can while trying to catch the coaches' attention.
But like many later-round rookies, he now finds himself in a battle for a roster spot. A.J. is up against young defensive tackles Terrence Cody, Lamar Divens, Brandon McKinney and Kelly Talavou. But he (as usual) smiles when thinking about the competition.
"I've battled before," A.J. said. "2009 was a wild year. It was a learning experience, a humbling experience. It let me know that nobody is bigger than 'The Man.'
"2010 is going to be better."