If this is Orlando Brown Jr.'s chance to become the Ravens' starting right tackle, he won't go about it meekly.
Brown has two distinct personas – the approachable young man in the locker room and the intense competitor on the field.
When Brown was a redshirt freshman at Oklahoma, former head coach Bob Stoops held Monday night scrimmages for players who didn't see action during games. It was a stage for unproven players to shine. But for Brown, Monday night lights became Monday night fights.
"He's an absolute delight off the field, an easy-going wonderful person with a great personality," Stoops said. "But on the field, he's a complete prick. Tough, competitive, plays emotionally."
Stoops said five plays into those scrimmages, Brown would be in a fight with somebody, rolling around punching. They would break it up and five plays later, Brown would be back at it. A couple of times, Stoops just cancelled the scrimmage.
"He'd put his arm around me afterward and say, 'I'm sorry coach, it won't happen again.' After the first few times, I started saying, 'Oh yeah, it's going to happen again,'" Stoops said. "We had a lot of talks, he and I through the years about trying to control that emotion he plays with. Eventually, he became exactly what you wanted on the field, just like he already was off the field. He's got a fierceness and passion that made him special."
Now Brown is driven to become a dominant tackle in the NFL, a third-round pick who made his first career start Week 7, and who could start again Sunday against the Carolina Panthers. Veteran right tackle James Hurst started the Ravens' first six games, but he missed Week 7 with a back injury and has been ruled out for this weekend.
There is a natural inclination to root for Brown, son of former Ravens offensive lineman Orlando "Zeus" Brown, who died at age 40 from diabetic ketoacidosis. Brown Jr. is continuing the Ravens family legacy not only for himself but for his late father, wearing the same jersey No. 78 that his father wore, in front of many fans who have fond memories of his dad.
"There's no other team I'd rather see my son playing for," said Mira Brown, Orlando's mother. "Watching my son wear No. 78, my mind flashes back to my husband wearing No. 78. It's awesome. I'm so proud of him."
It's the kind of scenario you often see in movies, but for Brown, there is the real-life task of living up to expectations. Head Coach John Harbaugh and Offensive Coordinator Marty Mornhinweg praised Brown for how he handled his first start, but Brown was far from satisfied. For starters, the Ravens lost. Secondly, Brown believes this is only the beginning.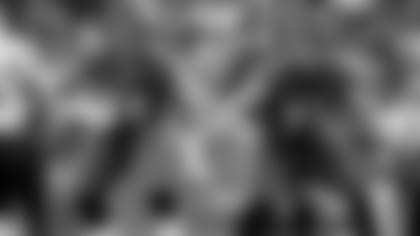 "I watched the film; there's a lot of room for me to improve," Brown said. "I'm not anywhere close to playing my best football yet. As the game went on, I had a lot more one-on-one blocking matchups, and I think I did pretty well with that. It helped me getting all of those reps. But my plan wasn't just to make it to the NFL. My plan is to be great, and to play 12 or 15 years if God can bless me."
At 6-foot-8, 345 pounds, Brown is a huge man with an enormous appetite for success. His got a late start in organized football and wanting to emulate is his father has fueled his hunger. Orlando Sr. did not let Brown play football until the eighth grade. Brown asked every year, and his father said no every year.
"He had this thing about not wanting to start me too early, seeing other kids dealing with injuries when they were young," Brown said. "He thought that wore them down. Finally, I just called him crying, telling him how much I wanted to play. He made me promise that if I played, I wouldn't quit until I played at least 10 years in the NFL and made it to the Hall of Fame. That stuck with me."
Once Brown was finally given the green light, football was life-changing. He weighed over 400 pounds in the eighth grade, the biggest kid in the neighborhood and certainly the biggest who was not playing football.
Now Brown is in the NFL. What does Orlando Jr. think his father would say?
"I don't know. He was pretty hard on me," Orlando said smiling. "He might tell y'all he's proud of me. He might not tell me."
Brown and his father began working out together, and Orlando Sr. talked about the mental toughness his son would need to reach the NFL. During his 13-year career, Zeus Brown was regarded as one of the league's most intense players.
"Ferocious," said former Ravens offensive right guard Jeff Blackshear, describing the man who played next to him. "He was ferocious every play."
Zeus wanted his son to play the same way, despite being so affable off the field. When Brown's father died suddenly, it became easier for Orlando Jr. to play with the edge his father always wanted. Orlando Jr. was only 15 years old when his father died, and people closest to him wondered how he would handle the loss.
"I knew Orlando Sr. was his role model, so I knew Orlando Jr. would take it really hard," Mira Brown said. "I also knew that my son was strong. I thought at some point, it would make him work harder to be the best."
It took some time. Brown had a difficult school year after his father died, losing some motivation to study. But football helped Brown deal with the pain. Over time, Mira Brown saw her son learning to deal with his grief. When Brown packed to leave for Oklahoma, his mother said he made a declaration in the car as they drove to the airport.
"He said, 'Mom, I'm never coming home to live with you again. This is my chance to become a man, and to succeed at what I love to do,'" Mira said. "When you hear your child say something like that, you know he's ready."
Brown and Ravens tight end Mark Andrews became close friends at Oklahoma, and they still have a hard time believing they were both drafted by Baltimore. Their lockers are next to each other at the team's practice facility. They can often be seen talking after practice, laughing like the best friends they are.
Brown has become more dedicated to fitness with the Ravens, but when he tried to claim he didn't miss some of his favorite foods that he no longer eats, Andrews quickly challenged him.
"What about cake?" Andrews said.
"Okay, I miss pound cake," Brown said. "Have you ever had some of your grandma's pound cake, straight out the microwave with a little ice cream? Oh yeah, it's going down."
Knowing Brown better than any other Raven, Andrews sees Brown blossoming as a player just like he did at Oklahoma.
"He came in as this big guy, but not everyone knew he was going to be good at first," Andrews said. "He didn't have a switch that he could just turn on. But he kept getting better and got this attitude about him, maybe from his dad's instincts. I've seen him just dominate people in college. I mean, he's a massive human being. He's a big loveable bear outside of football, but on the field? Mean, nasty, wants to take it to the next level."
Zeus was known for wearing a bandana under his helmet. He always told his son that he should have something about his appearance that makes him stand out, something with some swagger. On the day Zeus died, Orlando Jr. saw a Ravens equipment bag on his father's bed. Inside it was a pair of gloves, some cleats and a white bandana. In the first start of his junior year, Orlando Jr. wore a white bandana under his helmet, and he wore it every game after.
Unfortunately, NFL rules dictate that Orlando Jr. can't wear any headgear under his helmet, or else be served a hefty fine. Thus, when he suited up Sunday for his first NFL start, Orlando Jr. did so without the bandana.
Brown played with poise against the Saints and did not draw a penalty, although he admitted to talking a little trash to Saints defensive end Cameron Jordan. A rookie talking smack in his first start to an established veteran and three-time Pro Bowler? Just part of Brown's game.
In the locker room after the game, Brown said he fears no man. Four days later, his emotions had calmed.
"It's all in good fun, nothing personal," Brown said smiling. "It's just me, playing on the edge."
Blackshear was at Sunday's game, watching the son of his former teammate with pride. Zeus Brown was one of Blackshear's best friends. He didn't have a chance to speak with Brown on Sunday, but he had a message for the Ravens' rookie right tackle.
"Tell him we're all proud of him, everybody who knew Zeus and how he played," Blackshear said. "Tell him to keep working. You always want the best for your kids, and for your friends' kids. Obviously, there's some Zeus in him."