Updated at 7:30 PMI know I said I was done for the night, but I felt this was important. I was talking to Sports Steve, who was looking for a "What's Our Name" T-shirt for a friend of his, Tony Travers. Tony is a season-ticket holder, a member of Ravens Roost 18, and was recently diagnosed with lymphoma. He's undergoing chemo right now, but that won't stop him from going out tomorrow to watch the game. We're with you Tony.
Now let's show the Titans what we're all about!
So anybody who has been following the blog today or last week knows that I often write about how big each crowd is, how excited each crowd is. As redundant as that is, it doesn't mean that it isn't true. We were watching channel 11's live broadcast from Bill Bateman's in North Plaza while we were still at Hightopps, and we could just tell how ecstatic the crowd was. Among those we can thank for such an excited group of fans is Sports Steve, who was on hand before us to get the crowd into it. We arrived, and the cheers were louder than I think they've been at any rally thus far.
If you remember, Sports Steve predicted a 27-10 Ravens win over the Dolphins last weekend, and were it not for a blocked extra point by Frank Walker, that would have come true. I asked him what his prediction was for the Titans, and he said that while he was still thinking it over, he was leaning towards a 19-13 game in our favor. He mentioned that the weather in Nashville could potentially be windy and rainy though, so it's hard to predict a score. One of the male cheerleaders, however, said that Sports Steve has correctly called the game's outcome the last three times he's seen him.
Speaking of the male cheerleaders, I promised one of them, Tony, that I would give him a shout-out in the blog. He was getting the morning crowds jacked up with the "What's My Name?" chants and throwing out trivia questions for T-shirts. Nice job, Tony.
It's sort of strange and cool when you watch a live broadcast of someplace where you are, as we've done for all these broadcasts last Friday and today. I think just being surrounded by so many Ravens fans for such a long period of time is leaving its mark, as well. The energy is just so much more quantifiable, much more meaningful attending these rallies. It can't be denied, and it certainly can't be ignored. The passionate fan base is one of this team's greatest assets, and what's just as important is that we, the Ravens, acknowledge it and embrace it as much as you embrace us. These rallies prove that.
That's the last entry for tonight. If you have the time, come out to Della Rose's, the Firehouse Tavern or Casey's. It will be worth your while, I promise.
Thank you again for reading the blog,
Mickey Cucchiella from 98 Rock is here at Hightopps, and he's as funny and approachable as he is on air. He had this to say:
"Although I am a huge fan of the Ravens team, I am a bigger fan of all the ladies in the marketing department," Mickey said, giving props to our very hard working team who organized all of these rallies. "I must admit Marques is definitely the prettiest," he joked, referring to one of the only guys in the group.
On a serious note, Mickey expressed a great appreciation for this team.
"Growing up in this city, I lost our original football team at the age of 14," he said. "However, I am thrilled that after the long wait for football to return to Baltimore, we received the best team in the NFL."
Today feels a little like the TV show 24 for me. Anybody here watch that show? A long day, all over the city, with interesting twists every hour and unique characters. Luckily, there's no bomb to disarm or anything like that. Please don't take the comparison to mean anybody is in danger.
Come out and see us! Not to press the issue or anything. But yeah, come out and see us. Updated at 3:19 PM
"Bloggy McBloggerson" reporting here, at least that's my new nickname according to cheerleader Meahgan S. (Just goes to show you how unique this caravan is). We're restocked and ready for round 2! We've just left the stadium and are heading for Hightopps. Come see us!
Goofy jokes aside, the cheerleaders and Playmakers really do a great job on excursions like these. My colleague Dave Lang (who some of you may know from the Cheerleader Calendar Shoot coverage last spring) and I have commented before on how genuinely friendly and outgoing our girls are. Dave and I went to the Redskins cheerleader calendar release party at the end of the summer, and the girls there could not have been less interested in mingling with the fans. Ravens fans deserve better than that, and Ravens cheerleaders are better than that. Updated at 2:03 PM
Sorry for the delay in posts, but it's been a busy last few hours!
I am convinced of a few things right now after the first part of the day. One of them is that regardless of how the 2008 season ends for the Baltimore Ravens, the "What's Our Name?" slogan is here to stay. The fans went nuts when Mickey from 98 Rock shouted it in the Greene Turtle just now.
Another thing I am convinced of: the reason why we have some of the best and most loyal fans in the world is because we get them started young. So many young children came up to the cheerleaders and Poe at Smyth, and you could just tell by the look in their eyes it was the beginning of something special for them. Our raffle prize at Smyth was even won by one of the kids, an adorable little girl who couldn't have been more than a few weeks old.
The Greene Turtle is packed, but it's not so crowded that I didn't run into somebody I know very well: my own father! He's been reading the blog, and came down with a colleague of his, so I thought I'd give him the shout-out. It's nice to know I have at least a few fans! Apparently, his colleague Mike even won the raffle for the autographed helmet! What are the odds? (I promise it wasn't rigged).
The Baltimore Ravens trivia is going over very well: yours truly read some questions over the microphone to some very eager fans. It was a lot of fun, and I'm sure we're going to do it again throughout the day, so if you think you know about the Ravens, come see us and show what you've got!
A lot of the fans have been super friendly, even to the no-name employees like myself. My new friend Woody struck up a conversation with me, lamenting that he's never been to a Ravens game. Hopefully he'll have the chance soon.
I will conclude this entry by saying that everyone loves our favorite playmaker, Erin, who is doing a great job of announcing raffle winners! (She double-dog dared me to write that in the blog. Apparently she didn't think I would. Guess I showed her!)
Come out and see us! All corny jokes aside, we're all having fun. Come out to Hightopps or Bateman's or Della Rose's and say hi. Look for the guy in the corner somewhere typing furiously on the laptop! Come say hi to me and I might even give you a shout-out like Woody! **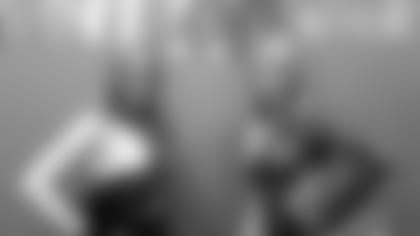 You never quite know where working for the Ravens will take you. Here I am, in a police-escorted caravan with a group of cheerleaders, half a marching band and an anthropomorphic bird on my way to the state's capital, and I'm being paid to do it. Is Baltimore a great city or what?
We just left Verizon Wireless on Fleet Street, which left the employees there remarking how incredibly packed it was. They might have been surprised, but we weren't. We know that the fans will come, and will continue to come to support the... what's our name again? Oh yeah, Ravens!
We are on our way to Smyth Jewelers in Annapolis, and if our first two stops were any indication of what's to come, we are in for some large crowds. Like Miss Shirley's, some members of the local news were there, this time from Channel 2. The band gave a rousing performance right outside the store, and Poe himself got involved towards the end.
Hope to see everyone at Smyth, or at the Greene Turtle in Towson later on! Updated at 7:59 AM
Geoff Peckham here, the New Media Intern, and I'm at it again, along with our top-notch Marketing team, the Baltimore Ravens Cheerleaders, Playmakers and Poe himself. We're at Miss Shirley's Cafe right on Pratt Street near the Inner Harbor, and despite the early hour, a steady flow of Ravens fans are coming in.
After the Ravens' convincing win last weekend, everyone is chomping at the bit for our next game.
Jim Long of Ellicott City was one of the first to arrive here. "I just want to cheer my team on," he said with pride. He's about as dedicated as fans can be; his hair is dyed purple and he even has the word "RAVENS" shaved in the back. "I'm ready for Festivus Maximus again. I want to show my purple pride!"
You might have seen our cheerleaders and Poe on FOX 45 News this morning. They were broadcasting live here a little before 8 AM, as part of the larger effort to get as many fans out here as possible! On top of that, the Baltimore Marching Ravens are performing outside right now as I type this. It's going to be just a great day for Ravens fans.
We got a great response from the rallies last Friday, so we've expanded them throughout the day. We'll be out on the town until 10:30 PM tonight, so there are plenty of opportunities to come out, meet everybody, and win some cool merchandise. Here's where we will be today:
7:30 – 9:00 AM
***Miss Shirley's**
750 East Pratt Street
Baltimore, MD 21202
-Anyone wearing purple will receive 10% off their check
-Enter raffle to win an autographed Chris McAlister helmet

9:15 – 10:00 AM
Verizon Wireless
1002 Fleet Street
Baltimore, MD 21202
-Enter raffle to win an autographed Matt Stover Jersey*

10:30 – 11:45 AM
Smyth Jewelers1910 Towne Centre Blvd
Annapolis, MD 21401
-Enter raffle to win an autographed Todd Heap football

12:30 – 1:30 PM *
Greene Turtle
408 York Road
Towson, MD 21204
*-$1.99 Drink Specials
-Enter raffle to win an autographed Mark Clayton helmet

3:30 – 5:30 PM
**Hightopps Backstage Grille**
2306 York Road
Timonium, MD 21093
-Enter raffle to win an autographed Samari Rolle jersey

6:00 – 7:30 PM
Bill Bateman's Bistro (North Plaza)
8810 Waltham Woods Road
Baltimore, MD 21234
*-$2.50 Miller Lite Bottles
-$3.50 Blue Moon Pints
-$3.50 Miller Chill
-Enter raffle to win an autographed Haloti Ngata jersey
*
7:45 – 8:30 PM
***Della Rose's**
8153 Honeygo Blvd., Suite A
Nottingham, MD 21234
*-Enter raffle to win an autographed Bart Scott helmet
8:45 – 9:30 PM
Firehouse Tavern2800 E. Joppa Road
Baltimore, MD 21234
-Enter raffle to win an autographed Trevor Pryce jersey
This article has been reproduced in a new format and may be missing content or contain faulty links. Please use the Contact Us link in our site footer to report an issue.