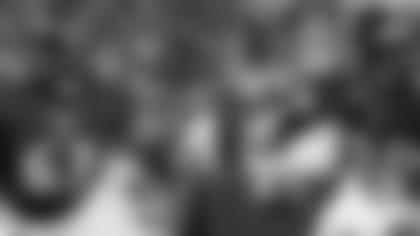 The Ravens are making a change at left guard.
Veteran Bobbie Williams is expected to take the place of first-year starter Ramon Harewood, who had started the Ravens' previous five games.
Williams, 36, hasn't started since Dec. 11, 2011 when he was with the Cincinnati Bengals. He sat out the rest of last year with an ankle injury and was only used on extra points and field goals this season.
The switch to Williams could mean Baltimore intends to run the ball a lot Sunday.
The 6-foot-6, 334-pound Harewood is the more mobile of the two guards. The 6-foot-4, 345-pound Williams is more of a mauler.
Dallas has the top-ranked secondary and 15th-ranked run defense.
It could also be a case of the Ravens simply trying out a different starter to see if they can improve in the run game and pass protection. When Williams was signed, it was generally thought that he would be the starter. It was a surprise to fans and media when Harewood took that spot in Week 1.
Harewood was not listed on the injury report this week, so he's a healthy scratch.
Baltimore has also activated No. 3 tight end Billy Bajema for the first time this season. The veteran is known for his blocking, and could be called on to help in the running game and in blocking Dallas Pro Bowl outside linebacker DeMarcus Ware.
The Ravens deactivated wide receiver Deonte Thompson, who had been handling all kickoff return duties so far this season. Thompson lost a fumble in Kansas City last week and has averaged 25.9 yards per return this season.
Wide receiver Jacoby Jones will likely be called on to return in place of Thompson.
The Ravens' other inactives are tackle Jah Reid, who practiced fully this week for the first time this season, cornerback Asa Jackson, defensive end DeAngelo Tyson, outside linebacker Sergio Kindle and defensive tackle Bryan Hall.
The Cowboys' inactives are punter Brian Moorman, wide receiver Cole Beasley, safety Matt Johnson, linebacker Orie Lemon, center/guard Ryan Cook, defensive tackle Marcus Spears and starting linebacker Anthony Spencer.
Linebacker Victor Butler will start in place of Spencer. Jones, who was questionable, will  still be the holder, meaning quarterback Tony Romo won't be handling those duties.