The Ravens came to Indianapolis with a chance to run the football against the NFL's worst rush defense, but they couldn't gain any traction in a 31-3 loss to the Colts.
Baltimore (2-3) only amassed only 51 rushing yards, while Peyton Manning threw two first-quarter touchdowns and never looked back.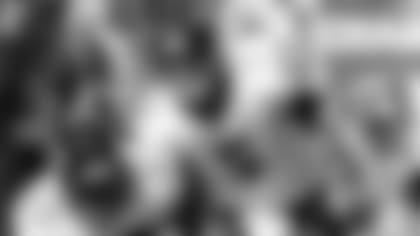 Manning shredded a secondary – one that headed into the matchup ranked No. 1 in the league – for three scores, and even had another one called back because of a holding penalty. Manning completed 19 of 28 attempts for 271 yards in a near-flawless effort.
In front of a capacity crowd at the brand-new Lucas Oil Stadium, Indianapolis (3-2) built a 24-point lead in the first half.
The Ravens, who were missing starting safety Dawan Landry (neck) and cornerback Samari Rolle (neck/shoulder), managed to tack on a 37-yard field goal from Matt Stover near the end of the third quarter, but there just wasn't enough time to come back from the massive deficit.
"It was a typical game against them. You get a tipped ball, a fumble and the next thing you know we're down 24-0," said wideout Derrick Mason. "A team like that gets up on you and then they force you to be one-dimensional. We let it get away from us.
"When you get down 24-0, there is not much that you can do. They jumped on us real bad. Honestly, you've got to tip your hat to them. They executed on every phase, special teams, offense, defense, cheerleaders, coaching, everything. And we didn't."
The Ravens gave Indianapolis ample opportunities to execute early.
Rookie quarterback Joe Flacco tossed two first-half interceptions in his second-career road outing, while fullback Le'Ron McClain lost a fumble in Baltimore territory that led to an Adam Vinatieri 37-yard field goal.
On his seventh snap of the day, Manning unleashed a 67-yard bomb to Pro Bowl wideout Marvin Harrison, who was blazing past cornerback Chris McAlister down the right sideline.
The Ravens answered with a three-and-out before Manning hit his second Pro Bowl receiver, Reggie Wayne, with a 22-yard strike in the end zone on the subsequent drive.
Delivering pinpoint passes to earn a 143.7 quarterback rating and adding a 5-yard strike to Harrison 1:48 before halftime to cap a 52-yard drive, Manning looked a far cry from the player that had struggled with timing after preseason knee surgery.
"If you look at the game, we made mistakes early and made them fast," Mason said. "They capitalized on every mistake we made. The field position wasn't great, they're at home, making a lot of noise. That doesn't make a good dish.
"They did what they had to do to win, point blank."
Meanwhile, Flacco and the Ravens struggled to capitalize on a run defense that gives up an average of 188.5 yards per game on the ground. The three-headed monster that had seen success earlier in the season was nearly non-existent as Baltimore all but abandoned the run in the second half.
Willis McGahee totaled 18 yards on eight attempts, Ray Rice had six rushes for 23 yards and McClain actually went 2 yards backwards in two tries.
"They got up quick on us and that's the one thing we didn't want them to do," said safety Ed Reed. "We didn't want to get into comeback mode against this team. Once it got to that point, it goes downhill from there. You have to pick yourself up when you get hit like that, and we couldn't get up."
In the comeback bid, Flacco whipped the ball around to seven different receivers, with Rice leading the way on seven catches for 64 yards.
The Colts were relentless in harassing Flacco all game long. Without Dwight Freeney at full strength because of a tender hamstring, speedy defensive end Robert Mathis totaled three sacks, racing around right tackle Willie Anderson to drop the signal-caller. Defensive tackle Raheem Brock also notched a sack.
It was the most action Anderson has seen as a Raven, as Adam Terry was inactive due to a knee injury.
Flacco was also pressured into his third interception when a short pass to Rice was picked off by cornerback Tim Jennings midway through the fourth quarter.
"You play a good team, and the Colts are a good team, and you saw what happened," Flacco said. "We let them get off to a good start, we turned the ball over, and once again it all started with me and you can't do that if you expect to win."
Indianapolis' lead stretched all the way to 31 when Manning came out of halftime to lead an 11-play, 80-yard scoring drive. He threaded a needle to Wayne through the hands of cornerback Frank Walker, and Dominic Rhodes plunged up the middle for the 1-yard touchdown two snaps later.
The Ravens then engineered a scoring drive of their own. Going no-huddle, Flacco marched 15 plays from the shotgun – the style he primarily operated out of at the University of Delaware – to the Colts' 19-yard line for Stover to split the uprights.
While the post-game locker room featured a somber bunch, head coach John Harbaugh is confident his team can quickly bounce back after suffering their worst loss of the season.
The Ravens also dropped tilts with the Pittsburgh Steelers and Tennessee Titans by a total of six points.
"There is going to be adversity in a football season and we've had two tough losses in games we feel we should have won," Harbaugh said. "You come in here with high hopes and high expectations and you get it handed to you. That to me is an opportunity to show what kind of man you are and what kind of a football team you are.
"It's a sixteen game season, and what's important is where we go and what we do with it."
Baltimore travels to Miami next Sunday for their second-consecutive game away from home, part of a string of five road contests over the next six weeks.
"It's a long season," Reed stated, agreeing with his coach. "This is only the fifth game and there is a lot of football left. We just have to keep playing like we've been playing and preparing. We have to take this week to get better and see where it takes us."