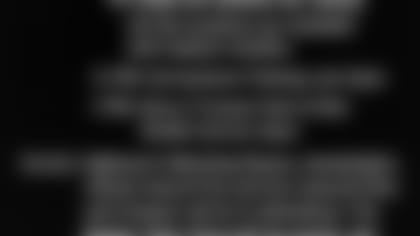 PLEASE NOTE:The opinions, analysis and/or speculation expressed on BaltimoreRavens.com represent those of individual authors, and unless quoted or clearly labeled as such, do not represent the opinions or policies of the Baltimore Ravens' organization, front office staff, coaches and executives. Authors' views are formulated independently from any inside knowledge and/or conversations with Ravens officials, including the coaches and scouts, unless otherwise noted.
Good thing it's just the preseason, because it wasn't a good start for the Ravens first teamers – on offense, defense or special teams.
The Ravens won their preseason opener in Atlanta's Georgia Dome, 31-17, but that was on the back of the second- and third-teamers.
Baltimore trailed Atlanta by 10 points at halftime and was drastically outplayed in the first quarter when both team's starters were on the field.
The Ravens were outgained in total yards, 191-9 in the first quarter.
The offense didn't get a first down until the second quarter. The much-hyped secondary was burned by Falcons receivers Julio Jones and Roddy White. The punt unit nearly gave up a touchdown.
"We just got a lot of things we need to work on in all three phases basically," Head Coach John Harbaugh told WBAL's Stan White at halftime. "We have a lot of work to do.
"I'm not happy with any of it."
After his team scored 24 consecutive points in the second half, Harbaugh addressed reporters after the game with more positives. He hesitated to make too many judgments on the first preseason performance.
Harbaugh said he's not really evaluating where the team stands as a whole right now, but rather judging every play individually.
"I don't think you overreact or underreact and don't try to draw too much inference from it," he said. "You just try to get better."
Falcons quarterback Matt Ryan marched his team down the field for a touchdown on its first drive, and took just eight plays to do it. Ryan was 5-for-5 on the drive and Jones burned cornerback Cary Williams with four catches, including a circus 7-yard touchdown snag.
The Falcons went right at Williams, who is returning from offseason hip surgery and got the start with Jimmy Smith (back) sidelined.
The first-team offense wasn't any better, and went three-and-out on its first three drives. The offensive line hung quarterback Joe Flacco out to dry as he took a couple big hits, and it went backwards on its third drive after a penalty and sack allowed.
The special-teams unit surrendered a 45-yard punt return that required a touchdown-saving tackle from punter Sam Koch.
The defense's saving grace from the first quarter was an interception by veteran linebacker Brendon Ayanbadejo, which he returned 40 yards and capped off with the "Dirty Bird" dance.
But the unit overall didn't have much to brag about. Jones finished the first quarter with six catches for 109 yards. Ryan was 9-of-13 for 155 yards with a touchdown and the interception.
The second quarter didn't start any better. The Falcons took a 14-0 lead on the first play via a 2-yard run by Jacquizz Rodgers.
"Our coverage wasn't what we wanted in the first half, and we'll tighten that down," Defensive Coordinator Dean Pees said. "Our communication could be better, and that will come. We've practiced better than we showed early in the game."
The Ravens sent the first-team offense back out in the second quarter. Harbaugh said it wasn't necessarily because of the first-quarter performance, but it salvaged a rough night.
The offense finally found a spark on the arm of Flacco.
Receiver Torrey Smith converted a third-and-long with a sideline gain of 15 yards. Then Flacco found Smith again streaking across the middle for 25 more yards.
Jacoby Jones hung onto a 10-yard laser for a first down and Ed Dickson snatched a 9-yard pass for a touchdown to make the score 14-7 by the time the first-teamers hit the bench.
"It's preseason and it took us a little while to get going," said Flacco, who finished 9-for-12 for 88 yards and a touchdown. "We've got to look back at some of the plays, because the Falcons got a couple good pressures and we got rid of the ball."
Flacco said the unit – which ran the no-huddle offense for much of the time – completed passes but weren't picking up enough yards. He said they could do better on third down and recognizing man coverage.
"We knew we were going to get tested by a very good pass rush team, on the road and on turf," Offensive Coordinator Cam Cameron said. "Once we settled down, we did OK."
Souring the good drive was the fact that Dickson sprained his shoulder on the touchdown grab. The injury further depletes the Ravens' tight end corps after Dennis Pitta broke his right hand.
The Falcons finished the half with a 31-yard field goal by Matt Bryant to carry a 10-point lead into the second half, but didn't score again.
Baltimore's second- and third-teamers crushed the Falcons.
Rookie free agent running back Bobby Rainey, who grew up just down the road from Atlanta, had eight carries for 30 yards and three catches for 28 yards, including a bobbing and weaving 18-yard touchdown off a screen pass.
Third-string quarterback Curtis Painter finished 7-of-14 for 76 yards and three touchdowns. He delivered a beautiful 22-yard pass to rookie free agent wide receiver Deonte Thompson despite getting crushed. Thompson finished with three grabs for 53 yards to lead the team in receiving.
Rookie free agent safety Omar Brown recovered two fumbles and intercepted a deflected pass for a rare three-turnover night.
"I like the way our guys came back, our young guys," Harbaugh said. "They competed, they executed."