The Ravens felt like they left some points on the field after their first drive against the Carolina Panthers.
They certainly got their retribution.
After that initial drive ended with a missed 27-yard field goal by Steve Hauschka, the Ravens' first-team offense scored on three of their next four drives in their third preseason contest of 2009.  When Baltimore's starters finally left the game midway through the third quarter, the Ravens enjoyed a 17-3 lead en route to a 17-13 win and a 3-0 preseason record.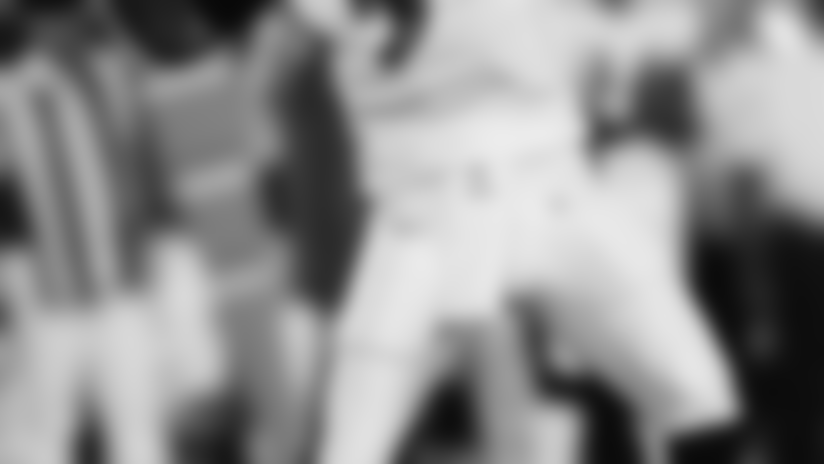 Quarterback Joe Flacco was brutally efficient in his most extensive work of the summer.  Flacco completed 23 of 28 passes for 247 yards and a touchdown.  He also boasted a 115.3 quarterback rating. 
Along the way, he hit seven different receivers, spreading the ball around to a unit that racked up an impressive 19 first downs and converted 56 percent of their third downs.
Things did not get off on the right foot, however.
After holding the Panthers to a three-and-out on their opening series, Baltimore marched all the way to Carolina's 1-yard line. 
But, a false-start penalty on rookie Michael Oher, a delay of game on Flacco and a sack from Panthers defensive end Tyler Brayton pushed the Ravens back to the 15.  Hauschka's ensuing 27-yard attempt to cap the drive then sailed wide to the right.
"We gave up seven points by not scoring on the first drive, and that's disappointing," said head coach John Harbaugh.  "Then we don't convert the field goal. Not good, but that's a learning experience for some of the young players.
"We're playing well at times and building to do that consistently. It's obvious, too, that we have plenty of things we can do better and we can work on."
Perhaps the missed kick was the perfect wake-up call. 
That and a first-quarter field goal from the Panthers.  While the defense was dominant for most of the game, a coverage breakdown and a perfect pass from Carolina quarterback Jake Delhomme helped get within range of a 38-yard John Kasay boot. 
On that 60-yard scoring drive, Delhomme ate up 32 of those yards with a strike to tight end Jeff King over the middle.  King slipped past linebacker Ray Lewis, and Delhomme put the ball just over his outstretched hand.
"We let them have the long pass up the middle on their scoring drive, but we did hold them out of the end zone," defensive coordinator Greg Mattison stated.  "I liked the way we bounced back that series."
Flacco bounced back, as well.
He came out after the field goal and immediately found wideout Kelley Washington up the right sideline for a 42-yard gain.  Then, five plays into the second quarter, he fired a dart into the reaching hands of tight end Todd Heap in the back left corner of the end zone.  Heap was marked by two defenders, but was still able to haul in the pass.
The Ravens' next drive was more methodical.
Baltimore went 90 yards in 13 plays, taking up 7:53 on the clock, as running back Willis McGahee punched it in with three straight runs off right guard Marshal Yanda inside the 10-yard line.
On the march, running back Ray Rice turned what could have been a foiled screen pass into a 14-yard gain, and Flacco connected with receiver Derrick Mason on 10- and 26-yard passes. 
"We were in a groove," Flacco said.  "The only disappointment is that we didn't come away with a touchdown on that first drive. They got us to jump offsides, and we can't let that happen. If you take away those stupid penalties, you'll probably have three touchdowns and a field goal. That puts us at 24 points, and that's what we have to work for.
"We had some great drives. I felt really good, and we felt like we were in a good rhythm. Anytime you're out there putting together drives like that, it feels good."
Following a 38-yard field goal from Hauschka on the other side of the half, the Panthers only began scratching their way back when the starting defense came off the field.
Facing the backups, Delhomme mounted an 11-play, 80-yard drive that ended in a 1-yard touchdown run from Decori Birmingham in the fourth quarter.
Ravens backup quarterback Troy Smith couldn't answer after he threw an interception deep in Panthers territory.  Smith's pass bounced off tight end Edgar Jones' hands into the waiting arms of cornerback Dante Wesley.
Kasay capitalized on the turnover with a 50-yard field goal, but that was as close as Carolina would get. 
Considering how the third preseason game is the best gauge as to how the starters will perform during the year, the Ravens are happy with what they saw.
"As a defense, we are just clicking right now," said Lewis.  "That's what's most exciting, the way we are clicking both offensively and defensively. The bottom line is that everyone is lining up and playing fast. We're all playing well right now."