With their backs against the wall, the Ravens (6-5) kept their postseason hopes alive after beating the Steelers (6-5) 20-17 in front of a frenzied crowd of 71,314 at M&T Bank Stadium.
Even though backup quarterback Dennis Dixon played in place of Ben Roethlisberger, who was ruled out with a concussion, and safety Troy Polamalu was on the bench because of a knee injury, it took overtime to do so.
And, it was rookie Paul Kruger![](/team/roster/paul-kruger/d6013bc5-bbca-4db7-b10e-fcc177f1c83f/ "Paul Kruger") who came up huge in the end. The second-round draft pick made a solid case for his activation when he feigned a pass rush before dropping into coverage, where he was waiting for Dixon's short pass to Holmes.
His overtime interception led to a Billy Cundiff![](/team/roster/billy-cundiff/68c89b57-d670-4c92-9416-294976234b68/ "Billy Cundiff") 29-yard field goal to seal the victory.
Spending much of the first half of the Ravens' season inactive, Kruger has gradually received more playing time of late.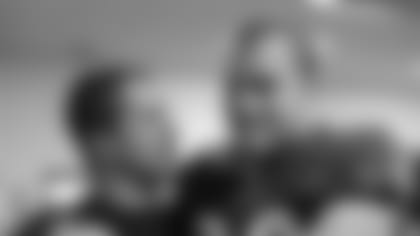 "It's been hard all season," Kruger admitted. "I'm a competitive guy, and I want to be on the field, but I respect the coach's decision. To come away with a win like that and to be a part of that victory is huge for me. I was just excited to be out there and be a part of the team."
During a season where four of Baltimore's five defeats have come by seven or less points, the Ravens finally pulled out a tough victory.
But regardless of the timing, the Ravens moved past the Steelers in a tight Wild-Card race because of their tie-breaker advantage and helped their cause on a day when fellow contenders Houston, Jacksonville and Miami lost.
"We've had a few of these this year," said head coach **John Harbaugh**. "We've had a few where we've walked in here, been in this kind of football game. They're not perfect, and they don't lay out exactly the way you might plan them, and we come up on the short end. We didn't come up on the short end tonight. Our guys came up on the long end of this one."
For many in the Ravens' locker room, it was a relief to end a three-game losing streak to Pittsburgh that dates back to last year's AFC Championship.
"Anytime you're going against Pittsburgh, a division rival, you know it's going to be a tight game, be a physical game," said quarterback Joe Flacco![](/team/roster/joe-flacco/3e20766f-6520-4ca1-9901-44389aaea8b8/ "Joe Flacco"), who had never beaten the Steelers in three tries. "We were ready for it the whole time. You've got to play 60 minutes, and today you have to play a little bit more than that. I think our guys did a great job of fighting all day."
It didn't seem like it would be much of a fight from the start, however, with two of the Steelers' best playmakers out of action and the Ravens scoring on their opening possession.
The Steelers remained in the game until late in the fourth quarter, taking a 17-14 lead with 6:32 left on the clock on a 24-yard run by Dixon.
The Ravens fumbled in the fourth quarter when Flacco was sacked by linebacker Lawrence Timmons, one of five Steelers sacks, and defensive Brett Keisel recovered. That led to Dixon's 24-yard touchdown run for Pittsburgh's only lead of the night before Cundiff's trying boot.
The Ravens needed a critical 44-yard catch-and-run from running back Ray Rice![](/team/roster/ray-rice/9d941a20-0c76-412d-85fd-165a029d59e6/ "Ray Rice"), whose 136 total yards continued his streak of eight straight games topping the century mark, on fourth down in the final period to tie the game. Cundiff sent it into overtime with a 24-yard field goal to cap a 10-play drive.
The Steelers won the coin toss, but Baltimore held strong on their first series, only to give the ball back after a three-and-out.
That's were Kruger made his game-saving pick. From there, all that was needed was a few Rice rushes to set up Cundiff to continue the Ravens' playoff aspirations.
The Ravens now find themselves in the thick of the postseason race. Behind the Denver Broncos (7-4) and Jacksonville Jaguars (6-5), Baltimore is the seventh-seeded AFC squad.
"It's a six-game season," linebacker Ray Lewis![](/team/roster/ray-lewis/1c6d5ed3-fe49-4a89-a6b5-9e358e906ae7/ "Ray Lewis") said. "We're going to play them one at a time, and what better team to start out with than the Pittsburgh Steelers? They're the Super Bowl champs. We knew it was going to come down to the wire. Last year, we lost games in the last 10 seconds. This time, we came out and made some good plays. We kept our composure as a team, and we did great, no matter what the circumstances were."
Injury Update:The Ravens reported that linebacker **Prescott Burgess** had a hamstring injury and fullback **Le'Ron McClain** suffered an abdominal strain. Both players left the game and did not return.