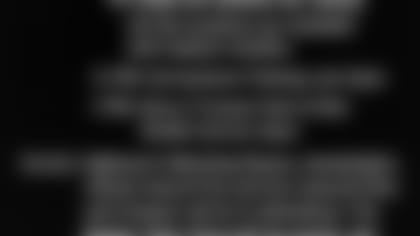 Programming Note: Due to WBAL's Olympic coverage, the Ravens preseason game against Atlanta will air on WMAR (ABC) locally. The game can also be seen on WBAL Plus, WJLA-TV and WHTM-TV and heard on the radio at 98Rock.
In Baltimore, Bobby Rainey is a little-known rookie free agent just beginning to gain some traction.
In Atlanta, the running back will have quite the following.
Rainey grew up a little more than half an hour south of Atlanta in Griffin, Ga., and will have a multitude of friends and family at the game. Tonight, he has a chance to show those closest to him, and everybody else, that the buzz he's created in training camp is legit.
"I'm looking forward to it greatly," Rainey said with a wide smile. "I basically have my whole town there. It will be like high school all over again."
Rainey has been one of the most impressive rookie free agents in a class that Head Coach John Harbaugh called the best in his five years.
Rainey has been powerful, quick and elusive in training camp practices. He has solid hands and quick feet that make people miss in the open field.
Seeing him produce at a high level isn't surprising to Harbaugh considering that Rainey rushed for more than 1,600 yards and averaged 14 touchdowns over his final two years at Western Kentucky.
"Bobby has opened eyes," Harbaugh said. "Bobby Rainey is a really good player. It just holds true year-in and year-out, [that] the guys who are most productive in college, often and most times, are the most productive guys in the NFL. And here is guy that people wanted to say didn't have this or that, but he did have about 4,000-plus yards in college. He is putting yards up out here."
Even though Rainey is just a rookie, it's impossible to watch him play and not think of Ravens Pro Bowler Ray Rice. The two are exactly the same size at 5-foot-8, 212 pounds. They are both shifty and can be hard for defenders to find.
Rice has taken Rainey under his wing, teaching him how to be a professional, how to study tape and how to practice.
"Ray's been great," Rainey said. "We do a lot of things similarly. Certain things I do, Ray does. Certain things Ray does, I do."
Rainey's main challenge to make the 53-man roster is the talent at a crowded position.
He's competing with second-year running backs Anthony Allen and Damien Berry and third-round pick Bernard Pierce for what could be two spots. The Ravens have traditionally carried three running backs.
Rainey has mostly run with the second-team offense, but has also gotten the occasional snap with the first team too. He will likely get a lot of opportunities in preseason games.
"It's probably a little premature, but I think he is going to do really well in the preseason games," Offensive Coordinator Cam Cameron said. "I'd be surprised if he doesn't."