When I saw the Lombardi Trophy being passed down each row* *on the plane back from New Orleans, I hoped and prayed the flight was long enough for it to get to me.
When it did, I took a deep breath and prepared to grasp one of the greatest prizes in the world.
It had been made out with countless times by the players. It had who knows what germs on it. It was smudged and glazed in champagne.
None of that gave me one millisecond of hesitation to plant my lips on it.
That really was the most special feeling I had from the Super Bowl.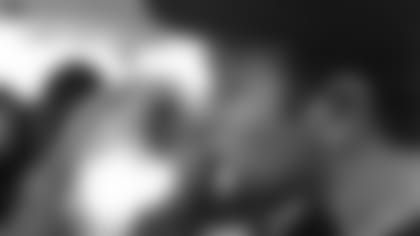 Seriously, it's crazy for a person like me to do this because think of all the work world-class athletes put into just touching that trophy for themselves one time. Think of the pain, the sacrifice that Ray Lewis endured just to grab it a second time.
Yet the Ravens organization is so awesome, and Owner Steve Bisciotti is The Man, that they are going out of their way to make sure we all feel like the Ravens family earned this trophy.
Bisciotti took time Thursday to thank all 120-plus employees that helped the Ravens win the Super Bowl. Then the team put the Lombardi Trophy and Lamar Hunt trophy in the front lobby for everybody (even reporters) to take pictures with.
I wanted to use it as the background of our Flock Mailbag video and asked our receptionist, Toni, if I could borrow it.
"It's ours," she said. "Take it wherever you want."
"Home?" I jokingly asked.
"Anywhere in the building," she said with a laugh.
I wish you all could kiss the trophy. So does wide receiver Anquan Boldin, who walked along the crowd with the trophy during the team's celebration parade, which was the cause of fans breaking down the barriers and flooding the street.
"I was just trying to let the fans touch the trophy," Boldin said with a laugh. "It's something they may never have a chance to do. I just wanted them to have a little feeling of what we get."
The Lombardi Trophy will be kept primarily at team headquarters and presumably in the lobby next to the 2000 trophy. That trophy has long needed a roommate.
Once it's behind glass, the Lombardi Trophy doesn't come out and play as much. But I'll tell you what, it's fun right now.