Trade Deadline Looming. Ravens Interested?
The trade deadline for the 2012 season was moved from the Tuesday following Week 6 of the regular season to Week 8, which is five days from now.
Will the two extra weeks result in more activity than in past years? And will the Ravens be among those participating?
To answer the first question, ESPN's John Clayton says, "Don't count on it."
But NFL Network analyst and former team executive Michael Lombardi has a different point of view.
"What you are seeing now because of the extended deadline is that some of these teams that know they aren't going to the playoffs might sell off some assets, and the teams that have a chance to go to the playoffs may buy some," he said in the video below. "We could be back into an almost baseball mode in terms of right there at the trading deadline."
Lombardi believes the Ravens may be one of the playoff-contending teams that are looking for "assets" to put them over the top.
Lombardi's opinion didn't come from any trade rumors or sources; he simply is looking at the Ravens' postseason potential and deduced that they could use some help.
Logically, outsiders would look at the Ravens defense – and specifically the defensive line – as a potential place to beef up. The unit has almost allowed three consecutive games of 200-plus rushing yards (622 total yards the last three weeks).
With cornerback Lardarius Webb (anterior cruciate ligament) out for the season and linebacker Ray Lewis (triceps) out indefinitely, those are two other positions one could view as areas of need.
"Maybe the extenuating circumstances regarding the Ravens injury situation will force them to make a move," wrote CSNBaltimore.com's J. Michael. "Or maybe the Ravens will decide to cut ties with overused players in an attempt to get draft picks."
As the website does for most teams, Bleacher Report put together a speculative – and I stress the word speculative – list of trade ideas. It targets Lions linebacker Ashlee Palmer, Eagles defensive end Darryl Tapp and Cowboys cornerback Mike Jenkins as players who could give Baltimore a boost.
But the Ravens have given no indication they are looking for additional personnel.
In fact, a candid John Harbaugh told reporters the opposite Monday, saying he thinks the roster is already full of the talent he needs to succeed.
"We have everything we need. We have all the players we need and we have all the scheme we need," the head coach said. "Now, what we have to do is organize it in a way that gives our players a chance to play their fastest and their best under pressure, on the road, against good teams and at home."
Cody Knocked Off Line In Frame-By-Frame Replay
In the Week 7 edition of CBSSports.com's "Coach Killers," writer Ryan Wilson targeted the Ravens defense, saying the unit is "long overdue for a name-check."
Wilson breaks down the defense's issues, saying the concerns virtually have nothing to do with the losses of Webb and Lewis, and instead points the finger at the front seven.
The line was "manhandled" upfront by the Texans, and to back up his claim, Wilson used the frame-by-frame replay (below) of 290-pound center Chris Myers driving 360-pound defense tackle Terrence Cody off the line about three yards.
"By the time Cody disengages from the block, [running back Arian] Foster is gone," he wrote, noting a 14-yard gain on second-and-1. The Texans scored a play later.
And to rub salt in the wounds, Ryan notes in the story headline, "The Ravens defense gave up 200 rushing yards while you were reading this."
Zrebiec: Can't Blame Pees
There is plenty of finger-pointing going around among fans and media as the Ravens defense looks to rebound from a season start that  has them ranked 26th overall, 27th against the run, 23rd against the pass and 17th (tied) in scoring.
For the second consecutive week, The Baltimore Sun's Jeff Zrebiec defended Dean Pees, saying the defensive coordinator is not the problem.
"I opined last week in this place that it's more of a personnel issue and that Pees has tried just about everything. My opinion hasn't changed after the debacle in Houston," Zrebiec wrote.
"I understand that a coach's job is to get the most out of his players and to put everyone in the best position to succeed. However, plenty of Ravens are getting an opportunity and is there one guy on the defense that has exceeded your expectations this season?"
The Sun writer said linebacker Dannell Ellerbe has played pretty well and defensive tackle Haloti Ngata was playing at a Pro Bowl level before he suffered knee and shoulder injuries. The other player that may have been exceeding expectations was Webb, but he is gone now.
"The point is it's always about the players and right now, they're just not getting it done," Zrebiec said. "Pees does share some responsibility in that, but he shouldn't shoulder all the blame."
NFL Becoming A Kicker's League
Ravens rookie kicker Justin Tucker fits well in Clark Judge's newly observed NFL trend. Or maybe Tucker is helping set the trend.
"Everywhere you look this season, someone is splitting the uprights. And it's often from 50 yards and beyond. It doesn't make a difference who it is – rookies, veterans, free agents, you name it -- they're drilling three-pointers at an alarming rate."
He added the 87.7 field-goal percentage rate is a "league-record waiting to happen."
Tucker has been successful on 93.3 percent (14/15) of his field goals, and set a new franchise record Sunday by notching his fourth field goal from beyond 50 yards. It's the most 50-plus yard field goals any Ravens kicker has notched in a single season.
The NFL is going to use pink penalty flags in Sunday's Dolphins-Jets game – the final weekend of Breast Cancer Awareness month. The idea was suggest by an 11-year-old boy. [NFLCommunications.com]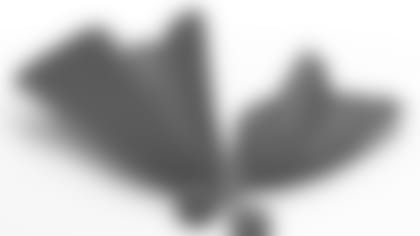 A note on Harbaugh's approach after Sunday's embarrassing loss: "I]n the brief time I've been covering the Ravens, [I've never seen Harbaugh as direct, open and candid as he was this past Monday following the blowout against the Houston Texans. He took accountability for the loss and said that he and his staff didn't prepare the team well enough," Zrebiec wrote. "He didn't hide behind coaching cliches or a vow of secrecy, and he didn't dismiss any question based on the fact that the Ravens are 5-2 and in first place in the AFC North." [The Baltimore Sun]
Joe Flacco notched an unwanted quarterback trifecta : "Flacco is the only QB in the QBR-era (since 2008) who was tackled for a safety, credited with a fumble and threw an interception returned for a touchdown in the same game." [Elias Sports Bureau/ESPN]