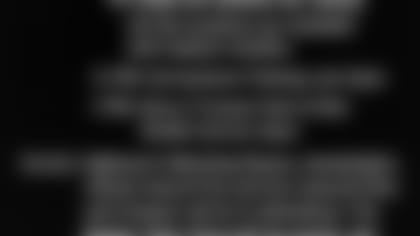 Programming Note: Due to WBAL's Olympic coverage, the Ravens preseason game against Atlanta will air on WMAR (ABC) locally. The game can also be seen on WBAL Plus, WJLA-TV and WHTM-TV and heard on the radio at 98Rock.
The Ravens have a number of players dealing with some minor injuries, and the team will take a cautious approach heading into Thursday's preseason opener in Atlanta.
All 12 players who sat out Tuesday's practice will not play in the game, Head Coach John Harbaugh announced Tuesday.
That list includes cornerback Jimmy Smith (back), center Matt Birk (back), offensive lineman Jah Reid (calf), linebackers Josh Bynes (back), Dannell Ellerbe (unknown), Darryl Blackstock (unknown) and Terrell Suggs (Achilles tendon), rookie running back Bernard Pierce (hamstring), defensive lineman Arthur Jones (hip), wide receivers Patrick Williams (unknown) and David Reed (ACL surgery) and tight end Dennis Pitta (hand).
RookieCourtney Upshaw![](/team/roster/courtney-upshaw/08b30e8b-a2a6-41d1-b3f9-f3fa2787c875/ "Courtney Upshaw") returned to the practice field Tuesday after missing more than a week with a shoulder injury, but he still may not be ready for game action.
The team will make a final decision on Thursday, but Harbaugh said it appears unlikely that Upshaw will get on the field.
"He's been out for over a week, so we probably want to get him to practice a little more before we play him," Harbaugh said Tuesday.
In addition to the injured players sitting out, the Ravens may also decide to hold out some of the veterans like Ray Lewis or Ed Reed.
"Some of the more senior veterans guys won't play at all by design," Harbaugh said.
Lewis is heading into his 17th season and Reed his 11th, and teams often limit the play of their stars in the first week of the preseason. Reed sat out Monday's practice but returned on Tuesday.
For the rest of the starters, Harbaugh said the plan is to play them about a quarter
"We'll be looking at anywhere from a certain set number of plays to about a quarter, maybe a quarter-plus for some of the starters," Harbaugh said. "That's kind of what we're targeting, but not everybody is on exactly the same schedule."
McKinnie, Ngata Both Full Participants
Left tackle Bryant McKinnie and defensive tackle Haloti Ngata returned to practice last Friday and have been full participants throughout this week.
Ngata had to overcome a tweaked hamstring and McKinnie dealt with a back injury before reporting to training camp. Neither player has shown lingering signs of injury, so it appears likely that they will play on Thursday.
McKinnie may play more than Ngata, as the Ravens have said that he is in competition with Michael Oher for the starting left tackle spot. Ngata, a three-time Pro Bowler, has his starting spot on the defensive line nailed down, so he may only play about a quarter.
Wide receiver Tandon Doss returned to the practice field Monday after missing six straight workouts because of a tweaked hamstring.
Even though he was back on the field, Doss was not a full participant in all of the 11-on-11 drills on Monday and Tuesday, so the training staff may decide to hold him out of Thursday's game.
Harbaugh did not definitively say whether Doss would play.