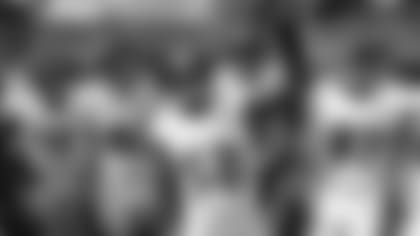 The Ravens know they're a better team than they're 1-5 record suggests.
There won't be a much better opportunity to prove it than while facing one of the NFC's best teams, at their place, under the bright lights of Monday Night Football (MNF).
The Ravens are jacked up for playing their next game regardless. But the primetime stage provides a little extra boost.
"There's no better stage to play your best than Monday Night Football ," Head Coach John Harbaugh said.
The Ravens are 6-3 on Monday night during the Harbaugh era, including three straight victories.
Last year, the Ravens went down to New Orleans and knocked off the Saints, 34-27, on MNF. In 2013, kicker Justin Tucker shocked Detroit with a 61-yard game-winning field goal. In 2012, the Ravens opened the season with a 44-13 clobbering of Cincinnati.
"Monday night will always be Monday night," outside linebacker Elvis Dumervil said.
"Monday night is just bright lights – big show," cornerback Jimmy Smith added. "Everybody is going to be watching, so you definitely want to put your best foot forward."
Running back Justin Forsett has 30 carries for 203 yards on Monday Night Football. Last season in New Orleans, he rushed for a career-high 182 yards and two touchdowns.
The Ravens' only win this year came on primetime television. Baltimore knocked off the Steelers, in Pittsburgh, on Thursday Night Football. That was obviously also fueled by a natural rivalry.
"Primetime games are always fun because you know everyone is watching you," fullback Kyle Juszczyk said. "I know before Monday night games I'm getting a few more texts from friends I haven't heard from in a while. That's a little bit more of a motivator."
This will be the Ravens' first trip to University of Phoenix Stadium in franchise history.
The Cardinals know that a primetime matchup could also bring out a different level of confidence and intensity in the Ravens.
"You know you're going to get their best shot because it's Monday night," quarterback Carson Palmer said.