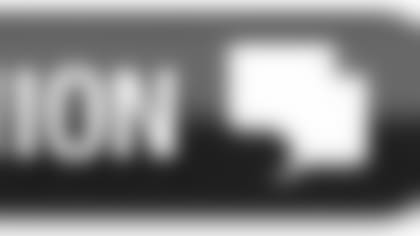 On Terrell Suggs' new contract...
This is great news! I love **Terrell Suggs**. He stepped up last year after that tackle in the end zone against Tennessee and played the rest of the game until that sack on Kerry Collins in the third quarter. He is a huge part of our pass rush and to lock him down for six years is insane. Thank you Mr. Suggs! You are the type of player who we as fans think 'Man, that is a RAVEN!'
On having some good news in a quiet sports week...
T-Sizzle in purple and black for six more years! Finally, some good news! Great move that needed to get done.
On what sets Suggs apart from other NFL players...
I'm glad that Suggs, unlike many other professional athletes, does not just play for the money. It could of been really easy for him to make it a big issue in the media about his contract, but he didn't. This is why in the end, I believe that Sizzle will be one of the greatest ones to ever play the game, because he plays for all the right reasons. This is a great player and I know that **Ozzie Newsome** will take care of him.
Terrell CunninghamRochester, NY
On why the Ravens can't afford to not have Mason this season...
We can't let Mason go. He is the best route runner the Ravens have ever seen, not to mention he is without a doubt the best wide receiver the Ravens have on the current roster. Even if we were to get a big name receiver, Joe Flacco![](/team/roster/joe-flacco/3e20766f-6520-4ca1-9901-44389aaea8b8/ "Joe Flacco") still needs him for the support and leadership in our passing game. There is no better guy in the league to help develop our young gunslinger into the franchise quarterback that we Ravens fans have been looking/waiting for since 1996. So please, do not let him leave!
Ricky Hansberger
Frederick MD
On other options the Ravens should pursue without Mason...
I would just like to suggest to the Ravens organization that they look at Brandon Marshall as a last resort, and instead either re-open Anquan Boldin trade discussions, or take the three million dollars from Mason's contract and offer a deal to Marvin Harrison. I just don't feel comfortable with the receivers that Baltimore has without a dominant number one like Mason, and I hope that the Ravens push for someone. Solidifying the receiver position is the only thing keeping the Ravens from another Super Bowl run.
On supporting Derrick Mason's decision to retire, if it's true...
Until we have official word from the league, this is only another NFL rumor.
If this is not an agent's ploy and Derrick does in fact retire, then I support his decision. I'm certain Steve McNair's passing took a major emotional toll on him.
If the story pans out, why did Derrick even bother showing up at the facilities?
On the position the team is left in without Mason on the team...
Derrick Mason defined dedication and toughness last season. I don't think I've ever seen a wide receiver put on a performance like Mason did last year. Everyone said trust Ozzie during the draft, when people like me expressed disappointment and even anger that we didn't draft a wide receiver. Now we don't have a no.1, and our no. 2s are more like no. 3s and no. 4s on other teams. Now Ozzie will have to get a receiver in a position of weakness rather than strength. If he doesn't, this will be a lost season.
Brian O'Conner
Joppatowne, MD
On why the Ravens paid too much to re-sign Suggs...
Terrell Suggs says that playing for the Ravens was his primary goal, that the money wasn't all that important. Yet when negotiating a new contract, he used the hybrid card to make himself the highest paid linebacker in history. All his talk about giving Baltimore a hometown discount was garbage. He used the Ravens, who gave him a couple million dollars more last year to make him a happy camper. They also invented a new position, when they called him a hybrid, to jack up the "fair value" of his contract to $10.5M per year, which is more than any linebacker in the NFL gets. If he's a defensive end, then he should put his hand on the ground at least fifty percent of the time. He doesn't and won't because a defensive end plays in the trenches, not running around, skirting the edges until he can infiltrate the line to chase the quarterback. A player like Ed Reed![](/team/roster/ed-reed/89ece203-7de4-4b40-9651-f16f4c3b7699/ "Ed Reed"), who makes around $6.5 million a year as the premier free safety in the NFL, is truly giving the Ravens a discount. This is just an old fashioned stick-up with more spin than Washington could ever dream up. More discounts like his and we'll lose more than just Bart Scott and Jason Brown every year.
Augustine Pritchard
Baltimore, MD
On who could step up on the offense without Mason in 2009...
Losing **Derrick Mason** would be a HUGE blow to this Ravens team. As it stands now, a few weeks away from training camp, we have no proven no. 1 receivers. That is not a debatable issue but a fact.
Derrick Mason was an unquestioned leader, a consummate professional who made unbelievable plays and gave his every effort for us each week, and was a vital component to the Ravens' offense for four outstanding years. He will be missed, but I wish him well in the next phase of his life.
Brad Fetzer
Ellicott City, MD
On why the Ravens should focus on the players they DO have...
Of course it's a big blow to lose Derrick Mason. He's been a true warrior for this team. But he is aging and to give him a long term deal would be foolish. He's had his big payday and rightfully so. But we the fans trust this organization to make the right decisions for our team, which time and again they do. We will have one of the most dominant offensive lines in the league, we will establish the run like we normally do and we beat opponents up. It may not look pretty but it gets the job done. We will get our elite receiver at some point, but it will be someone we trust to be a RAVEN. Until then, next man up.
Mark AbshireGlen Burnie, MD
On the timing of Mason's retirement...
My problem with Mason's retirement announcement is the timing. He knows we don't have another of his caliber right know, and he could have given the team a heads-up so we would have pulled the trigger on a trade for Boldin or drafted a young receiver. I think this move was pretty selfish.
Markeith Porterfield
Baltimore, MD
On wanting to see one more year out of Mason with the Ravens...
Derrick Mason is one of the finest receivers to ever play in the NFL. If he does retire this year he has earned it, and then some.
Respectfully, as one of his fans, I must disagree with him. I think he still has as much (and more) fight in him as any top receiver in the league.
I will respect his decision, but I would like to see him be part of this team and win a Super Bowl ring. I hope he reconsiders, even if it is for one last spectacular season to end his amazing career.
Joe Stuart
Springfield, VA
On thanking Derrick Mason for his time as a Raven...
No matter what Mason decides to do, our city will always love him. He is a great football player and a man with a lot of class. Many other players have a lot to learn from him all around the league. I am certainly proud of what he has brought to the best football team in the world.
Thank you for everything Mr. Derrick Mason.
Matt Smithson
Baltimore, MD