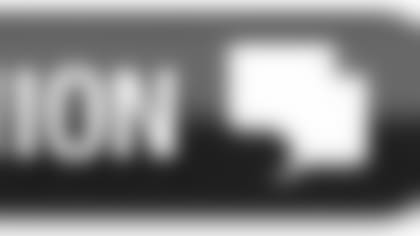 On the potential impact of Kelley Washington...
We can continue to make a big deal out of this, I guess. Kelley Washington is not going to be our savior. I think everyone can agree on that. I have people telling me how huge a difference this big receiver would make. We aren't the Patriots or Saints, with five receivers constantly on the field. We have three, maybe four guys out there tops. Could Washington gain 300 receiving yards this year? Doubtful. Will he be a middle-of-the-pack special teamer? That sounds about right.
Keith Rumburg
Ocean City, MD
On the need to acquire a deep-threat receiver...
I don't care what **John Harbaugh** says in print, he and **Ozzie Newsome** have to be focusing on finding another wide receiver who can stretch the field vertically and open up the mid-routes for Flacco.
On why signing John Beck was a bad move...
I think signing John Beck is an insult to Troy. We already have enough quarterbacks and Smith did a great job as backup. He could have been a starter last season if he hadn't gotten sick.
On what moving Le'Ron McClain back to FB means for the offense...
I've got some mixed feeling about moving **Le'Ron McClain** to full time fullback. Last season Le'Ron was a nearly unstoppable force in our running game and I could still see him becoming the thunder to **Willis McGahee** and **Ray Rice's** lightning. However, there is an advantage to having him play more out of the fullback position. The move gives flexibility to **Cam Cameron** in his play calling. Last season whenever McClain was on the field in the running back spot everyone knew where he was going, it was just the fact that they couldn't stop him. Now we can put McClain in at FB and Willis /Ray at RB. Then we can fake it to McClain before giving it to the running back or vice-versa and have either option be a legitimate threat, especially with McClain starting closer to the line of scrimmage. This could allow him to grow into a Mike Alsott-type player for the Ravens.
Christopher Atwood
Huntington Beach, CA
On what the Ravens' strategy should be for building a Super Bowl team...
I am so tired of hearing about what we need to become a Super Bowl team. We have the components now. Perhaps if we had not played for 13 weeks in a row last year, we might have had enough gas to beat Pittsburgh and move on. If anything, we need to improve our depth for injury situations. No need to spend millions of dollars on some free agent who is probably not a real bargain when there are so many good football players out there now begging for a chance to play, from the semi-pro teams to passed up college players, or small schools and universities. That's why we have one of the best scouting departments in the league. I say forget the million dollar babies and go turn over a few rocks, then see what you can come up with. Sign a few players for three to four years so you can build and not be torn apart by free agency.
Bill Ratcliffe
Pasadena, MD
On the value of Derrick Mason...
**Derrick Mason** personifies what it is to be a Raven. He has had to listen to all the talk about the Ravens needing a receiver, yet he maintains his professionalism, and proves that he belongs in purple. His "team first" attitude is exactly what the Ravens need, not to mention, he is still performing at a high level. There is no reason to think that with another year with **Joe Flacco** and his shoulder healed, he won't be a go-to guy again. THANKS DERRICK, YOU ARE THE MAN!
D.J., DierksenMilford, MD
On why signing John Beck was a good move...
I think **John Beck** is a quality pickup. He was thrown to the wolves in 2007 as a rookie for the 'Fins. Now we should see what he can really do this preseason. It won't be easy for him to climb the depth chart, but as Ozzie Newsome said, he has good ability and is very competitive. Joe Flacco is the future, but Beck could elevate his stock by competing with **Troy Smith**, another quality backup. I like Beck to take over as the primary backup because his arm is quite a bit stronger than that of Troy Smith. I may be wrong because Smith is a playmaker but he lacks a typical NFL arm.
Chad Vest
Spanish Fork, UT
On why the Ravens should have re-signed Lorenzo Neal
The Ravens should have kept Lorenzo Neal. His veteran presence and skills helped open up the offense for the running backs! He is an unsung hero, someone who never receives credit for their work. He will be missed!
On the Ravens' young offensive line...
The Ravens' offensive line could be among the league's best, as well as the league's youngest, with the exception of **Matt Birk**, in the NFL in 2009. The loss of Jason Brown will be easily replaced by pro bowler Birk. On either side of Birk, young guards, **Marshal Yanda** and **Ben Grubbs**, both potential pro bowlers if healthy, round out the middle. Is Yanda going to be ready for the season? He is an essential piece to that line. **Chris Chester** is a solid backup, but not a starter. Tackles **Jared Gaither** and **Michael Oher** round out the bunch. We really need Oher to step up and start year one. Gaither may be gone when his contract is up now that he signed Drew Rosenhaus as his agent. If this line is healthy, the Ravens will be in the playoffs.
On signing undrafted free agent kicker Graham Gano...
I just wanted to commend you on selecting **Graham Gano** as an undrafted rookie. We were disappointed he didn't go in the official draft, but we know he will be a big time NFL kicker for years to come. His heart is huge and if the need arises for a punter due to injury, his ability at that job will also be a big plus. Good luck this year and thanks for betting on another great Florida State star. You're in for a great run with him knocking 'em through the uprights!
Ned Pike
Jacksonville, FL