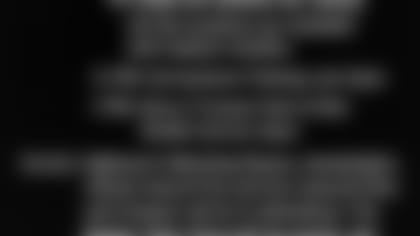 PLEASE NOTE:The opinions, analysis and/or speculation expressed on BaltimoreRavens.com represent those of individual authors, and unless quoted or clearly labeled as such, do not represent the opinions or policies of the Baltimore Ravens' organization, front office staff, coaches and executives. Authors' views are formulated independently from any inside knowledge and/or conversations with Ravens officials, including the coaches and scouts, unless otherwise noted.
It was only the first drive of the season and quarterback Joe Flacco took a hard hit straight to the gut.
Baltimore started two rookies on its offensive line (center Gino Gradkowski and right tackle Kelechi Osemele) and had a newcomer at left with guard Bobbie Williams in his first game.
That inexperience and unfamiliarity showed at times, shining even more light on a position group that might be of greatest concern in Baltimore this preseason.
Flacco was hit regularly during his short time on the field (four series). He was knocked hard by free blitzing safety Sean Weatherspoon, sacked to end the third drive, and took another hit when he slid as he ran from defenders.
"We've got to look back at some of those plays and miscues, because the Falcons got a couple good pressures," Flacco said.
"We had a couple run-throughs there, things that should have been picked up that were not that complicated," Head Coach John Harbaugh added. "Those are things that you just work on. That's what preseason is for."
The Ravens opted to go with Osemele at right tackle and Michael Oher on the left side instead of starting veteran Bryant McKinnie.
It was not a surprise to McKinnie because he only had one practice in full pads, after returning to limited work Friday.
McKinnie entered the game at left tackle with the second-team offense and played into the third quarter. McKinnie said the extended work was good for him because he's trying to get in shape to execute the Ravens' hurry-up offense.
McKinnie did notice some issues with the starters ahead of him.
"We need the chemistry," he said. "Right now they don't have, I guess, the experience. They're still learning. With time they'll get better."
Gradkowski took credit for the mistake on the free blitzer who hit Flacco. The fourth-round pick out of Delaware said it was just a miscommunication and that with a young line, he needed to over communicate.
"Anytime there's a miscommunication it's always the center's fault," Gradkowski said. "I've got to be better with that. We'll get that fixed."
Osemele said he came out nervous on the first drive but settled in once his emotions were under control. He's been impressive in training camp practices, mauling some of his more senior defensive teammates at times.
"It was a little sloppy at first, but I warmed up after the first three-and-out," he said. "Once I started playing like my usual self, I felt like things went pretty good."
The rotation the Ravens used in Atlanta could be temporary.
As McKinnie gets more practices under his belt, and is better suited to run the Ravens' up-tempo style, he could move back into the starting left tackle spot that he manned for all of last season.
Birk (back) has missed almost all of training camp, but there's been no indication that he will miss regular-season games.