Pundit Predicts Ravens, Lamar Jackson Won't Get Deal Done This Offseason
One of the biggest questions for the Ravens last offseason was whether the team and Lamar Jackson would finalize a deal for a contract extension before the start of the season. A year later, the same question exists.
Sports Illustrated's Andrew Brandt, a former agent and Green Bay Packers executive, said he doesn't think a deal will get done this offseason either.
"It was curious that the Ravens did not extend Jackson last year]," Brandt said on [Glenn Clark Radio. "I just didn't understand where the lack of an extension was coming from. Was it coming from the Ravens, who were not ready to commit, who didn't even offer a deal or offered a deal that was not pleasing to the Jackson side? Or is it coming from the Jackson side, where they think it's better to wait and continue to see the market go up, and up, and up, and jump into negotiations now?
"Now we come to a junction where there hasn't been excellent performance due to injury as much as anything, and what do they do? To spin to the end of the chapter, I guess my prediction is they don't do anything."
The Ravens have said many times that they're committed to Jackson, who is in line to become one of the highest-paid players in the league. When Jackson, who does not have an agent, was asked about a contract extension a couple weeks ago, he said: "No, we haven't talked about it yet, but I've got to worry about getting back right, right now, and getting ready for this offseason."
Brandt speculated that the length of the contract could be holding things up.
Looking at the deals for some of Jackson's peers the past two years, Patrick Mahomes received a 10-year, $450 million contract extension from the Chiefs; Josh Allen signed a six-year, $258 million contract extension with the Bills; and Dak Prescott signed a four-year, $160 million contract extension with the Cowboys.
"There are two types of contracts out here now for young quarterbacks, and if I were a player, I'd want the Dak Prescott type, which is four years, $40 million [annually], and the best thing about that is the four years," Brandt said. "So he's going to get another bite at the apple at age 29-30, whereas Mahomes and Allen … [have] deals which basically take them off the free-agent market forever and the teams are locked in.
"I don't know if the Ravens are trying to push those long-term deals and Jackson doesn't want that. If I were representing Jackson, I would not want that Allen-Mahomes lengths that only serves the team. I would want the Prescott lengths, and maybe that's a sticking point."
If a deal isn't reached this offseason, Jackson would play under a fifth-year option that pays him $23 million. If a deal is reached in the next couple months, it would likely give the Ravens a lot more flexibility in free agency and to re-sign their own players.
"They still have a year left," Brandt said. "It's an option year, and that's the advantage of first-round quarterbacks, that you can exercise the option after Year 3, you can watch and learn in Year 4, and you don't have to sink the huge guaranteed money in Year 5."
Russell Street Report salary cap expert Brian McFarland kicked off a series about the Ravens' 2022 offseason by talking about why Jackson's extension didn't get done last year. He said the shrinking salary cap because of COVID-19 was a huge factor.
"I'm certain they would have gotten [Jackson's] extension done," McFarland said. "That was going to be impossible this year once the injuries started. There was just no way they were going to be able to carve out enough cap space to make a reasonable deal for him."
McFarland talked about what a new deal could look like for Jackson, saying getting it done for Jackson this offseason could drop his salary cap hit about $10 to $13 million. The Athletic's Jeff Zrebiec said Jackson's injury and midseason difficulties could make it a more challenging process, but his gut says a deal is still struck this offseason.
"It's tough to get a sense of where things are. My understanding all along was this offseason was the time they were going to meet, find a compromise, and hammer this deal out," Zrebiec said. "I don't think they're hedging at all that Lamar is their franchise guy and they want him to be here. I don't think Lamar wants to be anywhere else.
"I think this deal gets done and I really think they'll try to do it this offseason, but I don't feel as strongly as I once did that it gets done this offseason. My guess is that it does, but as I said, they've been treating this as a formality, and I don't feel as strongly that it's a formality as some of them have been acting."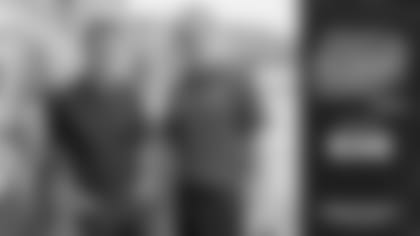 348: Our 2022 Offseason Blueprint
Here's what Ryan Mink and Garrett Downing would do, and think will happen, this offseason for the Baltimore Ravens, including Lamar Jackson's contract, which free agents stay and leave, and what their priorities are for improvement.
Can the Ravens Afford Bradley Bozeman?
Jackson's contract extension isn't the only issue facing the Ravens front office. The team also has to determine how it wants to proceed with its pending free agents, one of whom is center Bradley Bozeman.
Bozeman, a sixth-round draft pick in 2018, has developed into a stalwart on the offensive line, first at left guard and this past season at center. Has Bozeman played so well that he's priced his way out of Baltimore?
"Bozeman, whose four-year rookie contract is expiring, represents one of the more intriguing decisions facing General Manager Eric DeCosta with free agency looming in less than two months," PressBox's Bo Smolka wrote. "Will the Ravens show the door to their two-time Walter Payton NFL Man of the Year nominee?
"The Ravens aren't long on sentiment when it comes to free agency decisions. They have let some of the most beloved players on the team walk away, and if Bozeman can't fit the team's 'right player, right price' mantra, then he will be wearing a different uniform next year. There's little doubt that as a former sixth-round pick, Bozeman has proved to be the right player. But what's the right price? That's the $10 million question."
Ten centers have contracts worth at least $10 million in average annual value, according to spotrac.com. All-Pro Corey Linsley, who signed a five-year, $62.5 million contract with the Los Angeles Chargers last year, has the richest overall deal.
"Bozeman might not reach that top end, but on the open market, he could find a deal north of $10 million a year," Smolka wrote. "The team and Bozeman have had discussions about a new contract during the past year, but it's believed that a significant gap between the two sides continues to exist."
Zrebiec said he doesn't think Bozeman wants to reset the market, but would want to be among the top five highest-paid centers.
"With other holes already on the offensive line, the Ravens could ill-afford to lose a player who was arguably their most reliable offensive lineman a year ago," Fried wrote.
If the Ravens don't re-sign Bozeman, they could turn to versatile offensive lineman Patrick Mekari to play center. Mekari, who signed a three-year contract extension last month, started 10 games at center over the 2019 and 2020 seasons.
The Ravens also could look to the draft to replace Bozeman. ESPN's Mel Kiper has the Ravens selecting Iowa center Tyler Linderbaum with the 14th-overall pick in his latest mock draft.
Bozeman has made it clear that his preference is to remain a Raven.
"So, so grateful and blessed to have called myself a Raven for the last four years," Bozeman said earlier this month. "I hope it's the next four more, but we don't really know right now. We'll figure that out this offseason and see what happens. It's just been a great place to call home the last four years."
Ravens' 2021 Draft Haul Gets a C-Plus
Knox was impressed by outside linebacker Odafe Oweh, the 31st-overall selection, but he wasn't as high on the Ravens' other first-round pick, wide receiver Rashod Bateman, who was taken at No. 27.
"Odafe Oweh looks like a future superstar," Knox wrote. "The rookie pass-rusher finished with five sacks and an impressive 27 quarterback pressures as a rotational player. However, top pick Rashod Bateman was just sort of OK — though, it's worth noting that he opened the season on injured reserve with a groin injury. Bateman finished with 515 receiving yards and one touchdown, far from on par with the top wideouts in this rookie class."
Knox's assessment of Bateman seems a bit harsh. As Knox himself said, Bateman started the season on IR. Bateman suffered the groin injury early in training camp and missed the rest of camp, the entire preseason and the first five games of the regular season.
However, Bateman was a chain-mover once he got on the field and showed flashes of why he's a first-round talent. The future appears bright for Bateman.
Knox felt the Ravens' six other draft picks didn't make much of an impact.
Injuries limited guard Ben Cleveland (third round) to 12 games and outside linebacker Daelin Hayes (fifth round) to one; wide receiver Tylan Wallace had just two receptions and played mostly on special teams; cornerback Shaun Wade (fifth round) was traded before the start of the season; and fullback Ben Mason (fifth round) did not make the team.
Brandon Stephens (third round) started 11 games because of injuries, but Knox said he "underwhelmed." Keep in mind, Stephens was playing safety for the first time ever after converting from running back to cornerback in college.
Looking to the future, Knox wrote: "Oweh figures to be an impact defender for years to come, and Cleveland may develop into a reliable starter. Bateman will have to show more in his second year, however, for this draft haul to be considered great."
Ravens Named a Potential Landing Spot for CB Joe Haden
Three-time Pro Bowl cornerback Joe Haden has spent his entire career in the AFC North. He's spent the past five seasons with the Steelers after playing his first seven years with the Browns.
Could Baltimore be the next destination for the pending free agent? The Ravens were named as one of the potential landing spots for Haden by Still Curtain's Tommy Jaggi.
"Though Haden will be 33 years old during the 2022 season, he has shown that he still has some juice left in the tank," Jaggi wrote. "The Ravens don't have a ton of cap space and they could acquire Haden on a reasonable one-year deal until they find a more permanent solution at cornerback. At the very least, he would give them quality depth at a position that could get an overhaul this offseason."
The Ravens have a pair of All-Pros at cornerback in Marlon Humphrey and Marcus Peters, but as the team knows all too well, there's no such thing as too much depth at the position.