Mel Kiper Says Ravens Should Pursue Veteran Receiver. Who's Out There?
ESPN's Mel Kiper and General Manager Ozzie Newsome seem to be on the same page … mostly.
Kiper believes that before the Ravens announce their No. 16 selection in this April's NFL Draft, they need to first sign a veteran receiver in free agency.
That jibes with Newsome already saying at the season-review press conference a few weeks ago that he will pursue a "veteran receiver that still has some juice left, that still has the ability to play at a high level," whether by trade, free agency or cap casualty.
Where the two might not be on the same page is exactly who the Ravens pursue. Kiper suggests going after some of the highest-priced free agents expected to hit the market in Terrelle Pryor or Alshon Jeffery.
"The Ravens have had a history of finding those kinds of receivers; it has worked out well for them," Kiper told The Baltimore Sun. "They had Anquan Boldin and Steve Smith, who played at high levels here. ... Mike Wallace, though not in his prime, made plays. I think they ought to get one and then augment him with one or two players in the draft."
Kiper has his Ravens history right, but the big difference between Jeffery/Pryor and Smith/Wallace is that the latter were cheaper cap casualties as opposed to unrestricted free agents. As such, they didn't count against the compensatory pick formula and came at a relative bargain. Boldin was a trade.
Spotrac.com listed 43 receivers scheduled to hit free agency in March, and added a projected "calculated market value" based on what other receivers were paid with a similar age, playing time, production, etc. Below are 15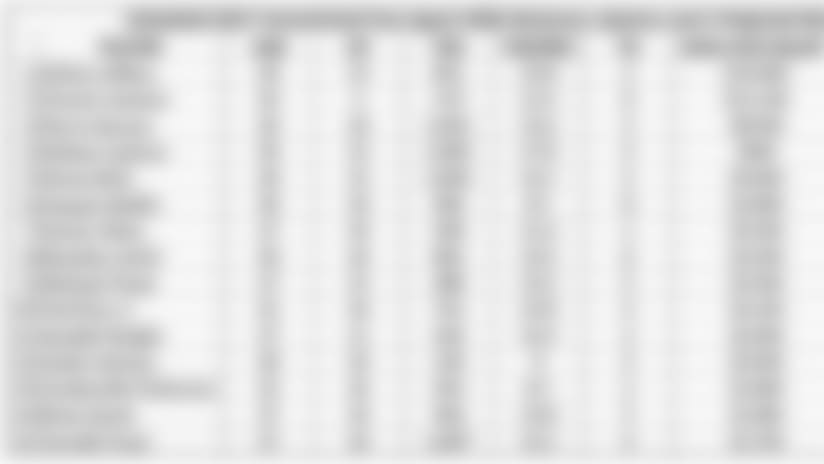 "The Bears will likely part ways with Jeffery this offseason, having been toying with the idea of locking him down long-term over the past few seasons," wrote Pro Football Focus' Sam Monson. "Jeffery has missed too much time for the team to be able to confidently rely on him as their No. 1 target long-term, and his elite play has been too fleeting over the past few seasons. In 2016, he recorded more than five catches just twice, and had only one 100-yard plus game (in the first week of the season). Jeffery has shown big-time ability, but the Bears will likely let somebody else roll the dice on the big contract it will take to see it in the future."
Would Newsome be the one to roll the dice? History is against it.
Based on the above calculations, Jeffery and Pryor are expected to attract two of the highest-paid receiver contracts in the league. (Pryor is projected to be much more affordable than Jeffery.) Combining large payouts with compensatory pick losses, signing either would go against the Ravens' typical way of navigating free-agency waters.
It's not impossible, however, as Newsome signed two unrestricted free agents last year in safety Eric Weddle and tight end Benjamin Watson.
Still, it would be wise to monitor the potential cap-casualty market because that's usually where the Ravens jump into action. Below is Spotrac.com's list of receivers who could be cut this offseason:
Larry Fitzgerald, Arizona Cardinals
"Fitzgerald may opt for retirement this offseason, though he has $11M reasons not to remaining on his contract. Carson Palmer's status may intertwine with Fitzgerald's."
Brandon Marshall, New York Jets
"He's saying all the right things publicly, but Marshall may be on his way out of New York this offseason."
Eddie Royal, Chicago Bears
"Royal's 2 years in Chicago haven't gone at all as planned. A break-up this offseason is likely."
Jarius Wright, Minnesota Vikings
"Barely saw the field in 2016 after signed a 4-year extension in September of 2015. He's a post June 1st release candidate, a move that clears $2.6M in cap."
Torrey Smith, San Francisco 49ers
"Finished 2016 on injured reserve stemming from a Week 14 concussion, and career lows in receptions (20) and yards (267). The 27-year-old likely won't be back at a $9.6M cap hit."
Victor Cruz, New York Giants
"Cruz was able to bounce back slightly in 2016 (39 receptions, 586 yards) after agreeing to a large pay cut, but it's not likely he'll be able to return on a $9.4M cap figure."
Danny Amendola, New England Patriots
"Amendola accounted for only 23 receptions and 243 yards in 12 games for New England during the regular season, but did find the end zone 4 times. It's unreasonable to think he'll be back at nearly $8M."
Ravens Have Fourth Most Dead Money Heading Into Free Agency
One of the obstacles the Ravens will have to navigate in free agency is the dead money already counting against the cap.
We don't know exactly what the total salary cap will be for all 32 teams, or how much space the Ravens will have, but we do know that they'll enter the new league year with at least $5.4 million in dead money, according to Over The Cap.
That ranks as the fourth most dead money in the NFL, following the New Orleans Saints ($9.1 million), Washington Redskins ($6.9 million) and Philadelphia Eagles ($6.8 million).
The majority of Baltimore's dead money comes from former left tackle Eugene Monroe, who will reportedly count $4.4 million against the cap, after the team cut him last year and he subsequently retired. The dead money is expected to increase when the Ravens make annual cuts before the new league year begins in March.
"For comparison, the Ravens finished 2016 with almost $15 million in dead money on their balance sheet, placing them close to the NFL's median," wrote Baltimore Beatdown's Vasilis Lericos. "In 2015, Baltimore devoted more than $25 million towards dead money due to previous salary commitments, sixth most in the league."
Ravens To Sign Linebacker From Canadian League
It looks like the Ravens are nearing their first signing of the offseason.
According to The Vancouver Sun's Mike Beamish, the Ravens will sign outside linebacker Bo Lokombo, 26, to a reserve/futures contract after he spent the past three seasons with the B.C. Lions in the Canadian Football League.
The deal has not been confirmed by the team.
The University of Oregon product once thought of himself as a first-round pick, but he went undrafted and didn't get a deal as a rookie. He was subsequently selected in the third round of the CFL draft. Lokombo, who was born in Zaire and raised in Abbotsford in Canada, has finally gotten his NFL chance after notching 33 defensive tackles, 44 special teams tackles and one sack over the last three seasons.
He knows that to make it in the NFL, he'll first have to prove himself on special teams.
"It's a great opportunity," he said in a phone interview with Postmedia News. "I've had to overcome so much to get here. I want to thank … the whole Lions staff for helping me develop to get to this point.
"It all starts with special teams. I'm not going to toot my horn and say I'm going to be a starter (as a linebacker) in the NFL right away. You have to prove yourself on special teams first. That was my situation in the CFL. I got a chance to showcase my ability in that area."
Will Matt Ryan Continue His Joe Flacco-Like Run?
Since becoming the top two drafted quarterbacks in 2008, Matt Ryan and Joe Flacco have been constantly compared. Ryan has always posted better individual stats, but Flacco has had the edge with more playoff wins and a Super Bowl ring.
Ryan can even things out with a Super Bowl LI victory over the New England Patriots Sunday. But he'll need a Flacco-like run to do it.
"Ryan has been nearly flawless in the [2017] playoffs, throwing for seven touchdowns with no interceptions," wrote ESPN's Jamison Hensley. "The last quarterback to produce those numbers in the postseason? It was Flacco in 2012, which connects the ninth-year passers once again.
"So, can Ryan finish off a stellar postseason in style like Flacco? The previous six quarterbacks to throw at least seven touchdown passes without an interception in a postseason all won the Super Bowl that year and received the MVP award in the game, according to ESPN Stats & Information."