Who Should Stay And Who Should Go Among Aging Ravens Veterans?
In order to improve the roster next season, the Ravens need cap space.
In order to create cap space, releasing some aging veterans whose cap hits don't match their expected production will likely be necessary.
Front office executives have not identified which, if any, players are in danger, but 10 salary-cap casualty candidates are being named in the media.
Below is a chart created by Russell Street Report's Brian McFarland on how keeping or cutting these candidates would affect the salary cap, and The Baltimore Sun's Jeff Zrebiec offers his opinion on each as things currently stand. Based on Zrebiec's comments, I've separated each into one of three categories: More likely to stay; more likely to go; chances are 50-50: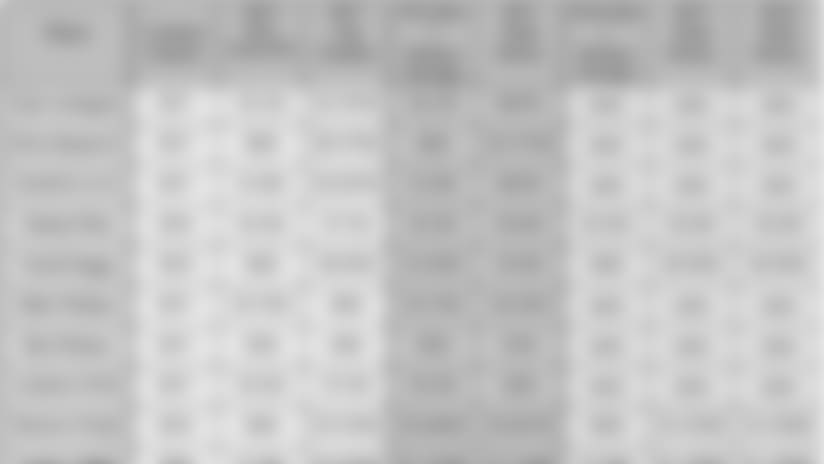 OLB Terrell Suggs (34 years old)$1.05 million in cap savings; $5.9 million in dead moneyZrebiec: "The Ravens would save a little over $1 million by releasing him before June 1, which seemingly isn't enough to justify jettisoning a still effective performer, a defensive leader and one of the best players in franchise history."
TE Dennis Pitta (31)$3.3 million in cap savings; $4.4 million in dead money"His $7.7 million salary-cap hit is steep for a player who remains a health risk. It's tough to envision Pitta back on his current deal with the team, but the two sides should be able to work something out."
OLB Elvis Dumervil (33 in two weeks)$6 million in cap savings;$2.375 million in dead moneyZrebiec: "With nine sacks over the past two seasons and about a year removed from Achilles surgery, Dumervil could become the team's highest-profile salary-cap casualty."
Trio of Defensive BacksCB Shareece Wright (29): $2.67 million in cap savings; $2.67 million in dead money
CB Kyle Arrington (30): $2.1 million in cap savings; $667,000 in dead money
S Kendrick Lewis (28): $1.8 million in cap savings; $467,000 in dead moneyZrebiec: "Cornerbacks Shareece Wright and Kyle Arrington (who missed all of 2016 with a concussion) are prime candidates to be released, and those moves would save the Ravens a little more than $4.5 million in cap space combined. Releasing safety Kendrick Lewis also would create nearly $2 million in cap savings."Chances are 50-50 …
TE Benjamin Watson (36)$3 million in cap savings; $1 million in dead money
Zrebiec: "The Ravens would create $3 million in cap room by cutting him or they can hold off and take a leap of faith that Watson, at 36 years old and coming off a serious injury, will still be a productive tight end when healthy."
WR Mike Wallace (30)$5.75 million in cap savings;$2.25 in dead moneyZrebiec: "The decision depends on how executives and coaches perceive Wallace and his importance to the team. If they think they could find a free-agent receiver with similar ability at a much cheaper price, Wallace could be one-and-done in Baltimore. But it would be foolish to let him go without adding a replacement."
C Jeremy Zuttah (30)$2.39 million in cap savings; $2.21 million in dead money
Zrebiec: "Like with Wallace, this decision will come down to whether team officials believe it can find a cheaper or better alternative. … Zuttah's $4.6 million cap hit is manageable, but he's struggled the past two years and the Ravens have made improving their offensive line one of their offseason priorities."
S Lardarius Webb (31)$5.5 million in cap savings; $2 million in dead moneyZrebiec: "The Ravens may be forced to absorb [his cap hit] unless they're able to add another safety to play alongside Eric Weddle. Their current roster has no experienced and preferred options at that spot."
Wondering What Ravens Could Have Done In Wild Card's 'Certified Snooze Fest'
If you didn't think anything could make Steelers wide receiver Antonio Brown's game-winning, AFC North-winning and playoff-advancing stretch any worse, the first round of the NFL playoffs just did.
Here were the final results:
Houston Texans 27, Oakland Raiders 14
Pittsburgh Steelers 30, Miami Dolphins 12
Green Bay Packers 38, New York Giants 13
Seattle Seahawks 28, Detroit Lions 6
"It is probably a good time to remind everyone that those were NFL playoff games you were switching off in the third quarter all weekend," wrote The Sun's Peter Schmuck.
It didn't help that two of the four AFC teams were playing with backup quarterbacks after late-season injuries. And while it wasn't the sole reason for losing, it also probably didn't help that some Giants players were partying in Miami on a Yacht seven days before the game.
By the end of the weekend, it was clear that the Steelers are the only AFC wild-card team that looked like a real Super Bowl contender (the Texans opened as a 16-point underdogs to the New England Patriots). And the Ravens were inches away from beating that contender for the AFC North crown.
"Ravens fans could only watch and wonder what might have been, since the Ravens crushed the Dolphins at M&T Bank Stadium in early December and lost by a matter of inches to the Steelers with the playoffs still on the line two weeks ago," wrote Schmuck. "But Sunday's victory confirmed that the Steelers clearly are better constructed for a deep playoff run."
Based on the eyeball test, Baltimore is probably better than a few teams that advanced, but WNST's Luke Jones warns against reading into that too much.
"Of course, being able to measure up to a few playoff squads doesn't mean John Harbaugh's team is close to being back at a championship level," he wrote. "Seattle, Pittsburgh, and Green Bay — each possess dynamic playmakers, a truly special quarterback, or both.
"The Ravens have a respectable collection of quality players — including the league's best kicker and the top guard in the NFL — but they have nothing that measures closely to the impact provided by five-time Pro Bowl wide receiver Antonio Brown and two-time Pro Bowl running back Le'Veon Bell, who combined for four touchdowns and just under 300 yards from scrimmage in the Steelers' 30-12 victory over Miami. And Joe Flacco didn't come close to playing at a special level this year, either."
Here were some other lessons learned from the weekend, including how Steve Smith Sr. talks without the fear of being fined (amazingly, it's even more honest):
The NFL All-Pro roster was announced Friday, and kicker Justin Tucker was the only Raven to make the list and one of only two players (Tyreek Hill) to receive a unanimous vote. It was obviously deserved.
One could argue that at least three Ravens players were snubbed from the All-Pro first team. Pro Football Focus put together their all-star list based on their 2016 season grades, and here are the other Ravens, in addition to Tucker, that made the cut:
First team: Kyle Juszczyk, 87.9 grade (No. 1 fullback)
"Fullback may be a dying position in the NFL, but the league's most heavily-used FB this season has also been the best—Baltimore's Kyle Juszczyk. The Ravens use a fullback more than most teams in the league, and it's because Juszczyk has been excellent in all facets of the game. He has good grades as a lead blocker, pass protector, ball carrier, and even made plays as a receiver for Baltimore this year."
First team: Marshal Yanda, 92.0 grade (No. 1 guard)
"Marshal Yanda ended the season with seven starts at left guard and six on the right side, with little discernible difference in his play on either side, executing a midseason switch seamlessly. He didn't surrender a single sack or hit on the QB all season, and in 899 snaps of action, surrendered just six hurries. Yanda remains the standard by which all NFL guards are measured, and despite missing time due to injury, he narrowly edges Oakland's Kelechi Osemele, his former teammate, for the No. 1 spot at left guard. Osemele, for his part, was also excellent, surrendering no sacks and 11 total pressures in his debut season for the Raiders."
First team: Eric Weddle, 92.4 grade (No. 2 safety)
"Eric Weddle was again at the sharp end of the league's best safeties with his new team."
Expect More Ravens Coaching Changes
On Thursday, the Ravens reportedly parted ways with Assistant Offensive Line Coach Todd Washington and Director of Strength & Conditioning Rob Rogucki.
The team has not confirmed these moves, but Ravens brass will speak to reporters Tuesday and likely shed light on the reports. Plus, don't be surprised if more changes continue.
"[Washington and Rogucki] won't be the Ravens' only coaching changes," wrote Zrebiec. "The Ravens will bring in a couple of new coaches on the offensive side of the ball, including a quarterbacks coach and possibly somebody to help with the run game schemes. There also are a few more coaches on last year's staff that probably won't return.
"For Washington, his departure was a matter of time. The former NFL player had been an assistant offensive line coach for six years. The Ravens believe he's ready and deserving of taking a more expansive role elsewhere. This should facilitate that process. As far as Rogucki, the Ravens seemingly indicated an interest in going a different direction with their strength and conditioning program when they hired director of performance and recovery Steve Saunders last year."
Bears Sign Kapron Lewis-Moore
The Ravens have signed seven players to reserve/future contracts, which essentially means they have kept the rights of most of the players on their 2016 practice squad. That list includes:
WR Kenny Bell
OL Jarell Broxton
RB Stephen Houston
OL Jarrod Pughsley
OL Matt Skura
QB Dustin Vaughan
CB Robertson Daniel 
Other signings could take place, but we've seen the end of Kapron Lewis-Moore's time in Baltimore. The defensive lineman was a sixth-round pick by the Ravens in the 2013 NFL Draft.