AFC North Race Is in Full Force … Let's Peek Ahead at Schedule Before Bye
This was a popular sentiment after the Ravens dropped back-to-back games to the Jacksonville Jaguars and Pittsburgh Steelers by a combined 54 points:
But after 1) the Ravens upset the Raiders in Oakland Sunday, 2) the Steelers were clobbered by the Jaguars, 30-9, with quarterback Ben Roethlisberger throwing five picks, and 3) the Cincinnati Bengals picked up their second-consecutive win, Graziano now writes:
"The AFC North race isn't over yet."
Seeing as we're only five weeks into the season, that shouldn't even have to be stated. But there's no doubt Sunday's win had a big effect on the Ravens' division and playoff chances. It had a 22 percent impact on the Ravens' playoff hopes, according to ESPN's Football Power Index (FPI).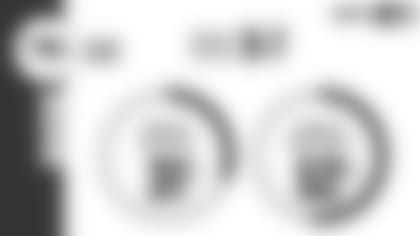 "So it's a tightly bunched race now, and there seems to be something wrong in Pittsburgh," wrote Graziano. "Last week, after Le'Veon Bell got 35 carries in the victory in Baltimore, the Steelers' wide receivers were upset about lack of opportunity. This week, after they came out chucking even though the Jags are stronger against the pass than the run, Bell is upset about too few carries. Roethlisberger is saying stuff like, 'Maybe I don't have it anymore.' And their next game is in Kansas City against the best team in the league. They need to get it together out there in Pittsburgh. This is too good a team to let it all fall apart over some soap opera stuff."
The Ravens aren't focused on what other teams are doing, however. They just need to take care of business with the upcoming opponents on their schedule.
And if you ask WNST's Luke Jones, the Ravens have a major opportunity with the next four games heading into the bye: vs. Chicago Bears, at Minnesota Vikings, vs. Miami Dolphins and at Tennessee Titans.
"As mercurial as their performances have been from week to week, the Ravens now face four straight opponents currently sporting murky quarterback situations," wrote Jones. "If they want to be taken seriously as a playoff contender, a 6-3 record entering the bye is a very reasonable expectation."
Going 3-1 over the next four games?
In this unpredictable league of parity, nothing is a guarantee. But with all four upcoming opponents unsettled at the quarterback position, combined with the Ravens' strong performance Sunday, you can understand Jones' optimism.
The Bears just handed the keys to the offense to rookie quarterback Mitch Trubisky, who has plenty of promise, but is obviously inexperienced. The Vikings are onto their third-string quarterback, Case Keenum, because of injuries. It's unknown if the Vikings will start Keenum, Sam Bradford or Teddy Bridgewater in Week 7. The Dolphins lured Jay Cutler out of retirement after franchise quarterback Ryan Tannehill had knee surgery. The Miami Herald is running a poll that asks fans if Cutler should be benched after they chanted at Sunday's game, "We want [Matt] Moore!"
In Tennessee, Marcus Mariota was knocked out of a Week 4 game with a hamstring injury, was inactive last week and his status is unknown for this week. He's expected back for the Ravens game, but his health is something that bears watching.
For at Least One Week, Ravens Solved Marshal Yanda Problem
Have the Ravens solved the offensive line problem after losing Marshal Yanda?
Nobody can or will ever replace Yanda, but overcoming his loss has been the Ravens' challenge since he went down in Week 2 with an ankle injury.
Elevated play and bringing in extra blockers helped Sunday in Oakland – so much so that the unit was ranked No. 3 on Shaun O'Hara's list of top-five offensive lines in Week 5. O'Hara was a three-time Pro Bowl center and Super Bowl champion.
The last time the Ravens made O'Hara's list, Yanda played in the game. So it's a big step forward for the unit. Oh, and by the way, Baltimore also ranked No. 1 last week in both run blocking and pass blocking, according to Pro Football Focus (PFF).
"Baltimore rode the ground game for 143 of its 365 total yards," wrote O'Hara. "Joe Flacco didn't have to do too much … but he wasn't sacked the entire game. In fact, the Ravens quarterback was only hit once and pressured just five times. That's pretty remarkable, when you consider who was on the other side: reigning Defensive Player of the Year Khalil Mack."
Here are some stats that may surprise you from the season – not just Week 5. PFF rates Ryan Jensen as the third-best center, Ronnie Stanley as the fifth-best left tackle and Austin Howard is the third-best right tackle.
The Ravens lost right guard Matt Skura last week to a reported knee sprain, and fifth-round pick Jermaine Eluemunor is expected to replace him going forward. Skura had been stepping in for Yanda, so the line will once again have to adjust.
It's another wrench thrown into the works, for sure. But if Stanley, Jensen and Howard continue to play at a high level, the Ravens have a chance to absorb another personnel loss.
Ravens Get a Small Bump up National Power Rankings
The Ravens stopped their fall down the national power rankings from the last two weeks. They got a slight push back up the board and have an average ranking of No. 20 in the lists below.
ESPN.com: No. 18 (up four from last week)
"The Ravens have two ugly losses, but their three wins have been by an average of 15.7 points. Two of their next three games are against the Bears and Dolphins, which is a big reason why Baltimore currently has a 52 percent chance of making the playoffs."
Bleacher Report: No. 20 (up three spots) 
Chris Simms: "Baltimore is a big, physical football team. Flacco and the passing game got the Ravens off to an early lead, which allowed Baltimore to physically lean on the Raiders the rest of the way. Baltimore is better off when it can rely on its run game and its pass defense. The Ravens are going to be a handful for most opponents moving forward, but overcoming all of the injuries the team has already suffered won't be easy. If the inconsistencies on offense we saw in the last couple of weeks crop back up, winning will be even more difficult."
CBSSports.com](https://www.cbssports.com/nfl/powerrankings/): No. 20 (up five)
Pete Prisco: "They are 3-2 and impressed winning at Oakland Sunday. The offense seemed to find something against the Raiders."
Yahoo! Sports: No. 21 (up two)
Frank Schwab: "Alex Collins and Javorius Allen had 33 carries for 128 yards against Oakland. The Ravens have been weirdly pass-happy the past few seasons, but Sunday's run-heavy attack is how they have to win, no matter how ugly it is."
NFL.com: No. 21 (up two)
Elliot Harrison: Back in the win column for the Ravens. Back to somewhat normal play from Joe Flacco, who stunk up the joint the prior couple of weeks. Flacco's 19-of-26, 222-yard performance was a viable showing for a team that didn't need much. A) Baltimore ran the football consistently in this contest, putting up 143 yards. B) The defense stifled the EJ Manuel-led Raider offense all day. Oakland's passing game did nada sans Derek Carr. Baltimore safety Eric Weddle, for his part, looked relieved after the game. All he could think about was ice cream. What a weird dude. A very cool, weird dude."
USA Today: No. 21 (up four) 
"Memo to Marty Mornhinweg – feed your running backs and limit Joe Flacco's load. Baltimore now 3-0 when it exceeds 135 rushing yards."